How to Prepare Your Restaurant for a Successful Mother's Day 2021
Apr 21, 2021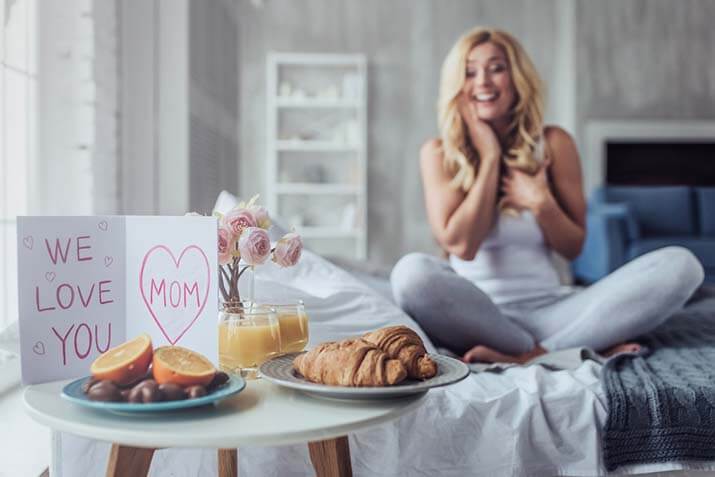 You know what moms would like for Mother's Day? A break from cooking.
With the end of the pandemic in sight, most home cooks exhausted their repertoire of recipes long ago. Freshly vaccinated, Americans are hungry for a return to normalcy and many will be turning to restaurants to make mom's day special.
This will make Mother's Day 2021 a prime revenue opportunity for operators recovering from COVID-19.
To help, the Simplot Culinary Team has selected three Mother's Day recipes that could be offered as in-house dining options, regular takeout for fun family-style meals, or meal kits your patrons finish at home.
Apple Pancake Breakfast
RoastWorks® Flame-Roasted Fuji Apples with cinnamon and nutmeg. Sure to please a crowd at breakfast or brunch. View Recipe »
Farmers All-Day Breakfast
A hearty meal of winter vegetables and Simplot Freezerfrige® Sliced Hash Browns with eggs, bacon, and cheese. View Recipe »
Apple Strudel Take-Home Kit
This strudel with our RoastWorks® Flame-Roasted Fuji Apples, golden raisins and walnuts makes a great breakfast in bed. View Recipe »
Turn your Mother's Day menu into a complete experience
Mother's Day during a pandemic—when many retail stores and gift shops are closed—offers up additional opportunities to make mom's day and make some extra money in the process.
Here are a few additional ideas of things you can offer beyond food:
• Flowers —How about a dozen roses or a spring bouquet to go with that fine apple strudel?
• Mother's Day cards—Save Dad and the kids a trip to the drug store. They'll love you for it!
• Champagne or wine—Or both! Mom has certainly earned it.
• An online cooking class with purchase—Make this meal the gift that keeps on giving and build stronger relationships with your customers.
• Housemade chocolates—The fact that moms love chocolate has been confirmed by scientists.
• Local crafts—Team up with local artists to offer that little something special.
Get the word out now
With Mother's Day falling on May 9th this year, the time to start marketing your Mother's Day offerings was yesterday. Here a few tips to jumpstart your communications:
Email: Your email list is a direct line of communication to people who already like your restaurant and want to hear from you. We recommend sending the announcement of your Mother's Day promotion multiple times to ensure they get the message. Include personal remarks to let your best customers know how you're doing and how much you appreciate their continued business (more on this below). Be sure to list all of your special Mother's Day offerings, like flowers.
Social media: This is prime territory to appeal to moms, dads and kids (moms have been known to give their family a "hint" of what they would like). Use photos and videos to show customers all of your special Mother's Day offerings and add-on's. Consider a small budget to promote your posts to the most likely audiences to ensure they're seen. And make sure to update your Yelp! profile to include your off-premise service.
Website: Add your Mother's Day promotion prominently on your home page and include a link to your delivery menu. Make sure the announcement takes up enough real estate on screen so it can't be missed.
Exterior banners: Located along a commuter corridor? Take advantage of your visibility to promote your Mother's Day promo with large banners. Make sure the lettering is big with strong contrast between the type and the background color. Include your phone number and web address.
Flyers and postcards: If you have a mailing list, use it. If you don't, distribute flyers around your neighborhood to save on postage.
Don't forget to emphasize your sanitation and safety measures
Recent research shows that "clean and sanitary" have overtaken "great taste" as the top reason for choosing a restaurant. Go out of your way in your social media posts and other communications to show patrons that you're taking their safety concerns seriously.
Make Mother's Day heroes out of your customers
For many people, choosing just the right Mother's Day gift can be a task riddled with anxiety. By combining great food with a little imagination, you can transform your customers into heroes at home and deepen your relationships with them—profitably.