How to Kick Up Classic Holiday Cocktails This Winter
Nov 30, 2021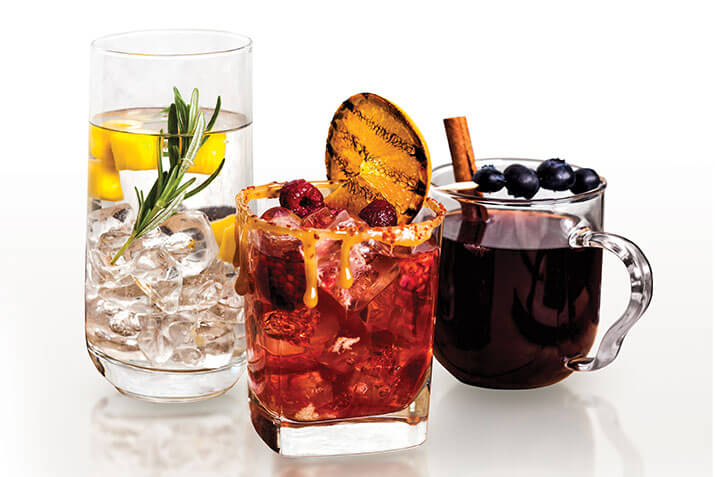 Give your customers a new reason to visit this winter by rolling out some classic cocktails revamped with a twist for the holiday season.
As a restaurant purveyor, you know that profit margins from alcohol sales are much higher than food sales, and encouraging customers to belly up to the bar with new and seasonal drinks is a good business decision. In an effort to help you round out your bar menu this upcoming holiday season, we've rounded up some holiday cocktails and seasonal variations for you. After all, what would the holidays be without a steaming cup of cocoa or chilled, nutmeg-dusted eggnog?
Old Fashioneds
These are a high-selling, high-margin favorite to have on your menu. Here are some of our favorite ways to dress it up for the holiday season.
Cherry Old Fashioned Smash: If you've ever thought that the best part of an Old Fashioned is the cherry topper, this drink is for your bar. Featuring cherries muddled into the drink (in addition to being poured on top), this bright-red cocktail is perfect for the Christmas season. Add a sprig of rosemary for that vibrant red and green effect.
Spiced Persimmon Old Fashioned by Salt and Wind: Persimmons ripen at the crux of winter, just in time to spice up holiday breads, pork roasts, and in this case, drinks. Their sweet, delicate flavor is the perfect pairing to holiday spices such as maple and cinnamon.
Spiced Cocktail Cherries from The View From Great Island: Take your Old Fashioned up a notch by making a batch of these spiced cocktail cherries using Simplot Simple Goodness™ Fruit Dark Sweet Cherries. Already pitted and harvested at the peak of freshness, they make pulling together these boozy, winter-spiced cocktail cherries a breeze. As a bonus, make small jars available for guests to purchase and take home with them!
Mimosas
Sparkling cocktails deserve a permanent place on your cocktail list. They're a snap to pull together, always a hit, and easy on your bottom line.
Fuji Apple Fizz: Non-alcoholic drinks continue to rise in popularity, and having a few options on your menu is always a good idea. Celebrate the season with this sparkling Fuji Apple Fizz featuring Simplot RoastWorks® RTE Flame-Roasted Fuji Apples. Bright and lightly spiced, it's a lovely refresher for before or after a meal.
Sparkling Spiced Cherry Cocktail by Courtney B. Schultz: This sparkling cocktail is the perfect place to utilize the spiced cocktail cherries above. Much lighter than an Old Fashioned, but sporting all the spice and holiday charm of the season, this drink is a guaranteed hit.
Sparkling Winter Berry Cocktail by The Busy Baker: Make a large pitcher of this punch, add a handful of mixed berries, and top with some bubbles. Our Simplot Simple Goodness™ Fruit Triple Berry Blend makes pulling this drink together a breeze.
Hot Toddies
What better way to stay cozy when the temperature dips than with a cup of steaming spirits? Each of the recipes below stands up to the cold and warms to the bone with holiday cheer.
Mulled Wine by Gimme Some Oven: Take those red wine bottles just past their prime and mix in warming spices, oranges, and sugar. This is an excellent way to increase ticket cost and bring in some revenue from an item you may otherwise be throwing away. Waste not, want not.
Apple Brandy Hot Toddies by Food & Wine: Make your own in-house apple brandy with our RoastWorks® RTE Flame-Roasted Fuji Apples to increase the appeal and margin on this cocktail. Customers love in-house creations, and this flame-roasted apple brandy is delicious!
Blueberry Hot Toddy: Mix cinnamon simple syrup, lemon, blueberries and bourbon for a savory-sweet warming drink to hold close during colder months. Top each drink off with a cinnamon stick and a rosemary sprig for that holiday feel featuring Simplot Simple Goodness™ Fruit Blueberries.
Holiday Specials
There are some seasonal holiday flavors you simply have to have on your bar menu, even if only for a limited time.
Eggnog by the Food Network: This rich and creamy bourbon drink still has adults ordering it from Thanksgiving to New Years. Make sure they have the option when visiting your restaurant to indulge in this sinfully rich holiday treat.
Santa Clausmopolitans by Delish: Because anything with a name this fun deserves to be on your menu.
Spiced Apple Margaritas by Cookie + Kate: Calling all tequila lovers! Take a traditional summer drink and turn it into something a little cozier with the spice of fall apples.
Whatever you decide to feature on your bar menu this winter, make sure to optimize your profit margins by utilizing flavored simple syrups, fruit punches, and festive garnishes. You'll build your bottom line while giving your customers something new and fun to try.
Cheers to a lucrative holiday season!