A Solid Catering Program Can Boost Your Business
Aug 17, 2022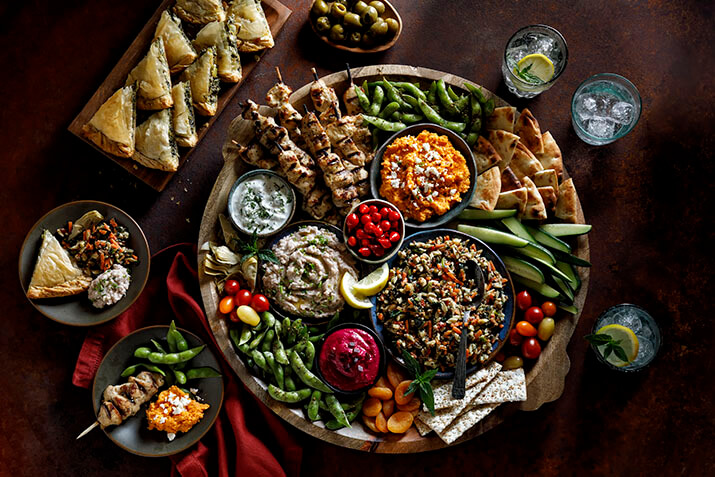 When loyal fans of Chicago's Virtue Restaurant found out that the Southern-focused eatery launched a catering program back in 2020, they bombarded them with online orders. Partner/chef Erick Williams had decided to go this route after feeding thousands of first responders nourishing meals prepared by his award-winning culinary team.
For the first time ever, customers could order in bulk his macaroni and cheese, gumbo with chicken and andouille sausage, and cornbread with honey butter. He even curated various meal kits for special occasions, ranging from Thanksgiving to Valentine's Day, and included desserts and wine with each order. Each time, Virtue sold out, however, as restrictions were lifted and customers were allowed to dine in again, too much of a great thing put stress on his staff.
That's when he decided to open Mustard Seed Kitchen, located about 10 minutes away, to focus on catered and to-go orders. While his famed gumbo is the only item there from Virtue's menu, customers will also find easy-to-package salads, pastas, and sandwiches. What remains the same is the guarantee they'll get nourishing meals with exceptional hospitality.
"People are attached to brands, and they want to experience those brands as often as they can," says Williams. "Operators that have the bandwidth are capitalizing on those opportunities with programs like catering."
With COVID in mind, operators get innovative with catering
And capitalizing they are. According to Foodservice Industry Forecasts, the catering segment experienced a surge in 2021 and is expected to see strong growth throughout 2022, however, it is still below pre-pandemic levels. That's because they're seeing heavier competition from restaurants like Mustard Seed Kitchen.
Additionally, says Datassential, 36% of establishments offer some type of catering service, yet COVID has dramatically changed how they operate.1 Online ordering, of course, is now more prevalent as well as curbside, delivery, and even drive-thru services, in some cases. Also, catering menus skew higher for dinner and all-day menus and feature appetizers, entrées, and beverages more than sides and desserts.
"We've been very fortunate, and we have a great balance on our menu of the things that we serve," says Williams about Mustard Seed Kitchen, which opened last fall. "During the day, salads with proteins are a huge hit. Throughout the day, our pastas sell extremely well for both independent diners and a collective of people. And our burgers and fried chicken sandwiches came out as a hit in the beginning, and they have retained their status."
Interactivity is key for some catering programs
After more than 35 years in business, Outback Steakhouse recently launched a catering program at its restaurants across the United States. More than 70% of the outposts, or 481 locations, started the service this spring. Catering menu options include individual boxed meals, steaks, seafood entrées, and the signature Alice Springs chicken (chicken breasts topped with sautéed mushrooms, bacon, melted Monterey Jack and Cheddar cheese, honey mustard sauce, and fries).
For a more interactive meal, Outback also offers buffet-style options and a build-your-own burger bar. That gives customers more choices and makes the catering experience more personable for them.
"We're looking forward to sharing milestone moments with our guests at occasions like weddings, family gatherings, watch parties, and celebrations," says Brett Patterson, president of Outback Steakhouse, in a press release. "We're particularly excited to cater to employees as they return to the office because we know the power of sharing a great meal whether it be for recognition or a social gathering during a busy day."
Smashburger launched a similar interactive catering program this spring. Customers may choose from the usual individual boxed meals or à la carte options, and from the build-your-own burger bar or crispy chicken tender bar. For the build-your-own burger bar, everything is wrapped individually, from buns to condiments.
Smooth operator: launching a successful catering business
But how does an operator launch a catering program without disrupting an existing business? Brooks Kirchheimer, owner of Hearth & Hill and Hill's Kitchen in Park City, Utah, recommends starting simple and small, then building your way up.
"Don't shoot for the Taj Mahal right out of the gate," suggests Kirchheimer, whose Hill's Kitchen acts as the catering arm for his restaurant business. "Keep it easy to execute – something both the guests will enjoy and also something your staff can facilitate."
Hill's Kitchen, which opened in March, is only steps away from Hearth & Hill and 10 minutes from downtown Park City. It is also situated in an area populated by local businesses and well-heeled residents requiring catering of all sizes. Kirchheimer says 60% of the catering business is either pickup or delivery service. Most customers, he adds, do not want fussy foods.
"People overall just want comfort food," he continues. "They want macaroni and cheese, beer-battered cauliflower, wagyu beef sliders, great vegetarian and gluten-free options. We have also found that items that are easy to enjoy with one pop in the mouth, like meatballs, are popular."
Drive-thru ordering surged during the pandemic and accounted for 44% of off-premise orders across the entire restaurant industry, according to the NPD Group.2 That was good news for Rodney Scott, whose original location for Rodney Scott BBQ in Charleston, South Carolina, added a drive-thru component in 2017. For the past two years, he's seen an uptick in catering business there even though his staff had to make many adjustments.
"[It] allowed people the comfort to drive up and get their food safely," says Scott, who opened outposts in Atlanta as well as Birmingham and Homewood, Alabama.
"During that time, we also had to learn how to make touchless deliveries, and we had to learn how to do to-go orders or pick-up orders [safely]. There are still a lot of people practicing social distancing, but they are now getting more food, so we are getting more orders to go now for private events."
Using catering business to market a signature dish
For some operators, catering can be a great marketing tool to promote a signature dish to larger audiences. Hospitality veteran Dozzy Ibekwe opened his modern West African-focused ghost kitchen in fall 2020 when restaurants were still closed for dine-in services in Chicago. In addition to serving hearty jollof rice bowls topped with vegetables and various proteins, he introduced the Jorrito, a burrito-style wrap stuffed with jollof rice and chicken, salmon, or vegetables. It's been a big hit – and a big draw – for his catering program, which is 60 percent of sales at Dozzy's Grill, operating now inside full-service restaurant The Currency Exchange.
"I recognized that consumer behavior would change post pandemic, and I wanted to make sure that we positioned ourselves to be available to people who seek West African cuisine," explains Ibekwe, who offers his catering menu on several online platforms. "Being available would help us connect to our communities."
If you are ready to incorporate catering into your operation, remember to keep it simple when you are starting out. Offering catered meals with a theme or for a particular event is a great way to begin. Take a look at these collections created by Simplot Director of Culinary and Corporate Executive Chef, Dianna Fricke.
Tailgater Collection »
Mediterranean Collection »
Asian Collection »
Dessert Collection »
Catering is indeed big business for restaurants—and it could be for yours, too.
1 Datassential, 2022
2 NPD Group