Why Spirit-Free Cocktails Are Essential on Every Drink Menu
Aug 17, 2022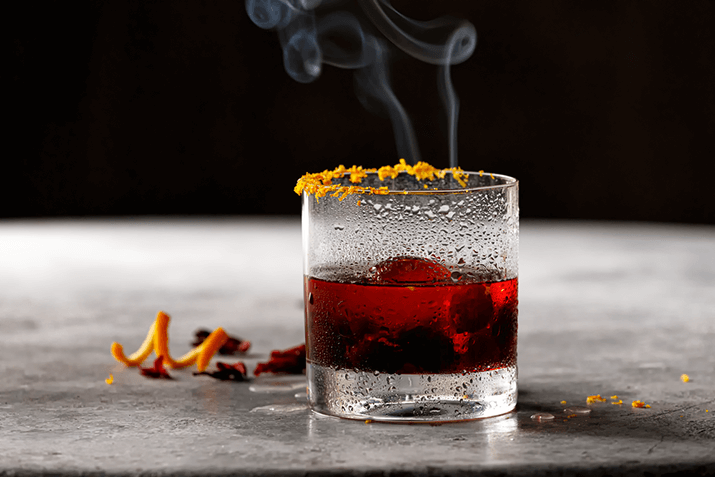 At the beginning of 2020, Chris Marshall had embarked upon his first national tour for Sans Bar, his booze-free cocktail lounge he launched only a few years earlier in Austin, Texas. He had lofty plans, focusing on spreading the word about his unique concept from coast to coast with a one-night pop-up bar. Then the pandemic hit, halting the tour in its tracks. He was forced to conceive a new strategy to keep his business afloat.
"I realized that the pandemic gave us an opportunity to be in multiple places at once, all over the world," explains Marshall. "That's when Sans Bar really started to look at the bigger picture."
While his bar remained closed to the public, Marshall went virtual with "Sans Bar Everywhere," which allowed him to connect globally with others promoting sober lifestyles. It was also an opportunity for many to share discoveries of spirit-free cocktails they'd experienced in their favorite watering holes and restaurants.
"It's taken the pandemic for people to really examine their own relationships with alcohol and to go back and re-evaluate how they're drinking," says Marshall. "[The year] 2020 was a point where this thing changed from me having to explain this to absolutely every single person I encountered to people sending me articles and telling me about the drinks that they had at a local bar or restaurant."
'New Sobriety' movement increases appeal of spirit-free cocktails
According to Datassential, this "new sobriety" movement is quickly catching on with consumers, with 57% aware of craft "mocktails" and 48% interested in trying them.1 It emphasizes being more intentional with drinking and taking time to conscientiously explore the health and mental benefits of drinking less or not drinking at all. These "sober curious" consumers often enjoy the taste and experience of a beverage without the sometimes-negative side effects of alcohol.
Marshall says the increased interest in spirit-free cocktails has led to more imaginative selections at establishments. "I'm seeing a lot of bars and restaurants taking their mocktails and pairing them with their food menus," he observes. "I think that when you give that sort of deference to a non-alcoholic cocktail, it really helps to let the customer know that these drinks are just as important and just as meaningful as the spirited cocktail."
Marshall emphasized this point and more during a recent panel discussion on diversity and inclusion at the annual Tales of the Cocktail conference in New Orleans. He believes the hospitality industry is doing a much better job at being mindful of the variety of patrons.
"The thing about zero-proof cocktails is that everyone can enjoy them," says Marshall. "We are starting to realize that so many people, not just people who are in recovery, are starting to desire less alcohol. The smart business folks are listening to those consumers."
Tia Barrett is listening. Not only does she feature spirit-free cocktails at Chicago's Esme, but she will customize beverages based on the restaurant's award-winning tasting menu.
"For me, there's a little bit more innovation and fun to not have to use alcohol," says Barrett, who acts as Esme's beverage manager. "I find that for a lot of the guests who come into Esme, it's not a tolerance thing, but they have responsibilities. They want beverages that taste good, but they want to be able to easily get up in the morning."
What to call them? Mocktails, spirit-free cocktails, zero-proof beverages?
Barrett's spirit-free offerings are indeed as inventive and exciting as her spirit-forward choices. They use fresh, seasonal ingredients, plus complex teas, carbonated mixers, and other unique beverages for texture, balance, and aromatics. Her non-boozy beverages are sometimes even celebratory, which is why she prefers not to use the term "mocktail."
"It is almost offensive to those who are not drinking," she states. "I prefer calling it a non-alcoholic cocktail because it just happens to not have alcohol in it, but it is a cocktail. That's how I approach it, too. I think about the same terms of balancing a cocktail, yet I do it here with no alcohol."
At a growing number of U.S. Hyatt properties, the term is "zero-proof beverages," as the company launched a Zero Proof, Zero Judgement beverage program in 2021.2
"We're seeing travelers increasingly prioritizing their mental and physical wellbeing, so we are thrilled to offer this new beverage program that provides delicious and flavorful non-alcoholic cocktails," says Miranda Breedlove, national director of bars, lifestyle operations, Hyatt. "Ultimately, it's about providing an incomparable hospitality experience that's reimagined with intentional options for guests who choose not to drink or to drink less."
Participating Hyatt properties have added original non-alcoholic cocktails to their existing menus. For example, at Hyatt Centric Times Square New York's Bar 54, there's a zero-proof gin cocktail enhanced with fresh basil, cucumber, lime, and ginger. And in the lobby bar at Thompson Savannah, the feature is a zero-proof rum drink containing blueberry, honey, lime, and ginger beer.
These crafted, non-alcoholic beverages deserve respect, maintains mixology expert Mike Ryan, which is why he uses the term spirit-free and charges a premium price for them.
"I like the term because it offers a positive connotation," explains Ryan, the founder/principal of Noetica Group, a bar-and-beverage consultancy. "The word mocktail is inherently positioning itself as being a joke. We all know that words have power.
"Using the word spirit free a) makes it more inclusive, positive, and accepting, and b) from a fiscal responsibility point of view, it sounds premium, so I can charge a little bit more for a spirit-free cocktail vs. a mocktail," continues Ryan. "You can charge $7 for a mocktail. And you can charge $12 for a spirit-free cocktail. That's basic menu engineering, presenting your menu to your guests in such a way that connects with their expectations of the quality of your establishment."
The key to upselling spirit-free cocktails
Ryan says that it takes finesse to charge more for spirit-free cocktails. Premium ingredients, increased labor, and more have impacted menu prices all over, with spirit-free cocktails included.
"Just because something doesn't have alcohol in it doesn't mean the cost goes away for the other ingredients," he explains. "The lemon juice still costs between $0.27 and $0.47 an ounce. Limes are crazy expensive right now. That single egg white is going to cost money. And, of course, there are labor costs in creating these drinks. There are fewer bartenders out there than there were pre-pandemic, and everyone wants to get paid their worth."
Ryan, of course, maintains that fast-casual and chain restaurants typically differ in their approach to spirit-free cocktails than independently owned establishments. For example, he says, they're more likely to use an artificial form of grenadine – reported as the fastest-growing ingredient year-over-year, with a 44% increase in menu mentions on non-alcoholic cocktails.3
"The grenadine they're using is most likely Rose's, which is artificially flavored and colored and doesn't actually taste like grenadine," he explains. "Real grenadine is [made from] pomegranate, not cherries."
Regardless, Ryan believes spirit-free cocktails are here to stay and it's essential for every bar program to include them.
"Just like fewer people get freaked out now when they see egg whites on a menu," he continues, "it's just like this continued, forward progress, and spirit-free cocktails are just another tool in a smart bar operator's arsenal to make sure they're offering as much as possible to their guests."
Here are a few non-alcoholic creations by Simplot Corporate Executive Chef Roberto Roman, using labor-saving Simplot products:
Vanilla and Maple Horchata »
Blueberry and Ginger Hot Toddy »
Black Cherry and Hibiscus Old Fashioned »
Avocado Mojito »
Now, everyone can toast to good times.
1 Datassential, 2022
2 Hyatt's Zero Proof, Zero Judgement beverage program
3 Technomic, Industry Insights, February 21, 2022