How to Incorporate Island-Influenced Flavors into Your Restaurant
Mar 03, 2023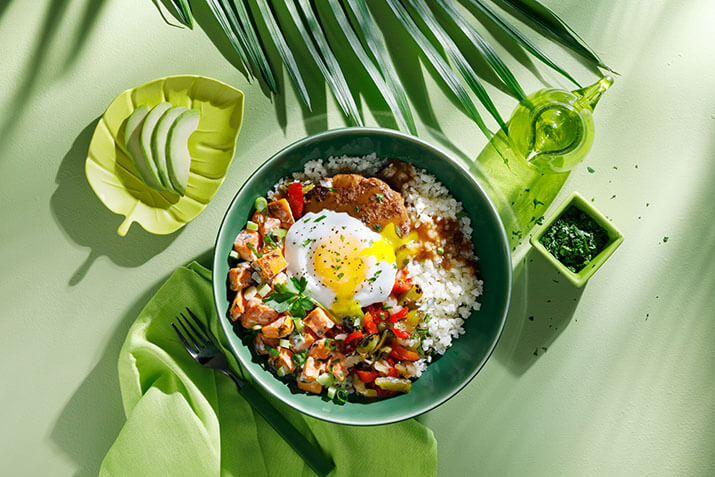 If spicing up your menu is top of mind, consider adding a refreshing new unique bowl guaranteed to tantalize your customers' taste buds. We're here to praise the robust and exotic flavors of island cuisines.
"Island cuisines are incredible inspiration for exotic, new flavors—and bowls are a terrific format to showcase them," says Chef Michael Zeller, Simplot Corporate Executive Chef of the Western Region. "As bowls become more commonplace, adding island flavors can keep your menu fresh and interesting."
Bowls have grown in popularity and are expected to grow even more, with 38% menu penetration by 2026, with rice, burrito, teriyaki, and breakfast bowls leading the charts.1
If you haven't had the chance to dive into some of the more complex aromatics and spices of Caribbean, Southeast Asian, and Pacific Island foods, trust us when we tell you they're worth considering.
Jamaican foods are found on 3.6% of restaurant menus, but 28% of those who've tried it like or love it 2


56% of foodies love Jamaican foods 2


Hawaiian food is found on 16% of menus 2
Set a course for culinary adventure
Island-influenced cuisine is rooted in its unique culinary and cultural traditions. From the Caribbean to Southeast Asia, islands have a rich history of using local ingredients and flavor combinations to create vibrant and delicious dishes not commonly found throughout the continental U.S.
As many of these locations were ports and shipping stopovers, their cuisine features influences from around the world. Use this to your restaurant's advantage by offering flavor combinations and experiences your customers can't easily find elsewhere.
Try this recipe: Loco Moco Bowl
This dish was invented in Hawaii in the '40s to be cheap and filling. We take this classic Hawaiian comfort food and add a little flair. Featuring cauliflower rice, peppers, and seared ground beef, this bowl is topped off with brown gravy and served alongside a sweet potato salad and fried egg. Loaded with protein and gluten-free, this bowl appeals to people on various diets. Is it breakfast? Is it dinner? Do we care? Nope! We're on island time! Aloha!
Jerk, spice, and everything nice
The resulting historical influence has created a fusion of flavors and culinary techniques unique to each island. From Caribbean cuisine to Hawaiian, each has a subtlety that can be harnessed to add new flavors to your menu.
For example, Caribbean cuisine is known for its jerk seasoning, combining allspice, cinnamon, nutmeg, thyme, and Scotch bonnet peppers to create a complex and spicy flavor profile. Similarly, Filipino cuisine is known for using calamansi, a citrus fruit often used to add a sour and tangy flavor to dishes.
To incorporate these flavors into your dishes, start by experimenting with different spices and ingredients commonly used in island cuisine. Then, think about how you can pair these ingredients with more familiar ingredients to create something new and exciting.
Try this recipe: Jamaican Jerk Chicken Bowl
Offering the finger-licking goodness of Jamaican jerk chicken in bowl form, this recipe is loaded with flavor. With mouth-watering rich Jerk-chicken thighs, black bean mango salsa, coconut, and house-made Scotch bonnet honey glaze, it will surely become a house favorite.
Healthy, delicious, and sustainable: The benefits of island-inspired dishes
Given their proximity to the ocean and the almost year-round temperate climates, island cuisines are characterized by their use of fresh and locally-sourced ingredients. These dishes tend to feature seafood, fruits, and vegetables, making this cuisine perfect for healthy and sustainable menu options such as salads and bowls.
As bowl options continue to grow in popularity, this cuisine is perfectly positioned to be a popular addition to menus. Simplot's extensive portfolio of frozen vegetables and fruit is a labor-saving way to build out these dishes on your menu, enabling you to offer island cuisine year-round.
Try this recipe: Red Snapper Bajan Bowl
Enter the vibrant and delectable world of Barbados, where we're serving up crispy, snapper fillets topped with cilantro lime rice that positively sings with freshness. Sweet and savory peppers, onions, and papaya join forces dancing away with a habanero mango salsa and honey melon glaze. With so many bold and spicy ingredients, this bowl is hard to ignore and guaranteed to satisfy the most adventurous palates.
The endless possibilities of island cuisine
One of our favorite things about island cuisine? The room it leaves a chef to play and interpret the flavors. Caribbean-influenced flavors lend themselves to fusion cuisine, allowing a chef to create fun and innovative dishes. Creating signature dishes is a great way to attract new customers looking for a mouth-watering adventure.
Try this recipe: Cuban Sofrito Chicken Bowl
No, you didn't just enter Havana; your tastebuds might think you have. This bowl leans on classic Cuban flavors and is a symphony of crispy roasted chicken legs, vibrant veggies, and a savory sofrito sauce you'll be licking the bowl for.
Island cuisine brings the tropics to your table
Island cuisine's unique flavors, fresh ingredients, and cultural richness make it a standout choice for customers looking for something different and exciting. Whether you're drawing inspiration from the Caribbean, Southeast Asia, or the South Pacific, there are plenty of unique and delicious flavors to explore.
Remember that it's important to strike a balance between exotic and approachable flavors. You want to challenge your diners' palates without overwhelming them with unfamiliar tastes. Start with the ingredients you already have in your pantry and build out from there.
By following these tips and being willing to experiment with new ingredients and flavor combinations, you can create a menu that is both interesting and delicious, and that will keep your customers coming back for more. So don't be afraid to embrace the flavors of the islands and let your creativity run wild.
1 Datassential, 2022
2 Datassential, Flavors, 2022