5 Ways to Amp-up Your Appetizer Game
Feb 22, 2022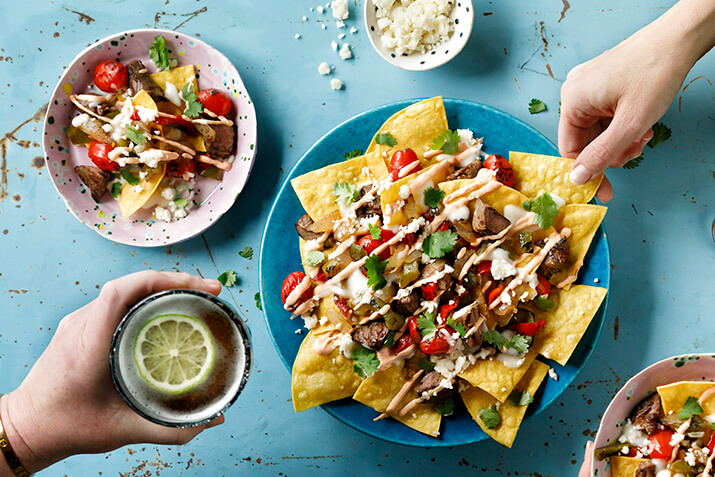 With menu prices surging across the country, operators are finding something else is rising just as fast: customers' expectations. Like it or not, charging significantly more for the "same old" can leave a bad taste in the mouths of the dining public.
This is especially true in the case of appetizers, the prices of which have crept into entrée territory just as America's snacking behavior is taking off.
"Americans are snacking more than ever," says Simplot Corporate Executive Chef Michael Thrash. "The smart operators have realized they need to revisit some of these classic appetizer recipes and give them a more craft feel to justify the higher prices."
If this sounds daunting in the face of supply disruptions and labor shortages, take heart.
"With just a few high-end substitutes," says Chef Thrash, "you can amp up both your menu appeal and your margins."
Here are five ways you can amp-up your appetizer game and capitalize on dining trends in 2022.
Spice up your plating

One of the best ways to delight guests is to play with fun plating techniques. Find creative ways to plate your appetizers that are more engaging to guests. Bonus: if it's surprising and out-of-the-box, your guests are more likely to share it via social media. One trend hitting the food scene is "jarcuterie" and other individually plated charcuterie.


Use trending ingredients with high perceived value

Featuring a high-end ingredient in an appetizer is a proven way to entice guests to pay more. A great example of such an ingredient is truffles. Since 2017, the use of truffles on french fry menus has grown by 68%. Fact: the median fry app is priced at $4.19, but truffle-laden appetizers fetch an average of $7, a major boost to your profitability. Truly a little bit of truffle goes a long way.1

If going all-out on truffles isn't in the cards for you, consider incorporating other ingredients that are hot right now. The New York Times talked with global market researchers and food company executives and concluded that mushrooms are a big-ticket item for 2022.2 More and more diners are getting excited about the superfood properties of the different varieties of mushrooms available. Plus, using them in powders, sauces, and broths means that you don't necessarily have to spend a lot to incorporate them into your menu.

Recommended recipe: Filet Mignon Nachos »
Take this popular appetizer to a whole new level with a highly sought-after cut of meat like filet, Manchego roasted-poblano Mornay sauce, and blistered grape tomatoes in cilantro lime vinaigrette. (recipe pictured above)


Make mini, portable versions of popular dishes

Diners are giving the nod to time-honored flavors served in unexpected, poppable snack formats.

Take the Philly cheesesteak. Since 2017 snackable Philly cheesesteak items like egg rolls, loaded fries, quesadillas and sliders have grown by 65% and operators are charging a premium—$2 more than the median for appetizers.1 Another example: in 2021, the seventh most ordered item on DoorDash was avocado egg rolls.3

Recommended recipe: Vegan "Fried Chicken" Biscuit Sliders »
Using a plant-based ingredient like seitan to create a mini "fried chicken" slider is a great way to appeal to the rising interest in plant-based eating in the form of a fun, shareable appetizer.


Use fun techniques to impart unique flavors

According to Food & Wine's recent survey of chefs across the U.S., some of 2022's dining trends involve interesting cooking techniques that impart unique flavors to dishes.4 The first is live-fire cooking and charcoal grilling, which is a great way to add interesting flavors into your food, as well as a certain cachet. Who doesn't love something grilled on an open flame?

Pickled and fermented foods represent another ongoing trend in this regard. Condiments like relishes, chutneys, and housemade hot sauces are flavorful ways to extend the shelf life of produce and reduce food waste.

Recommended recipe: Couscous Empanadas »
This snackable and portable empanada incorporates an unexpected twist with couscous and goat cheese. But the side sauce is what makes this recipe stand out: a poblano and mango chutney, combining roasted notes with the sweet and tangy elements noted above.


Play with global flavor combos

According to Better Homes & Gardens, one of the top food trends of 2022 is "Borderless Cuisine."

"The term 'fusion cuisine' historically carried negative connotations," says Leith Steel, a senior strategist for Carbonate, a food and beverage brand communications and creative services agency in San Francisco. "However, as the country grows increasingly more diverse—nearly half of Gen Z identifies as non-caucasian—the concept of 'authenticity' as it relates to how food has changed."5

Chefs are tapping into their own unique personal identities and mixed backgrounds to create new and unique dishes. Combine that with the rising popularity of global street foods, and diners, especially millennials and Gen Zers, are looking for unique flavor combinations.

Recommended recipe: Fried Rock Shrimp Creole Tostada Bites »
Combining Creole, cajun, and Mexican flavors and techniques makes these bite-sized tostadas perfect for an appetizer menu.
Take the time to get creative
Fun, creative, and comforting appetizers are a great way to increase guest check averages while also helping you utilize products from other parts of your menu and decrease your food costs. Appetizers are a great place to experiment with new things, test out new flavor combinations and get feedback from guests. As more people emerge from their houses to dine out, they'll be looking for fun, exciting experiences that justify the rising cost. Offering craft appetizers with exciting, high-end ingredients in creative formats can help you take the sting out of today's menu prices.
1 Datassential, 2022
2 The New York Times
3 The DoorDash Deep Dish
4 Food & Wine
5 Better Homes & Gardens