Southwestern Taco Lasagna Bake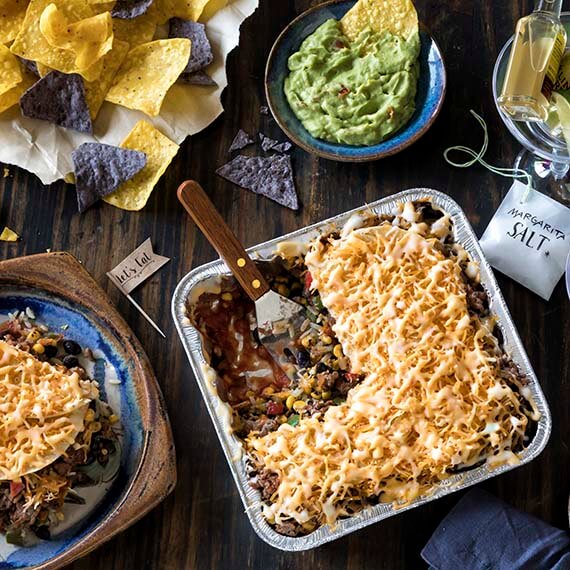 Yield:
16 Servings (9 oz. each)
Yield: 16 Servings (9 oz. each)
Bring the flavors of the Southwest to diners with this riff on lasagna. Layer Simplot RoastWorks® Flame-Roasted Corn and Black Bean Fiesta Blend, cheese, and taco meat with tortillas, salsa, and Simplot Good Grains™ Cilantro Lime Rice & Fire Roasted Corn Fiesta for a Southwestern Lasagna that's sure to please.
Preparation Instructions:
Step 1

Preheat oven to 350°F.

Step 2

Combine corn and black bean blend, taco meat and 8 oz. of cheese in a large bowl. Blend until well combined. Reserve.

Step 3

For each pan; place 2 oz. of salsa in the bottom of an 8x8-inch foil pan and spread evenly. Top with one tortilla in the center and cut another tortilla in quarters and place in pan with the points of each quarter pointing to the corners of the pan, creating a layer. Top with 4 oz. of cilantro rice, 1/4th of the meat blend and layer two more tortillas like the first layer. Finish with 2 oz. of cheese. Bake for approximately 25-30 minutes or until cheese is golden brown and bubbly. Allow to rest for 10 minutes before serving.
Products used in this recipe