Butter Poached Shrimp and Corn Stuffed Avocado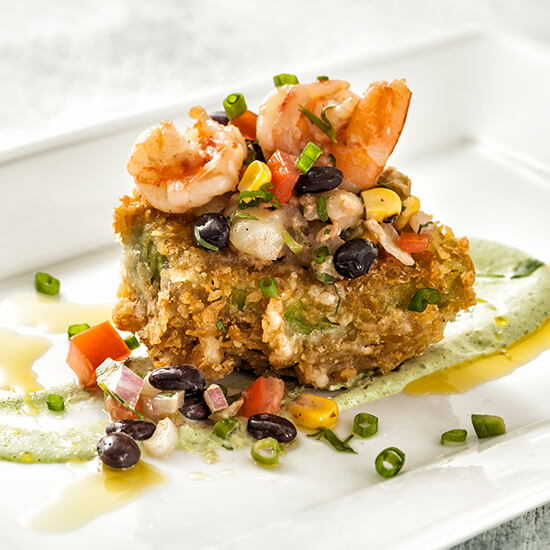 Yield:
20 Servings
Yield: 20 Servings
This delectable dish lands on the lighter side of offerings, but it's packed with fresh, bright flavors and presents beautifully.
Step 1: Lime Vinaigrette
| Ingredient | Weight | Measure |
| --- | --- | --- |
| Olive oil | 24 fl. oz. | |
| Rice wine vinegar | 8 fl. oz. | |
| Dijon mustard | | 1 Tbsp. |
| Honey | | 1 Tbsp. |
| Lime juice, fresh | 2 fl. oz. | |
Preparation Instructions:
Lime Vinaigrette
Emulsify oil, vinegar, Dijon, honey and lime juice in blender.
Salad
• Melt butter in a medium pan over low heat.
• Butter poach the shrimp until just cooked, about 5 minutes. Drain shrimp, cool and reserve.
• Prepare the black bean and corn fiesta according to the package directions. Chill.
• Combine the shrimp, black bean and corn fiesta, tomato, jalapeno and vinaigrette, toss to coat. Add cilantro and lime zest.
• Season to taste with salt and pepper. Chill for two hours prior to service.
Chips
Prepare chips according to package instructions, drain and cool. Chop in food processor until coursely ground. Reserve.
Cumin Sour Cream
Whisk together sour cream and cumin in small bowl. Transfer to a squeeze bottle and refrigerate.
Plating
• Preheat fryer to 350°F. For each serving; dredge each Simplot avocado halves in tempura batter and coat with chips.
• Transfer to fryer and cook for 2 minutes or until golden brown and crispy.
• Drain and place on a warm serving plate.
• Top with 6 oz of salad and drizzle with 1 fl oz of sour cream.
Products used in this recipe