Bacon Wrapped Wedge Fries, Cowboy Caviar and Cheese Sauce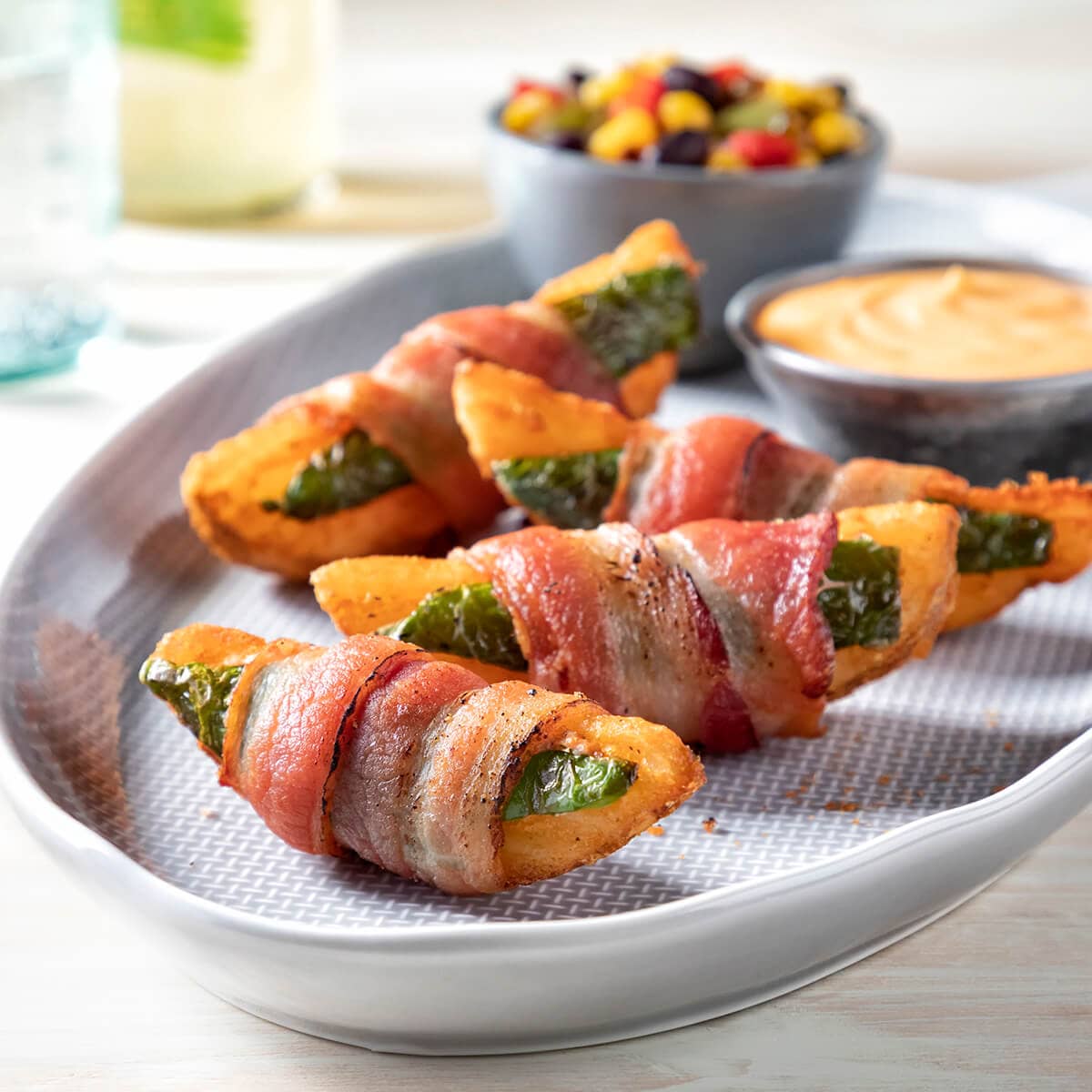 Yield:
8 Servings (12 oz. each )
Yield: 8 Servings (12 oz. each )
Need to spice up your appetizer game? Wrap up Simplot SeasonedCRISP® Delivery+® Savory Battered Wedges and jalapeño strips with crispy bacon. Serve with beer cheese and pickled cowboy caviar —your customers won't be able to get enough of them!
Preparation Instructions:
Step 1

Preheat deep fryer to 345-350˚F.

Step 2

In a non-reactive pan combine vinegar, sugar and salt, bring to a boil over medium heat. Stir in corn and back bean blend and bring back to a boil. Turn off heat and cool to room temperature. Transfer to a plastic container, cover and refrigerate for at least 30 minutes. Refrigerate overnight for more infused flavor.

Step 3

In a saucepan, bring beer to a boil over medium heat. Reduce heat to a simmer. Whisk in cream cheese and cayenne pepper, stir until smooth. Gradually stir in cheese until melted and smooth. Keep warm.

Step 4

Arrange potato wedges in a single layer on a sheet pan and thaw, about 7-10 minutes. Pair 1 potato wedge with 1 jalapeño strip and wrap with a slice of bacon. Skewer the potato making sure to go through bacon ends to keep from unwrapping. Repeat process until all potatoes are wrapped. Cook in fryer for 4 minutes or until bacon is crispy and potatoes are heated through.

Step 5

To serve; drain excess liquid from the corn blend. For each serving; place 4 bacon-wrapped potato wedges in serving container with 4 oz. cheese sauce and 5 oz. cowboy caviar corn blend.
Products used in this recipe