There's Nothing Simple About These Soups
Aug 17, 2022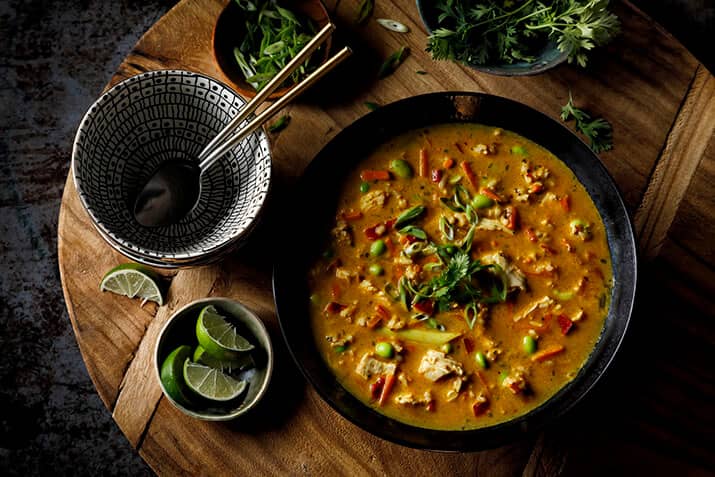 There's a shocking scene in the critically acclaimed new FX series "The Bear" that's certain to make every chef who watches it squeal in agony.
Sous chef Sydney (Ayo Edebiri) is tasked to make a rich, nuanced, vegetable-infused meat stock, and in haste, she spills an entire bucket of veal stock all over the kitchen's storage room. Now, it's never clear how the stock's being used, but it's a total waste of hours of preparation.
That stock could have been the perfect foundation for a magnificent soup, which is, according to experts, a favorite with diners. Just imagine, if you will, this hearty soup brimming with seasonal bounty like Brussels sprouts, carrots, cauliflower, squash, potatoes, and radishes with all sorts of herbs and seasonings.
That's exactly what the people want as better-quality soups are on the rise, says Technomic in its latest report.1 It goes on to state that more consumers say they now order soup when they want to eat healthy compared to 2017.
Additionally, continues the report:
69% of consumers agree that it's important for soup to be prepared daily
65% agree that it's important that the soup satisfies a craving
And 60% agree that it's important that the soup makes them feel good
Soup as an artform
These stats aren't lost on chef Adrienne Cheatham, a life-long soup enthusiast who learned how to perfect the craft during her days at New York's famed Le Bernardin restaurant.
"When I was working at Le Bernardin, one of the most important stations was the sauce station, and that's where you learned to build and layer flavors and really capture them at their peak," recalls Cheatham, who hosts weekly "Sunday Best" pop-up dinner parties throughout the country. "Between my mother's soups and learning that it could be this technique-driven, beautiful thing that has layers of flavor and nuances, I really started respecting the art of soup over the years."
Cheatham loves soup so much that during the winter, she features an original soup demonstration on her Instagram page twice a week. Additionally, she's spotlighted several of her favorite soup recipes in Sunday Best: Cooking Up the Weekend Spirit Every Day: A Cookbook (Penguin Random House, 2022), including mango gazpacho – a favorite of Le Bernardin co-owner Maguy Le Coze – as well as yakamein and her version of her mother's gumbo.
The latter feels especially close to home for Cheatham because she won a challenge on Bravo's "Top Chef" with her mother's gumbo – with her mother cooking alongside her on the popular culinary competition. She modernized the dish by straining all the liquids through a chinois. "That gives it a super, refined texture," she explains.
Modernized soups paying tribute to classic dishes
According to Datassential, soups are comforting one-dish favorites often used as a platform for revamping classic dishes. That's true in the case of the Baja chicken enchilada soup from Mel's Grill in Clarkston, Michigan; chicken cordon bleu soup from Sunrise Bagel in Waterville, Maine; and lasagna soup from Dream Dinners in Framingham, Massachusetts.2
At Chicago restaurant Esme, it's how the pierogi is transformed into a soup that intrigues diners who come in for the inventive tasting menu. Chef/Partner Jenner Tomaska loves French onion soup, and instead of croutons, he complements his version with a crispy fried pierogi filled with raclette cheese. And though the dish is vegetarian, he compares its rich umami to a veal stock because he burns and stews a broth of red onions until it is lush and thick.
"[The] pierogi is near and dear to my heart because of my grandmother, but the flavor combinations are based around French onion soup," explains Tomaska, whose ground-breaking, art-focused restaurant picked up a Michelin star in 2022. "The soup is warm and comforting."
It's also theatrical, says Tomaska, who presents the dish in its entirety tableside. The French onion soup is dramatically poured over the pierogi in front of guests for a couple of reasons, he continues.
"It lends to the arts and the space itself," he explains. "And when you think about it, when we're pouring hot soup at the table, you then get to experience that at its full temperature, the way it's intended to be. I believe temperature is very important when we're talking about sauces, soups, and stews."
For culinary personality and author Carla Hall, transforming a favorite dish into a soup is putting an exciting new spin on it. It's also a smart way to utilize leftovers in the refrigerator, she advises.
"I think it's great to make a soup from Thanksgiving leftovers," says Hall, who is partnering with Esquire by Cooper's Hawk in Chicago for a visiting chef's menu in 2022. In addition to savory turkey soups, she'll also whip up warm fruit soups for dessert, which she compares to fruit cobbler. For that concoction, she'll use frozen berries or stone fruits like peaches, then add house-made dumplings for texture.
"That's the great thing about soups," explains Hall. "Whether you're familiar with an ingredient or not, you can easily manipulate it into a soup. You can add all kinds of flavor profiles to them, too."
Soups with a global perspective
While many U.S. consumers appreciate the comfort-food soups, Datassential says 46%2 of diners are interested in seeing more global soup options at restaurants near them. These global twists, such as beef noodle soup, shrimp wonton, hot pot, ramen, and udon noodle soup, earn high uniqueness scores with consumers.
To capture this audience, Panera Bread's Thai chicken soup (made with chicken, carrots, shiitake mushrooms, red bell peppers, and edamame in a Thai yellow coconut curry broth with lemon grass, ginger, galangal, and Thai lime) launched in winter 2022.3 And last fall, Qdoba Mexican Eats brought back its loaded tortilla soup, a seasonal item combining hot tortilla soup with meat, rice and beans, and served with a variety of toppings.3
When chef Adrienne Cheatham worked at Red Rooster Harlem, there was always at least one globally-focused soup on the menu, she says, because owner/chef Marcus Samuelsson loved to explore international ingredients.
"It couldn't just be [something as simple as] butternut squash soup," she says. "It had to be curry butternut squash or harissa sweet potato or harissa carrot soup."
Doesn't that sound like something you wouldn't dare spill?
If you're ready to get cooking, here are some craveable soup recipes from Simplot Corporate Executive Chef Michael Zeller, featuring labor-saving Simplot products:
Winter Blueberry Almond Soup »
Thai Curry Basil Soup »
Mexican Elote-Style Street Corn Soup »
Carrot Soup with Avocado Crema »
1 Technomic: Consumer Food Trends - Serving Better Soups - April 2022
2 Datassential Insights: Better Soups, 2022
3 Technomic: Dish – February 2022
4 Technomic: Dish – November 2021