Why Fries Are More Important Than Ever for Restaurants
May 03, 2023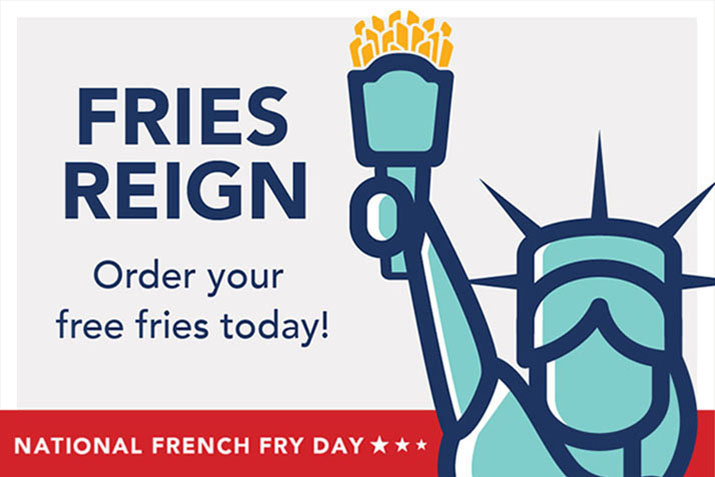 When it comes to driving traffic and profits, few things come close to french fries. After all, almost half of Americans say french fries are their go-to comfort food.1 And the public's love of fries has a huge financial impact on the restaurants they visit.
New findings from the researchers at NPD Group/CREST tell the story:2
Fries are the #1 most-important food on restaurant menus and are included on 13.5% of all visits, 16% of all casual dining visits, and 17.5% of all QSR visits


With the return of on-premise dining occasions, fries eaten onsite have grown +18.9% versus a year ago


Importantly, fries eaten offsite also grew versus last year, up 3.9%
And, don't forget, fries remain the most profitable food item on menus.
The lesson here? Great fries are a magnet for both traffic and profits.
Lead with fries, the money will follow
For consumers without a commercial deep fryer in their kitchens (i.e., pretty much everyone), it's virtually impossible to make french fries at home as good as the fries they enjoy in restaurants. To get great fries, they have to come to you.
Best of all, fries and fry-based appetizers have very low food cost per serving but command extraordinary margins—the highest of any food item on your menu.
You can count on customers to be hungry for hot, freshly cooked fries when they dine in (or dine at home). Capitalize on these cravings!
How to market fries for maximum impact
Helloooo—fries are a lot more than a convenient side dish. They're a golden opportunity to apply your creativity, differentiate your menu and drive traffic in the door. Here are a few tactics to consider:
Hold a Free Fryday event. Nothing brings folks in the door like a free fries offer. You could take advantage of National French Fry Day on Thursday, July 13th to schedule your event. But free-fry events work any day of the week, so the timing is really up to you (more on this below). Another event idea? Hold a "fry tasting" with flights of various fries matched with tasty dips and cold beverages. Download our free National French Fry Day Marketing Kit with print-ready files for posters, table tents and more.


Create loaded fry appetizers. Loaded fries aren't a new idea, but they've certainly proven their value in recent years. Choose recipes that fit your theme and keep them ultra-profitable by using the trim from your other dishes as toppings on your fries. See what makes a great loaded fry dish.


Offer fry charcuterie boards. Consider replacing your high-food-cost meat and cheese board with a charcuterie board of various types of fries and signature dips. They're easy to prepare, don't require additional training or equipment, and shareable as all get out. Talk about an Instagram-friendly idea! Learn more.


Offer bottomless fries for dining in. Reward the folks coming back to your restaurant after the pandemic with all the fries they can eat, even if just for a limited time. It's a great—and relatively inexpensive—way to show you appreciate their business.


Ensure your fries will arrive crisp for off-premise customers. Takeout and delivery will remain important sources of business now and into the future. According to research, soggy fries were the #1 complaint of off-premise customers. But it doesn't have to be. Simplot Delivery+® Fries offer 10 different cuts of fries that stay crisp 40+ minutes! This is the longest hold time in the industry, and customers can even reheat them back to crispy perfection with just 15-20 seconds in the microwave at home. Choose unseasoned and seasoned cuts. View these products. »


Create limited-time offers (LTOs) featuring fries. LTO's give people a new reason to visit their favorite restaurants and an opportunity to try something new. Operators get a chance to test new products—like a fry with a unique shape or flavor profile, or a special loaded fry dish—to see if it's worth adding to the regular menu. The fear of missing out on an LTO is enough to encourage orders. According to Datassential, the four highest-scoring loaded fry items for consumers were:3

Loaded Cheesy Bacon Fries
Buttery Garlic Parm Carne Asada Fries
Parmesan Garlic Fries
Truffle Parmesan Waffle Fries

Offer multiple fries and upcharge for the additional value. This is an oldie, but a goodie. While uncoated and clear-coated fries comprise most of the fries consumed, a majority of operators offer more than one fry, typically ones with a seasoned batter, an eye-catching shape or both. These qualities add perceived value in the minds of customers and operators can easily upcharge for them. Simplot SIDEWINDERS™ Fries punch all of these tickets and make a great second fry that builds profit. View these products. »
7 ways to get the word out and drive traffic
Determine the best day - look at local events and make sure you don't compete


Add to local event calendars


Contact your local food writer


Contact your local food bloggers - look at hashtags - run a contest with them


Create an event on Facebook - 1 month in advance


Send an email to your customer list - 2 weeks, 1 week, day before, day of


Create a content calendar for social - promote the posts, place ads (a good idea for promotion is
1-6% of total sales for the event)
The appeal of fries never dies
At a time of soaring labor and food costs, fries continue to deliver profits with their high margins and near-universal appeal. Try as they might, customers can only satisfy their fry cravings at restaurants. So be sure your making the most of your fries with LTOs and creative promotions like Free Fryday. It's an investment sure to pay dividends.
1 Datassential, Comfort Food Defined, 2023
2 NPD Group/CREST, 2023
3 Datassential, Scores, 2023