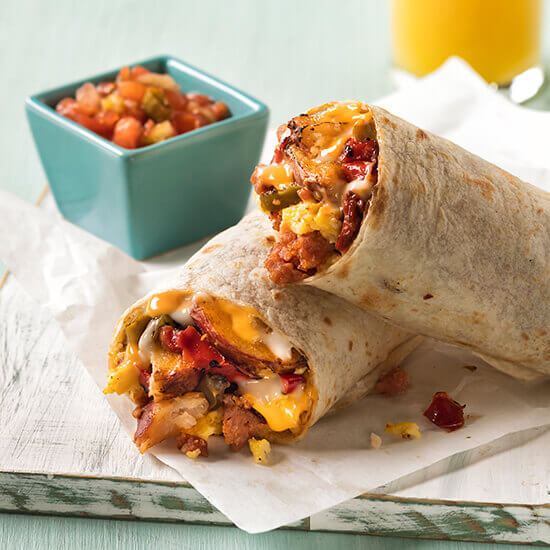 Products used in this recipe
Buenos Dias Breakfast Burrito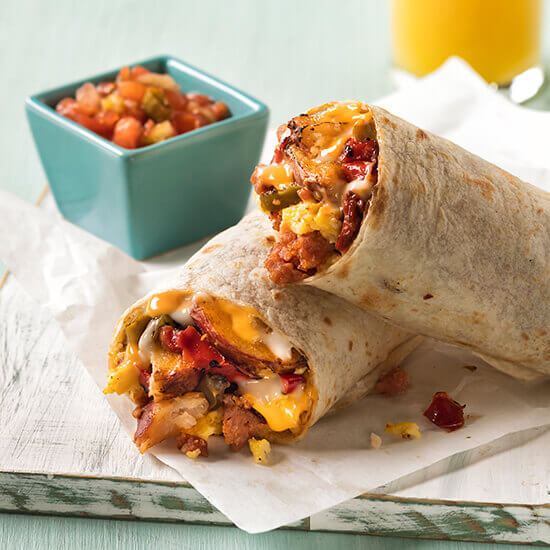 Yield:
10 Servings (12 oz.)
Yield: 10 Servings (12 oz.)
Flame-Roasted Redskins & Peppers, scrambled eggs, chorizo sausage, and Monterey Jack cheese wrapped in a flour tortilla and served with a side of salsa.. Wow! What a wake-up call! Eggs, potatoes, spicy chorizo, and roasted peppers all rolled into one hearty breakfast meal.
Preparation Instructions:
• Heat RoastWorks: Redskins & Vegetables on a sheet pan in a 375°F convection oven for 12 to 17 minutes. Keep warm.
• Crumble chorizo and saute over medium heat until cooked through. Drain fat and reserve for service.
For an order:
Place 2 ounces chorizo in skillet with 4 fluid ounces of whipped egg, cook until fully done and blended well. Warm a flour tortilla on the grill until softened. Top tortilla with 4 ounces Flame-Roasted Redskins & Vegetables. Add cooked egg and chorizo mixture. Top with 1 ounce shredded Mexican cheese blend. Roll up burrito style. Serve with 1 ounce prepared salsa.
Products used in this recipe