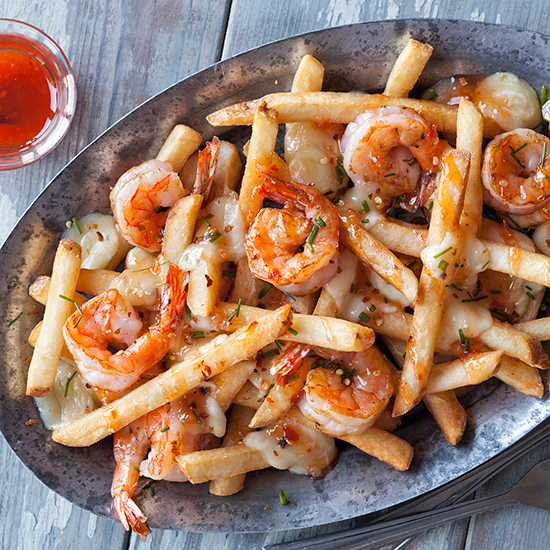 Products used in this recipe
Spicy Shrimp Poutine with Sweet Chili Sauce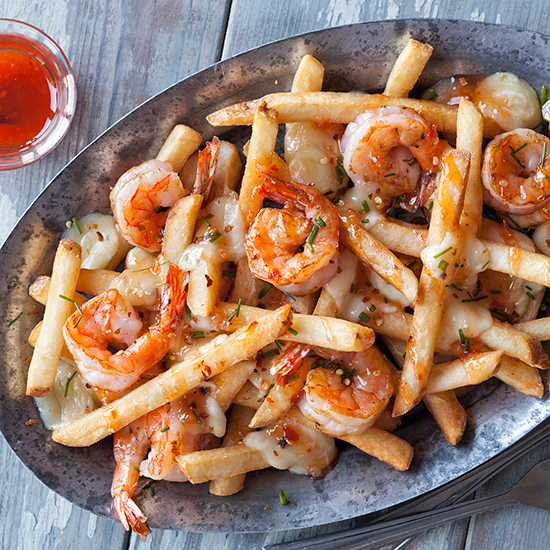 Yield:
10 Servings (19 oz.)
Yield: 10 Servings (19 oz.)
While the traditional Canadian gravy and cheese curd poutine trend is growing, many chefs are putting an American-style spin on poutine by adding alternative proteins and ethnic sauces. Simplot Chef Michael Zeller freshened up this version by adding gulf shrimp, sweet chili sauce and pepper jack cheese to our Select Recipe French fries.
Preparation Instructions:
Step 1

Cook fries according to package instructions. Keep warm.

Step 2

Place olive oil into hot sauté pan. Add shrimp, garlic and black pepper, and cook until done.

Step 3

Place 8 oz. of hot fries into serving dish. Top with 3 oz. of cheese and 7 shrimp (approximately 1/3 of a pound). Drizzle with 2 fl. oz. of sweet chili sauce and finish with 1/2 tsp. of red pepper flakes.
Products used in this recipe