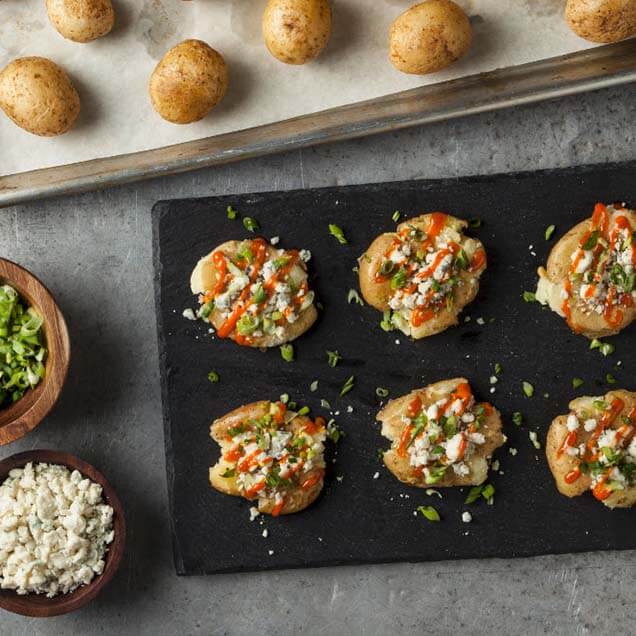 Products used in this recipe
Smashed Buffalo Baby Bakers™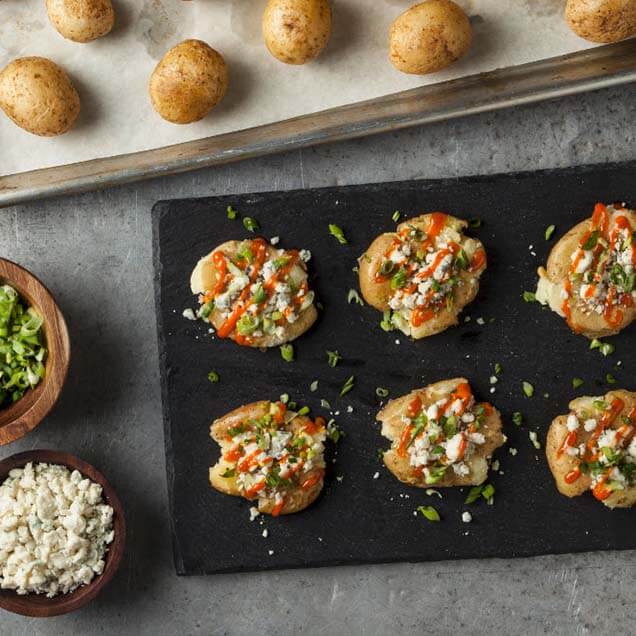 Yield:
14 Servings (4 oz.)
Yield: 14 Servings (4 oz.)
Perfectly sized Baby Bakers™ Roasted Potatoes are smashed and cooked until they get a little browned and crispy. Then load 'em up with flavor—sharp blue cheese, zesty buffalo sauce, and crispy scallions.
Preparation Instructions:
Step 1

Thaw Baby Bakers™ potatoes according to package instructions.

Step 2

In two batches, smash potatoes on a 1/2 sheet pan lined with parchment paper. Top with another sheet of parchment paper and another clean 1/2 sheet pan. Apply pressure to flatten potatoes to 1/4-inch thickness.

Step 3

On a preheated flat-top grill or large skillet over medium-high heat, add oil. Take potatoes on the paper from pan, turn over potatoes onto flat-top grill. Cook until bottom is crispy. Flip potatoes over. Season with salt and pepper. Brush garlic butter over potatoes.

Step 4

Remove the potatoes onto a serving dish. Sprinkle blue cheese and drizzle with buffalo sauce. Garnish with scallions.
Products used in this recipe