Roasted Yukon Gold Reds and Haricot Vert with Ancho Dust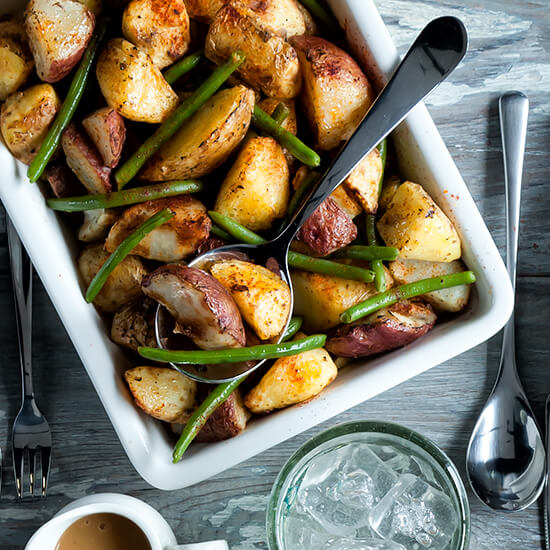 Yield:
12 Servings (6 oz.)
Yield: 12 Servings (6 oz.)
Roasted Yukon gold & redskin potatoes, and premium extra-fine haricot vert green beans are combined with an ancho chile dusting for a bold elevation to a traditional side of the season.
Preparation Instructions:
Step 1

Preheat convection oven to 350°F. Bring 4 quarts of water to a boil in a 7 qt. pot.

Step 2

In a medium bowl, combine oil, chile powder, sugar, garlic, salt and pepper. Toss potatoes in mixture to combine.

Step 3

Spray baking sheet pan with cooking spray; arrange potatoes in a single layer on pan. Bake 12 minutes, or until hot.

Step 4

When potatoes have five minutes remaining to bake, add haricot vert to the boiling water. Cook for 3-4 minutes or until hot. Remove and strain.

Step 5

Toss haricot vert with the hot roasted potatoes. Place into a serving bowl. Serve hot.
Products used in this recipe