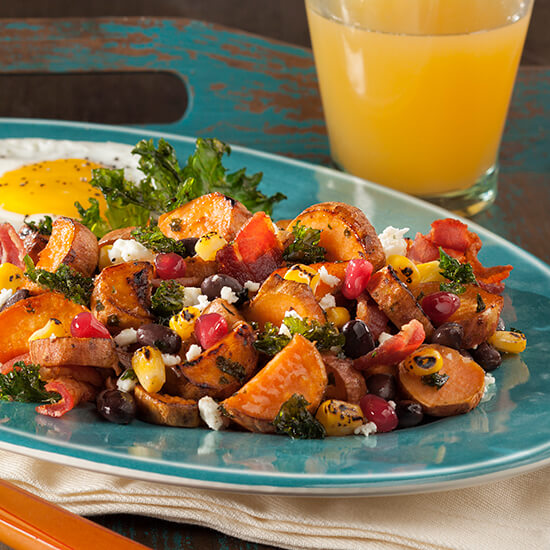 Products used in this recipe
Roasted Sweet Potato Breakfast Hash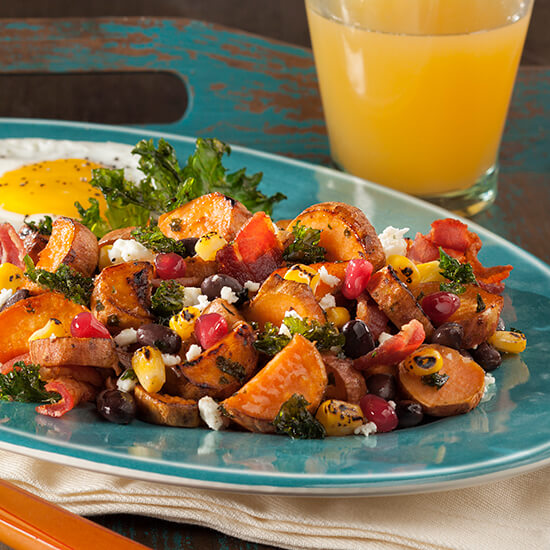 Yield:
7 Servings (13 oz.)
Yield: 7 Servings (13 oz.)
This hearty breakfast hash is savory with a hint of seasonal sweetness serve year-round or as a seasonal LTO.
Preparation Instructions:
• Prepare RoastWorks Roasted Sweet Potatoes according to package directions.
• Place sweet potatoes into bowl and add black beans, RoastWorks Flame-Roasted Simply Sweet Cut Corn and bacon. Fold together gently.
• Place 8 oz of mixture per serving into a non-stick pan coated with pan release. Saute 2-3 minutes or until hot.
• While mixture is heating, cook eggs to desired temperature and place onto a warm plate. When mixture is just about ready, fold in 1/2 oz kale and 1/2 oz feta cheese. Toss lightly and plate with eggs. Garnish with pomegranate seeds, if desired.
Products used in this recipe