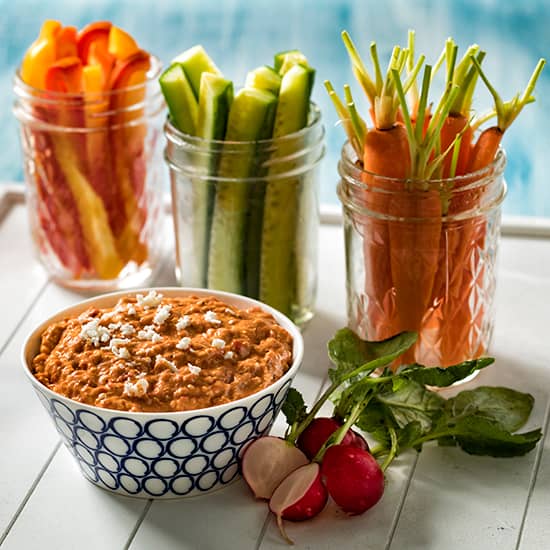 Products used in this recipe
Roasted Red Pepper & Feta Dip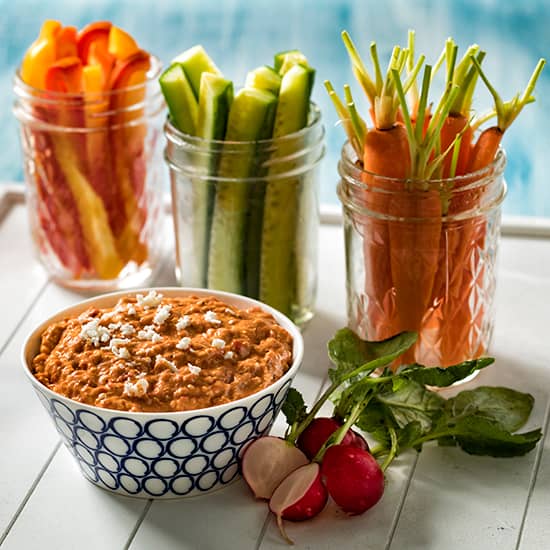 Yield:
26 Servings (3 oz. each)
Yield: 26 Servings (3 oz. each)
This roasted pepper dip will stand out on your holiday buffet.
Red Pepper and Onion Mixture
Cheese Mixture
| Ingredient | Weight | Measure |
| --- | --- | --- |
| Garlic cloves, whole, roasted | 4 oz. | |
| Feta cheese, crumbled | 16 oz. | |
| Cream cheese, softened | 16 oz. | 2 cups |
| Capers | 1 oz. | |
| Black pepper, cracked | | 2 tsp. |
Preparation Instructions:
Step 1

Preheat oven to 375˚F.

Step 2

Spray a foil-lined baking sheet with pan release spray. Place the onions on a baking sheet and spray with pan release. Bake for 20 minutes.

Step 3

Remove the baking sheet from the oven and turn each onion over. Bake for an additional 15-20 minutes. Remove and cool.

Step 4

Increase oven temperature to 425°F. Line a half sheet pan with foil. Spread bag of diced red peppers in an even layer on the baking sheet. Drizzle with olive oil. Bake for 15-20 minutes, turning pan once halfway through baking until roasted and lightly charred.

Step 5

Place half the onions and roasted red peppers in a food processor along with half the garlic, feta, cream cheese, capers, and black pepper. Process until well blended. Remove the mixture from the processor and set aside.

Step 6

Process the remaining onions, roasted red peppers and ingredients. Blend both batches together. Serve with assorted crudites, baguette slices, crusty bread, or tortilla chips.
Products used in this recipe