Roasted Pork with Mango Mojo and Ancient Grains & Kale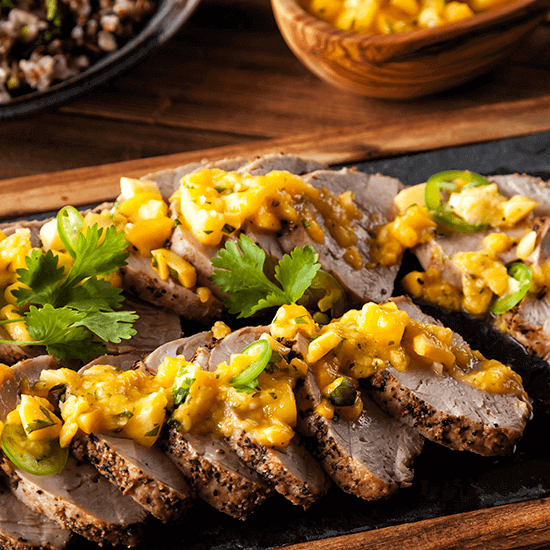 Yield:
10.0 Servings (6.0 oz.)
Yield: 10.0 Servings (6.0 oz.)
Preparation Instructions:
• Thaw mango according to package instructions.
• Preheat the oven to 350°F. Season the tenderloins with salt, black and red peppers. Bake for 20 - 30 minutes or until 145 to 160°F. Remove from oven to rest.
• Prepare the Good Grains Ancient Grains & Kale Blend according to the package directions, hold warm.
• Combine thawed mango, lime and orange juices, ginger, and garlic into blender. Puree for 30- 45 seconds. Remove container from blender and fold in jalapenos and cilantro.
• For service; line platter with grain blend, top with 1/4" sliced tenderloin and drizzle with half of the mango mojo sauce. Serve with remaining sauce on the side.
Products used in this recipe