Roasted Corn & Jalapeño Cauliflower Chowder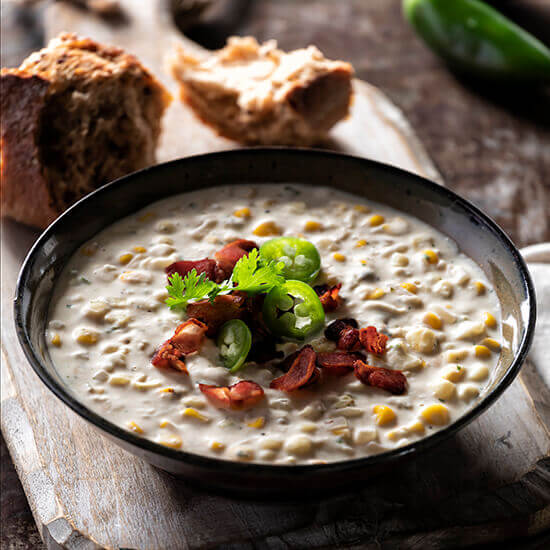 Yield:
16 Servings (8 oz.)
Yield: 16 Servings (8 oz.)
Sometimes a warm bowl of chowder is the only thing that will satisfy, and this version is sure to please. Deeply flavorful without being too rich, it's a winner.
Preparation Instructions:
Step 1

Bring vegetable stock to a boil in a medium pot. Add cauliflower and return to a boil, remove from heat. Reserve 1/3 of the cauliflower in a separate bowl, when cool chop into bite-size pieces. Purée the stock and cauliflower in batches until smooth.

Step 2

Heat olive oil in medium pot, add onions and garlic and cook until lightly browned, about 3-5 minutes. Stir in corn and jalapeño blend, cook for 5-7 minutes, add flour and continue to cook until slightly toasted, about 5 minutes. Add vegetable stock blend and bring to a boil. Turn down heat and let it simmer for 7-10 minutes.

Step 3

Stir in heavy cream and adjust the consistency with additional water or stock. Add reserved cauliflower and season with salt and pepper.
Products used in this recipe