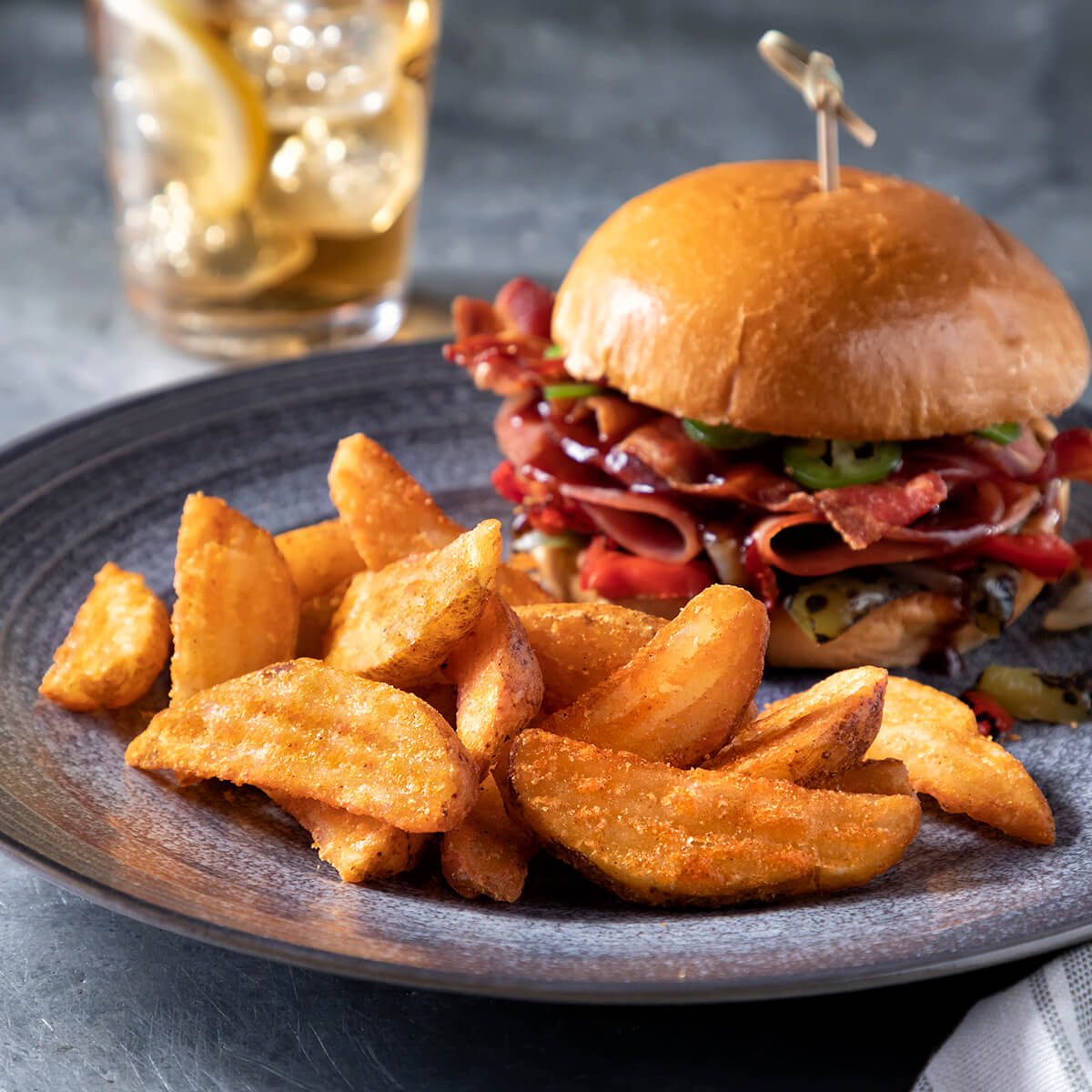 Yield:
8 Servings (14 oz. each )
Yield: 8 Servings (14 oz. each )
A brioche bun piled high with sliced ham, crisp bacon, house-made pickled peppers and onions and topped with tangy barbecue sauce. Serve with Simplot SeasonedCRISP® Delivery+® Savory Battered Wedges and lots of napkins.
Preparation Instructions:
Step 1

In a pot combine vinegar and sugar, bring to a boil over medium heat. Add frozen peppers and onions and jalapeño peppers, stirring to combine. Return to a boil, turn off heat and cool to room temperature. Transfer to a plastic container, partially cover and refrigerate for at least 30 minutes.

Step 2

Add 1 Tbsp. butter to preheated griddle or sauté pan over medium heat. Add 3 oz. ham and quickly sear on all sides, about 2-3 minutes or until ham is slightly charred and heated through.

Step 3

Spread 1 tsp. butter to both sides of brioche buns and toast until golden brown.

Step 4

Prepare potato wedges according to package instructions. Transfer to a paper-lined platter and hold hot.

Step 5

For each serving; place seared ham on bottom half of toasted bun. Top with 2 oz. drained pickled peppers and onions, 2 slices of cooked bacon, and 2 fl. oz. barbecue sauce. Place top bun and secure with skewer. Serve with 4 oz. potato wedges.
Products used in this recipe