Flank Steak Filled with Spinach and Cream Cheese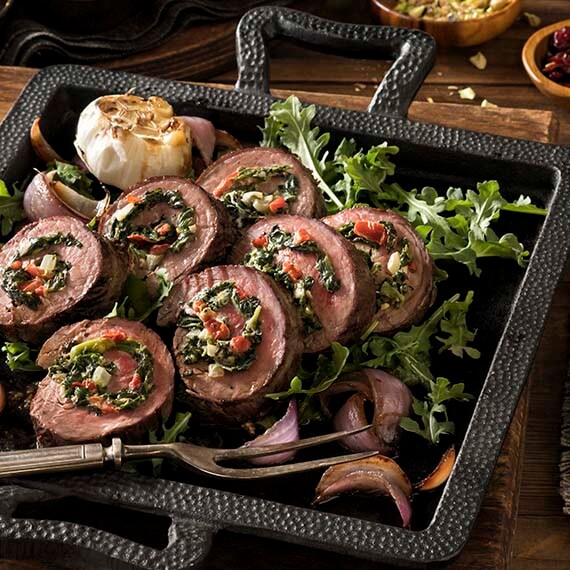 Yield:
8 Servings (7 oz.)
Yield: 8 Servings (7 oz.)
Take the classic steakhouse dinner of steak and creamed spinach to the next level with this elegant presentation of flank steak filled with a creamy sauce that's bright with vegetables.
Preparation Instructions:
Step 1

Heat 1 fl. oz. olive oil in a pan over medium-high heat. Add onion and garlic, cook until onions are translucent, about 3 minutes. Add frozen spinach and peppers, and cook until most of the liquid has evaporated. Season with salt and pepper. Transfer to a bowl and let mixture cool slightly. Stir in softened cream cheese until evenly combined. Chill.

Step 2

Butterfly the flank steak so that it is 1/2-inch thick. Lay a piece of plastic wrap over steak and pound slightly to even surfaces. Season with salt and pepper and spread spinach and cream cheese mixture evenly over the surface of the meat, leaving a 1-inch border at the top. Roll steak into a cylinder and tie at 2-inch intervals with kitchen twine. Brush with remaining 1 fl. oz. of oil, and season with salt and pepper.

Step 3

Place rolled steak on a foil-lined sheet pan or roasting pan. Roast in a 400°F oven for 30-35 minutes, until center of meat reaches 145°F. Let rest 10 minutes before slicing into 1/2-inch rounds.
Products used in this recipe