Chipotle Breakfast Scramble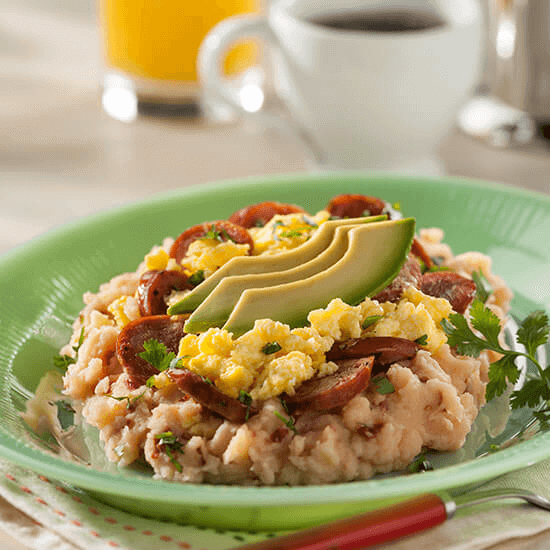 Yield:
23 Servings
Yield: 23 Servings
Flavor-packed chipotle mashed potatoes topped with fluffy scrambled eggs and andouille sausage.
Preparation Instructions:
Step 1

Thaw avocado according to package directions.

Step 2

Prepare and heat mashed potatoes according to package directions; keep warm.

Step 3

Remove chipotle peppers from can and dice; reserve adobo sauce from can. Fold peppers, adobo sauce and cilantro into mashed potatoes.

Step 4

In a large sauté pan, heat sliced andouille and keep warm. In another large sauté pan on medium-high heat, warm 2 fl. oz. of olive oil. Add eggs and scramble to desired consistency; keep warm.

Step 5

In a medium-size serving bowl, place approximately 1 cup potato mixture and top with 4 oz. of scrambled eggs. Surround eggs with 4 oz. of sliced andouille sausage. Garnish with approximately 3 avocado slices and a pinch of cilantro.
Products used in this recipe