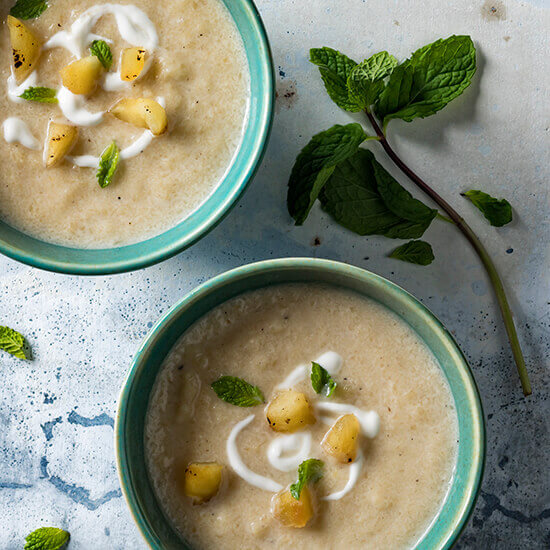 Products used in this recipe
Chilled Apple Ginger Soup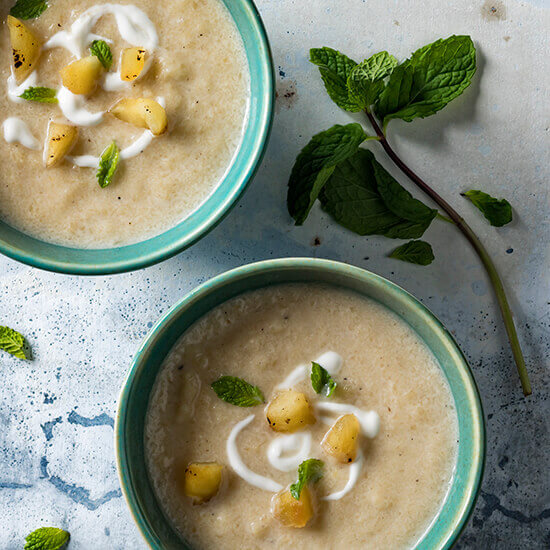 Yield:
9 Servings (8 oz.)
Yield: 9 Servings (8 oz.)
Roasted Fuji apples puréed with rich, heavy cream, a touch of ginger and lemon.
Step 2: Cream
| Ingredient | Weight | Measure |
| --- | --- | --- |
| Sour cream | 4 oz. | |
| Heavy cream | 4 fl. oz. | |
| Lemon juice, fresh squeezed | 2 fl. oz. | |
Preparation Instructions:
Step 1

Place the apples, wine, 8 fl. oz. of the apple juice, sugar and ginger in a small stock pot. Bring to a boil and simmer over medium heat until apples are tender, approximately 20 minutes. Purée the soup with a stick blender or use a food processor or mill.

Step 2

Whisk together the remaining apple juice, sour cream and heavy cream in a bowl. Add to the soup, stirring to combine and adjust the consistency if needed with additional apple juice. Season with lemon juice and chill thoroughly in a shallow pan. For service; garnish each portion with additional sour cream, creme fraiche, or mint.
Products used in this recipe