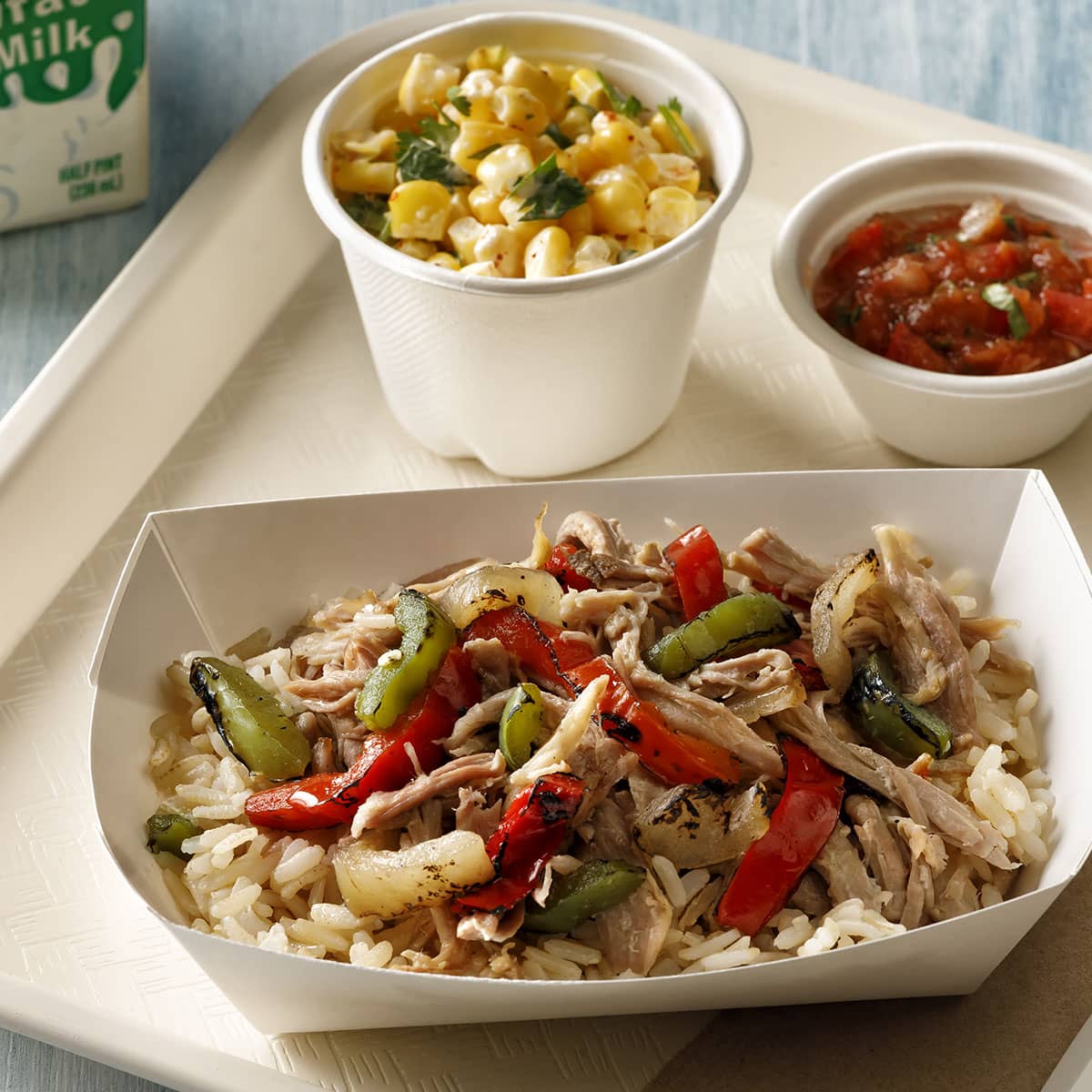 Yield:
96 Servings
Yield: 96 Servings
Meal Components: 2 oz. eq. meat/meat alternate, 1 oz. eq. wgr, 1/4 cup red/orange and 1/4 cup other vegetables
Preparation Instructions:
Step 1

Thaw pork according to package instructions. Preheat steamer or combi oven for use. Place 5 lbs. of thawed pork into 5 (4-inch deep) half pans. Mix all dry seasonings together. Whisk dry seasonings with orange juice. Pour 5 oz. of seasoned orange juice over pork. Cover and hold for warming.

Step 2

Place 6 lbs. of rice into each of 3 full deep pans (4-inches deep), with 1 pan being 5 lbs. Place 5 lbs. (2 bags) of peppers and onions into 3 shallow full pans (2-inches deep).

Step 3

Cook pork In convection oven or combi oven for 90 minutes or until it reaches an internal temperature of 165°F for 15 seconds. Cook brown rice and pepper and onion blend either in a steamer, steaming for 8 minutes, or for 7 minutes in the combi oven at 100% steam.

Step 4

For service in 12 oz. bowl; place 1/2 cup brown rice in bowl using a #8 disher or 4 oz. spoodle. Add 4 oz. of carnitas using a #16 disher. Top with 1/4 cup of peppers and onions using a #16 disher. Garnish with fresh cilantro. Serve with 1/4 cup salsa.
Products used in this recipe