Buffalo Vegetable Loaded SIDEWINDERS™ Fries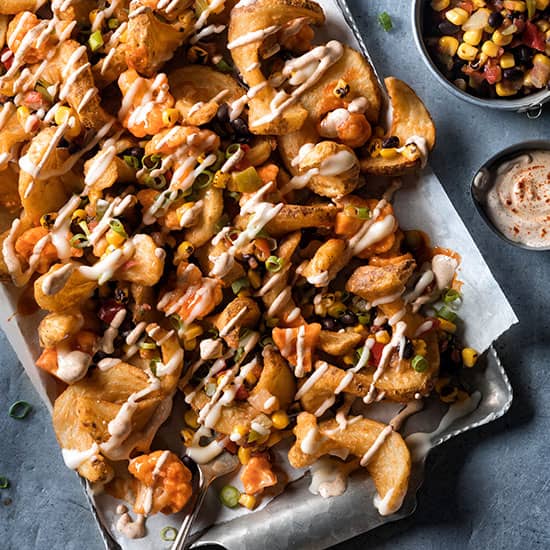 Yield:
7 Servings (10 oz.)
Yield: 7 Servings (10 oz.)
Need a sneaky way to incorporate vegetables into a tasty dish? This recipe does the trick. There's really no need to hide the veggies though; play them up because these fries are delectable!
Preparation Instructions:
Step 1

Prepare Corn and Black Bean Fiesta according to package instructions. Allow to cool. Combine with pico de gallo. Reserve.

Step 2

Cook Mediterranean blend according to package instructions. Toss with Buffalo sauce. Keep warm

Step 3

Prepare SIDEWINDERS™ Fries. Drain well and place onto serving platter. Scatter sauced Mediterranean blend on top of SIDEWINDERS™ Fries.

Step 4

Pour cheese sauce evenly over fries and vegetables. Sprinkle with corn blend. Drizzle with thinned sour cream and garnish with sliced scallions. Serve.
Products used in this recipe