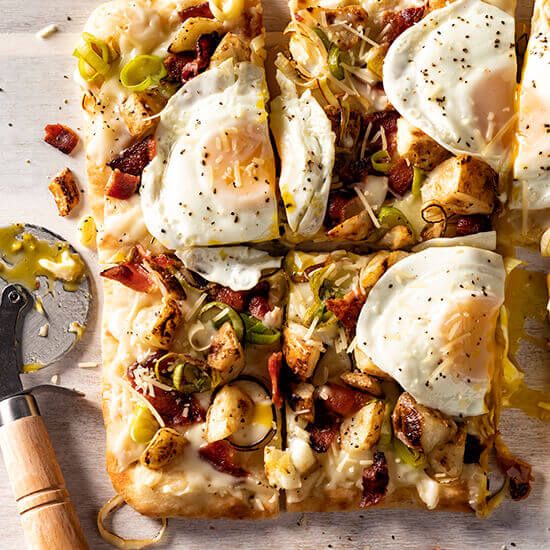 Products used in this recipe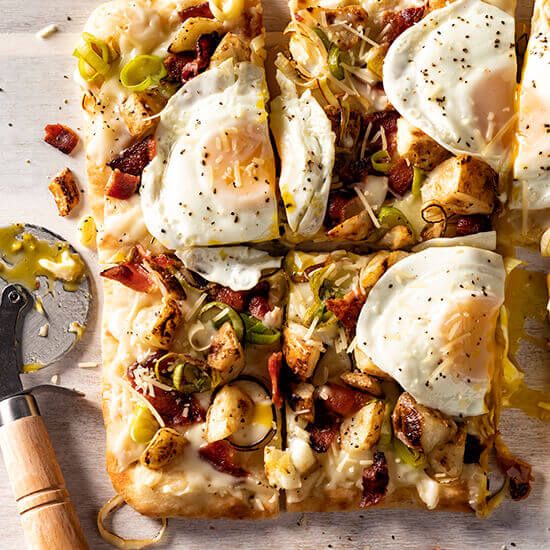 Yield:
1 Servings (14 oz pizza)
Yield: 1 Servings (14 oz pizza)
Breakfast pizza? Yes, please!
Preparation Instructions:
Step 1

Preheat oven to 425˚F.

Step 2

Prepare potatoes according to package instructions. Set aside.

Step 3

Cook leeks in 1/2 fl. oz. olive oil until softened, and slightly caramelized. Set aside. Cook diced bacon until crisp. Drain, and set aside.

Step 4

Roll pizza dough out into a 14-inch round or square. Brush with 1/2 fl. oz. olive oil. Top with shredded mozzarella, potatoes, leeks, and bacon. When ready to transfer the pizza into the oven, carefully break the three eggs over the pizza, leaving the yolks intact. Bake in a 425°F oven 15-17 minutes until crust is light brown and eggs are cooked, with the yolks still a little runny. Remove from oven and top with Parmesan and black pepper.
Products used in this recipe