Asian Beef Bowl with Quinoa Stir fry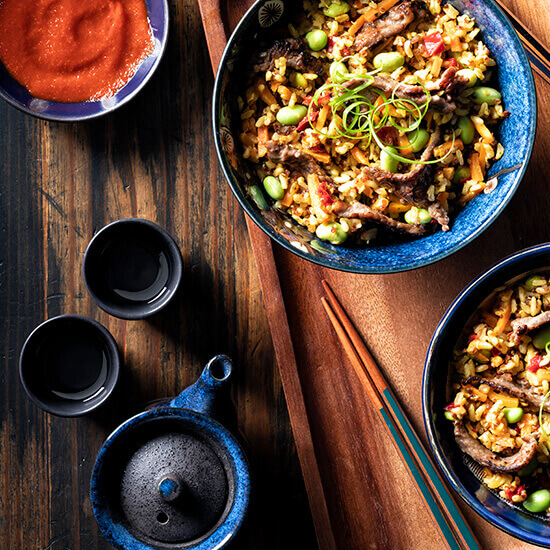 Yield:
3.0 Servings
Yield: 3.0 Servings
An Asian-inspired option with tender strips of flank steak, vegetables, and our hearty Simplot Good Grains™ Ancient Grains and Kale Blend. This one hits all the right flavor notes—it's healthy and filling, too.
Flank Steak & Marinade
| Ingredient | Weight | Measure |
| --- | --- | --- |
| Flank Steak | 16 oz. | |
| Soy sauce, light | | 1/2 Tbsp. |
| Cornstarch | | 1 Tbsp. |
| Rice wine or dry Sherry | | 1 Tbsp. |
| Oyster sauce | | 1 Tbsp. |
| Honey | | 1 Tbsp. |
| Garlic clove, minced | | 1/2 Tbsp. |
Preparation Instructions:
Step 1

Thaw edamame and grain and kale blend according to package instructions. Hold separately.

Step 2

In a large bowl, whisk together cornstarch, soy sauce, oyster sauce, rice wine, honey and garlic to create marinade. Thinly slice flank steak into strips about 1/4" thick across the grain of the meat. Add steak strips to marinade and allow to sit for 15-30 minutes.

Step 3

In a wok or non-stick skillet, heat 2 Tbsp. of vegetable oil over high heat and add the meat. Cook undisturbed for 15 seconds, allowing the meat to brown slightly. Then stir-fry for a minute longer until almost cooked through, remove the beef from the pan. Add remaining vegetable oil to the pan and allow the oil to heat before adding the carrots, edamame and grain blend. Stir fry for 2-3 minutes until vegetables are cooked through. Add the green onions and beef back into the skillet and stir-fry to mix, season with salt and pepper. Serve immediately with Sriracha, to taste.
Products used in this recipe