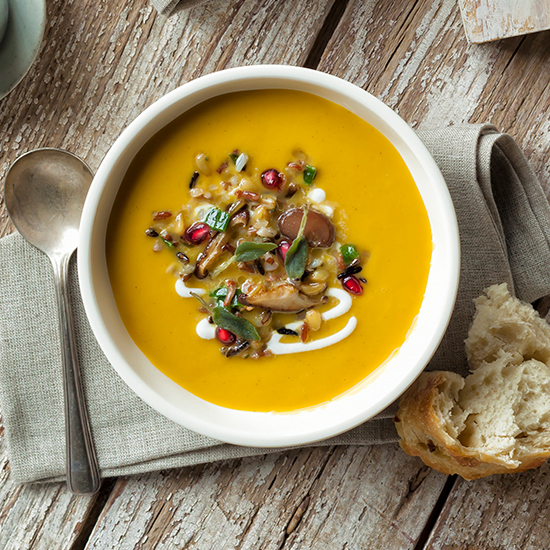 Products used in this recipe
Ancient Grains and Roasted Sweet Potato Soup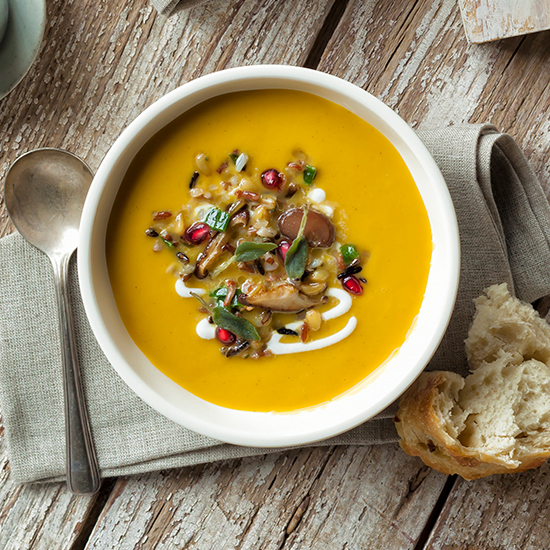 Yield:
13 Servings (11 fl. oz. each)
Yield: 13 Servings (11 fl. oz. each)
A creamy, hearty soup to add seasonal flavor to your menu. Pair with crusty bread for lunch, or serve as a dinner starter.
Preparation Instructions:
Step 1

Prepare sweet potatoes according to package instructions. In a large soup pot, sauté onions in butter until tender. Add sweet potatoes, chicken stock, marjoram, black and cayenne pepper. Bring to a simmer and cook for 5-10 minutes. Purée until smooth with a stick blender or in batches in a food processor and return to pot. Add cream cheese and melt into soup. Bring to boil; simmer for 5 minutes.

Step 2

Add heavy cream, heat through. Do not allow to boil. Season with salt as needed and adjust consistency with chicken stock, if needed.

Step 3

While soup is reheating, prepare the grain blend according to package instructions.

Step 4

To serve; pour 1 cup (8 fl. oz.) of soup into a bowl and garnish with 3 oz. grain blend, mushrooms, pomegranate seeds and fried sage leaves, if desired. Serve hot.
Products used in this recipe