Why Sauces Are Taking Over Social Media and Restaurants
Mar 03, 2023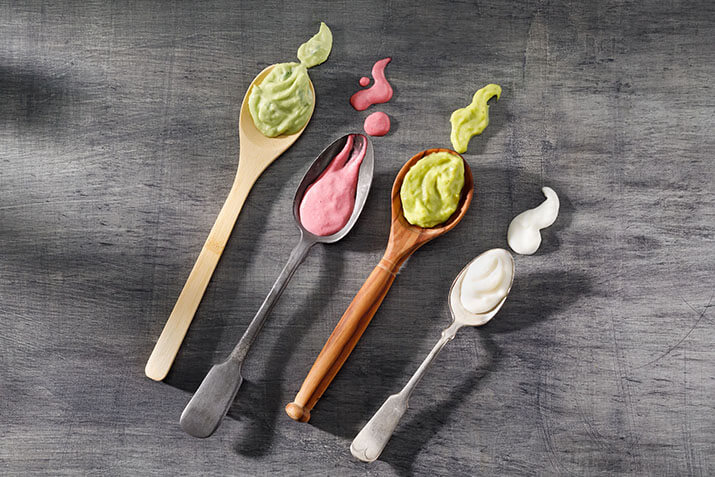 In the summer of 2022, the world was introduced to Pink Sauce through the virality of TikTok. The ranch-adjacent magenta sauce was invented by Chef Pii (not her real name, but her handle on TikTok), a private chef. Pink Sauce went viral, and Chef Pii, based in Florida, decided to start selling a bottled version of the sauce. Pink Sauce has become a viral sensation, with over 670 million views on the hashtag #pinksauce and selling for $20 a bottle at Walmart.
Not every sauce becomes a viral sensation that immediately gets deals with big food brands. Pink Sauce may be unique, but chefs and restaurants have been using social media and the power of prepared sauces and condiments to develop extra revenue streams for a long time.
So how can you use the power of trending sauces and condiments to your advantage?
Tap into the Gen Z market
"Sauces offer Millennials and Gen Z something they love: the power to personalize dishes," says Dianna Fricke, Director of Culinary and Corporate Executive Chef here at Simplot. Gen Z consumers and Millenials are always looking for new and exciting dining experiences, whether a new cuisine or a unique flavor combination. 51% of Gen Z consumers will try a new food just because it sounds exciting, and 47% last tried a new food item at a restaurant, which is much higher than Gen X (41%) or Boomers (37%).1
Developing exciting and unique sauces gives you a more cost-effective way to amp up the flavor for younger diners without changing too much of your menu.
Differentiate yourself
"Imaginative, over-the-top sauces and condiments are one of the fastest, least-expensive ways to add a trendy edge to classic items," says Chef Fricke. According to other restaurant operators, that holds true. In a recent survey done by Datassential, 47% of operators say that trend-forward sauces, condiments, and dressings help differentiate them from the competition.2
Phone eats first
Chefs have always used the old cliche "you eat with your eyes" to discuss the importance of presentation. These days that has gone one step further with the phrase "phone eats first." With Millennials and Gen Zers using social media to find where to eat, making your dishes look appetizing and photogenic is essential.
38% of TikTok users visited a restaurant after seeing it on the video-sharing platform, with 53% of Millenial users saying that they have.3


30% have traveled longer than they usually would to visit a restaurant after seeing it on TikTok.3


72% said the driving force behind visiting a restaurant after seeing it on the platform was appetizing-looking food.3


57% of Gen Z and 71% of Millennials have posted a photo or video of food on their social media.4
As we learned from Pink Sauce, creating a colorful, photogenic sauce is one way to get attention on social media. Consider using ingredients like beets, herbs, harissa, avocado, or even pumpkin to add color and unique flavors to your sauces.
Tap into other trends
According to the National Restaurant Association's "2023 What's Hot Culinary Forecast," variations on Chicken Sandwiches, Charcuterie Boards, Flatbread sandwiches/Healthier wraps, and Globally Inspired Salads are all in the top 10 hot items for 2023. You can easily tap into these trends by putting your twist on them with a signature sauce.5
Like the section above, experiment with classic sauces for each of these menu items by adding different ingredients, such as Avocado and Mango Salad Dressing for a wrap or Avocado Parmesan Cheese Dip for a charcuterie board. Another trend identified by the National Restaurant Association was Sriracha variations.5 Consider different ways to incorporate the spicy condiment on your menu, such as Sriracha-Cheese Sauce, Avocado Sriracha Sauce, or Sriracha Mayo.
Develop an additional revenue stream
In 2018, Kraft Heinz announced they would partner with celebrity chef Dave Chang, owner of the restaurant group Momofuku. Heinz would be making and distributing their Ssam Sauce, which had been served in their restaurants for over a decade.6 Though the partnership only lasted a couple of years, in 2021, amid restaurant closures due to COVID, Chang announced on his podcast that, as a restaurant group, they would be "proactively making decisions thinking that no help is going to come. That's diversifying. That's making sure not all our eggs are in one basket: restaurants." This diversification included starting a direct-to-consumer business with sauces and condiments used in Momofuku restaurants.
Developing and selling proprietary sauces is nothing new for restaurants, with prominent fast food examples like Chik-Fil-A and Burgerville doing it. But even as a smaller business, you can do the same. La Victoria's Taqueria started as a small family business in San Jose and has grown to six locations in the Bay Area, primarily due to the iconic status of their infamous Orange Sauce. Orange Sauce gained popularity because of its creamy texture and flavor - despite it being 100% vegan. Their secret family recipe is known to very few, closely guarded, and is so unique that others have attempted to duplicate it, to no avail. They sell the Orange Sauce in bottles only found at their six locations and make over 750 gallons weekly.7
With hashtags like #saucerecipes and #sauce getting millions and billions of views on social media platforms like TikTok, this trend is not slowing down anytime soon. With the potential to reach millions of users in a matter of seconds, incorporating popular sauces into your restaurant's menu and social media strategy can help increase visibility and drive customer engagement. Whether it's a unique dipping sauce or a creative twist on a classic condiment, get creative with your offerings and showcase them on your social media channels to draw in new customers. By tapping into this trend, you can stay ahead of the curve and give your customers a delicious reason to come back for more.
1 Datassential, New Food Experiences for Gen Z, 2022
2 Datassential, SNAP Keynote Sauces, Condiments and Dressings, 2022
3 MGH Restaurant Franchise Marketing Experts, 2022
4 YPulse, 2022
5 National Restaurant Association, 2022
6 Bloomberg, 2018
7 Hoodline, 2022