Using Frozen Foods in Fresh and Healthy Recipes
Feb 16, 2021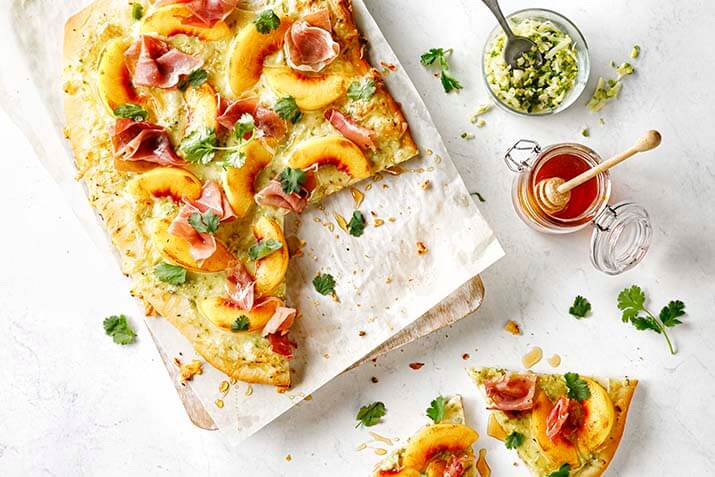 As we head into spring and summer, customer interest in fresh, healthy foods is going to pick up again. But with the pandemic, it's been really hard to forecast sales and plan product ordering around that. Not surprisingly, 51% of operators last summer said that they were trying to buy fewer fresh items.1
For a long time, purchasing frozen foods was really only an option for menu items that were going to be cooked, but with new advances in technology the quality of frozen product is better than ever. Putting items on the menu that are creative, fresh, healthy, and high quality doesn't mean you have to head to the farmer's market and buy produce that will go bad if you don't use it in a couple days.
The 5 reasons why frozen products are getting hot
1. Frozen foods are actually very fresh.
If you're buying your fruits and vegetables straight from the farm and using them within a couple days, yes, the quality is great. But this isn't the case in restaurants most of the time. If you're ordering raw vegetables from large suppliers, these "fresh" vegetables may have been transported long distances and stored in warehouses, so they could be weeks away from being "fresh." Picked and processed right after harvest, frozen vegetables are arguably more "fresh" and as much or more nutritious.
2. Frozen foods are healthy.
In the same vein, the flash-freezing process also means that vitamins and minerals are preserved, too. If we compare freezing to other forms of preservation—like canning—freezing vegetables means there aren't any preservatives and a lot less sodium. So in some cases frozen fruits and vegetables can actually be healthier.
3. Frozen foods help reduce labor costs.
"It hasn't made much economic sense for restaurants to stock a lot of perishable items during the pandemic," says Chef Dianna Fricke, Director of Culinary and Corporate Executive Chef at Simplot. "Many are pivoting to frozen vegetables and fruit for the long shelf life and reduced labor which is key with lean staffing."
For example, it takes about 15 minutes to prepare about three pounds of avocado pulp from whole fruit. By the time you add-in the cost of labor (and roughly 50% loss from peels, pits and spoiled fruit), prepared products are often a better deal. Simplot Harvest Fresh™ Avocados pulp, guacamole and cut fruit, guacamole and cut fruit (available frozen or fresh) are all great choices, especially with the unpredictable price volatility of whole fruit.
4. Frozen foods improve consistency.
Consistency is key in keeping guests and customers satisfied. When you're running a skeleton crew, quality and consistency may be sacrificed for expediency. Frozen products like Simplot's potatoes, avocado, vegetables, fruit and grains not only save money on labor, but can also reduce the variability in quality often seen fresh produce over the course of a growing season.
5. New Ready-to-Eat (RTE) options.
RTE vegetables and fruit don't require any additional cooking—just thaw and serve. This eliminates the time and labor it would take to heat them to temperature and then cool them before use. RTE products are terrific for cold applications like salads and grab-n-go items. Simplot's new Ready-to-Eat Collection of Simple Goodness™ and RoastWorks® products have been processed in dedicated clean-room facilities with meticulous hygiene protocols and rigorous, post-production pathogen testing, setting a new standard for the industry.
Get creative with frozen vegetables and fruit
Chef Fricke has created some fresh dishes that are perfect for spring and summer with some of Simplot's most popular new products. Use these delicious recipes as they are, or as inspiration for your next original dish.
Here are a few of her recipes to consider:
• Spicy Peach & Prosciutto Flatbread (pictured above)
• Thai Coconut-Miso Grain Salad
• Spanish Potatoes with Chorizo and Tomatoes
• Roasted Mediterranean Salad
• Roasted Cauliflower and Quinoa Power Bowl
Given some of the common misunderstandings about frozen food, it can be easy to only focus on the utilitarian benefits of having a well-stocked freezer. But it doesn't have to stop there. With the wide variety of high-quality frozen products available, it's easy to develop creative, exciting dishes for your customers.
1 Datassential, June 2020