Trend Feast
Trend Feast: Is Your Kids' Menu Helping or Hurting?
Jul 19, 2018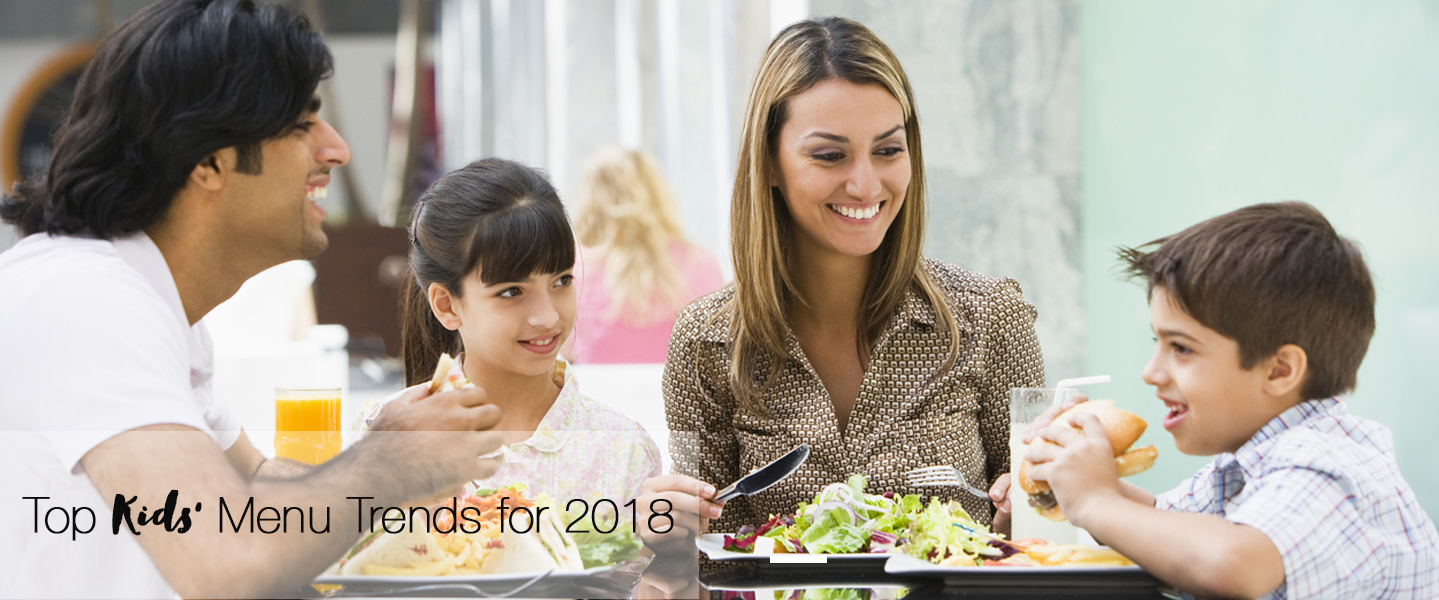 Make sure you're prepared to attract more families this year
Forty-two percent of American households contain children.1 And when families go out to eat, kids have a say in 93% of the decisions on where they eat.2 So catering to kids is just smart business.
What kids (and parents) are starting to want
As America has become more diverse, so have the tastes and expectations of parents and kids. That's the upshot of a National Restaurant Associations study of Kids' Menu Trends for 2018.3
Let's dig into the top three kids' menu trends for 2018: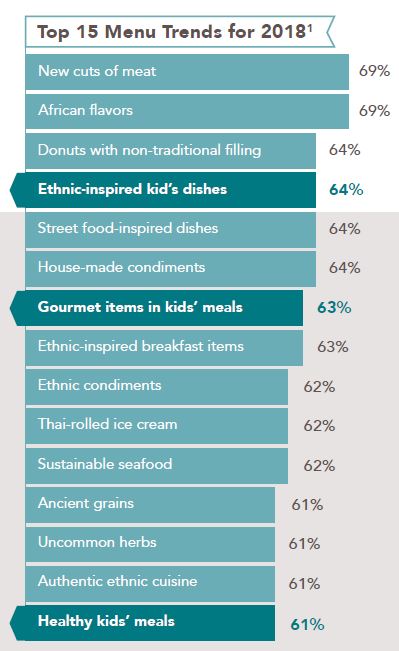 1. National Restaurant Association, 2018
1. Global-inspired kids' dishes
Quesadillas have been as American as apple pie for a long time. But, following their parents' lead, these kids have been trying and liking more international flavors than ever.
2/3 of parents say their kids enjoy mainstream global cuisines like Mexican and Chinese
50% of parents say their kids like more adventurous cuisines, including Indian, Peruvian, Vietnamese and Moroccan.2
Pro Tip
You don't have to become an expert in Thai cuisine, for instance, to add global appeal to your kids' menu. Simple additions like offering peanut sauce for dipping, or putting dinner on a stick (i.e. kabobs) are enough to add excitement and interest.
2. Gourmet items on kids' menus
U.S. adults have become more concerned about the origins, integrity and wholesomeness of their own food, and many want the same quality of food for their kids.
Thus kids' dish ingredients and their menu descriptions are beginning to take on a decidedly gourmet flavor.
Just one real-world example: "dry-aged, grass-fed burger, cheese, coconut mayo, chili sauce, fried shallots, mizuna, thai basil." Wow.
This phenomenon also reveals itself in the number of kids' menus with descriptions that include words like organic, gluten-free, antibiotic-free, sustainable, local and cage-free, among others.
Most kids may be oblivious, but for many parents, these extra touches can be a deciding factor on where they eat.
Pro Tips
A few ingredient tweaks and an attractively-written menu description can go a long way toward transforming everyday kid dishes into social-media-worthy plates.
Instead of "Kids Mac & Cheese", how about "White Cheddar Candied-Bacon Macaroni & Cheese"
Offer vegetarian options
And don't forget to highlight claims for the meal "- free" characteristics, when possible.
3. Healthier kids' meal options
Obviously, parents are more concerned about the nutritional content than kids, but moms have a huge say in where the family eats:
Women aged 35-44 are particularly likely to visit restaurants that offer healthy kids' options, as moms are more likely than dads to choose which restaurant to visit.4
Millennial families have similar concerns and are particularly important customers as 90% eat out at least once a week- more than any other age group.5 Little wonder smart operators are working hard to ensure their kid offerings have a healthy halo. In fact, six of the 10 biggest trends for 2018 were aimed at improving the healthfulness of the kids' menu.2
Pro Tips
Substitute health ingredients when you can (for instance, brown rice for white rice)
Add an ancient grain like quinoa to the dish to increase its healthy appeal
For fresh, on-trend menu ideas, download our kids' menu eBook now.>>
Conclusion
The classic kid favorites aren't going away anytime soon; nor should they. But with every new generation, operators have to adjust to meet changing tastes. The good news is that, with just a few thoughtful changes to your kids' menu, you can give it the global flair, gourmet flavor and healthy halo that more and more kids and parents are looking for.
And given the size of this important segment of patrons, it's well worth it.
"Download our new eBook, Rethinking the Kids' Menu: How to keep parents and kids coming back".
1 Technomic, Millennial Parents, August 2017
2 https://www.statista.com/statistics/242074/percentages-of-us-family-households-with-children-by-type/
3 Datassential – Kids Menu Keynote, 2016
4 National Restaurant Association, 2017
5 Datassential Menu Trends Report: Kids Menus