The Simplot K-12 Team Helps Celebrate National School Lunch Week (NSLW)
Oct 28, 2022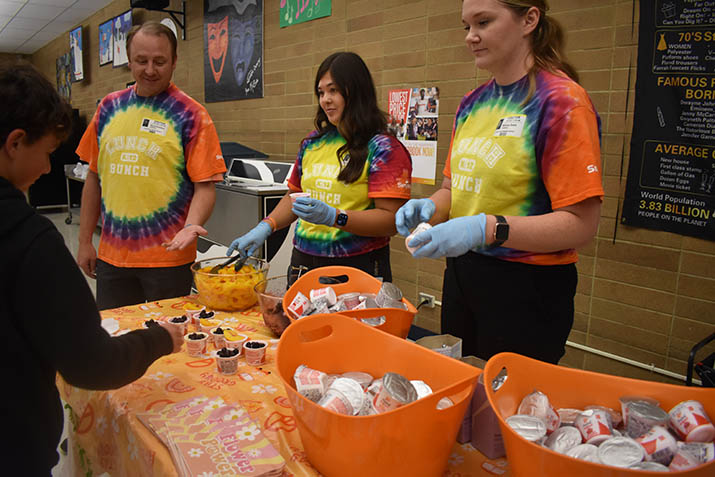 President John F. Kennedy created National School Lunch Week (NSLW) in 1962 to promote the importance of a healthy school lunch in a child's life and the impact it has inside and outside the classroom.
The theme of this year's NSLW was "Peace, Love & School Lunch," and the Simplot K-12 Team visited kitchens in the West Ada School District last week to commemorate the occasion in style!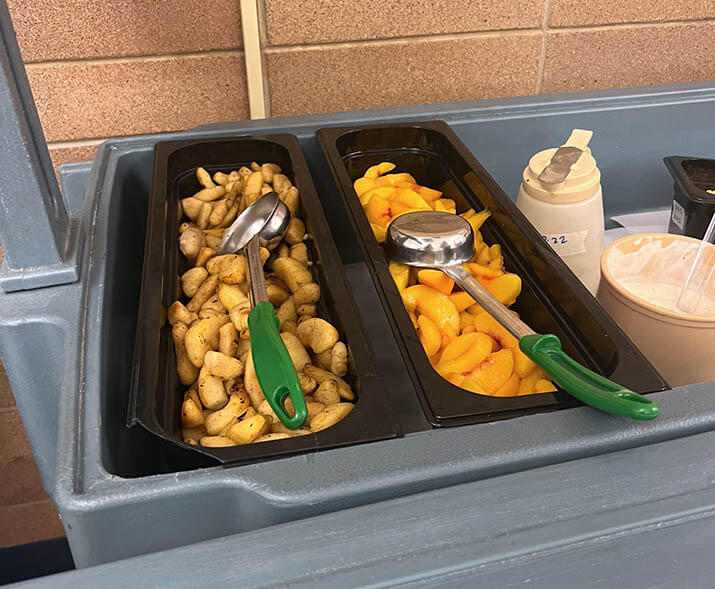 Paramount Elementary, Hillsdale Elementary, Lowell-Scott Middle School, and Renaissance High School celebrated in a far-out way, with Simplot RoastWorks® RTE Flame-Roasted Fuji Apples featured in the salad bar and Simplot Simple Goodness™ Fruit Blueberries and Simplot Simple Goodness™ Fruit Sliced Peaches on a yogurt parfait.
This celebration was more than tie-dye and peace signs; it was an opportunity to partner with K-12 operators who feed thousands of children a day, contributing to the nearly 30 million children who eat school lunch daily across the U.S.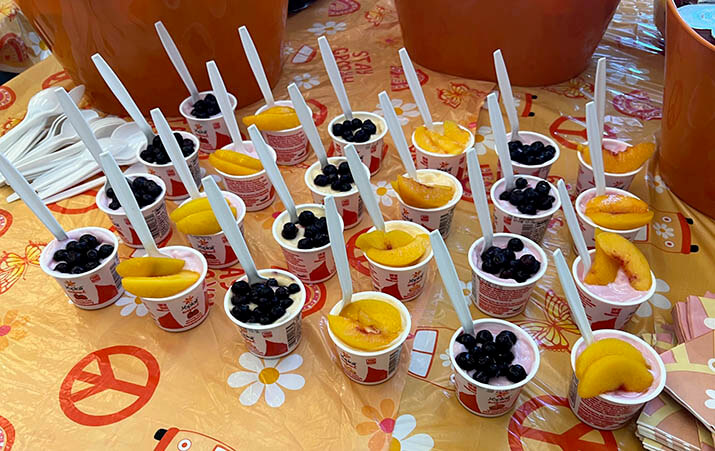 Product versatility is more important than ever for K-12!
Managing a K-12 nutrition program is complex, especially with today's supply chain issues. While Simplot's products are well known for reducing labor and waste, their incredible versatility—the ability to use one product in multiple recipes across the menu—is becoming more important due to supply chain issues. Why?
Fewer SKUs to manage. Versatile products reduce the need to order and stock multiple SKUs.


Greater flexibility. When shortages of other products occur, versatile products can take their place with minimal friction.


Less training required for staff. It's easier for kitchen staff to master and remember the prep for products they use frequently.
Great examples of versatile products for K-12 schools
Gobbler Bowl
A familiar favorite in a K-12 application, this take on thanksgiving dinner in a bowl form will impress all of your students. Roasted sweet potatoes mixed with dried cranberries, covered with gravy and shredded turkey, and topped with colorful broccoli florets.
View Recipe »
Huevos Rancheros Breakfast for Lunch
Corn tortilla topped with scrambled eggs, black beans, shredded cheese, flame-roasted sweet potatoes, and salsa.
View Recipe »
Simplot RoastWorks® Flame-Roasted Corn & Jalapeño Blend
This twist on a classic is a great way to get your kids to eat more vegetables. This blend will take your sides and recipes to the next level with on-trend roasted products that consistently deliver mouthwatering flavor and premium plate appeal.
JR's Gravy Fries
Reduced-Sodium Wedges topped with low-sodium gravy, cheese curds, and flame-roasted corn and jalapeño. Students are going to ask for more!
View Recipe »
Street Corn Chicken Sandwich
Feature this flavor-packed chicken burger at lunch. With avocado pulp, flame-roasted corn and jalapeño, sliced American cheese, Tajin, and parmesan, all on a toasted whole grain bun—it's sure to be a total hit! We recommend serving it with Tater Pals™ 3/8" straight cut fries.
View Recipe »
Carnitas Bowl
A whole-grain bowl layered with marinated pulled pork, flame-roasted peppers and onions and topped off with fresh cilantro and salsa.
View Recipe »
Big Breakfast Burrito
This to-go breakfast burrito will start your grab-and-go day. Tortilla loaded with Reduced-Sodium loops, eggs, peppers and onions, cheese, and avocado pulp. A great way to start your day!
View Recipe »
Hats off to the people who feed our kids
The National School Lunch Program is an invaluable tool to fuel learning in the classroom. We salute the 120,000+ school nutrition workers across the country who work passionately on behalf of their students and communities. And we're proud to support them with versatile products that make their work a little easier.