The Power of Sustainability Partnerships at Simplot
Oct 19, 2022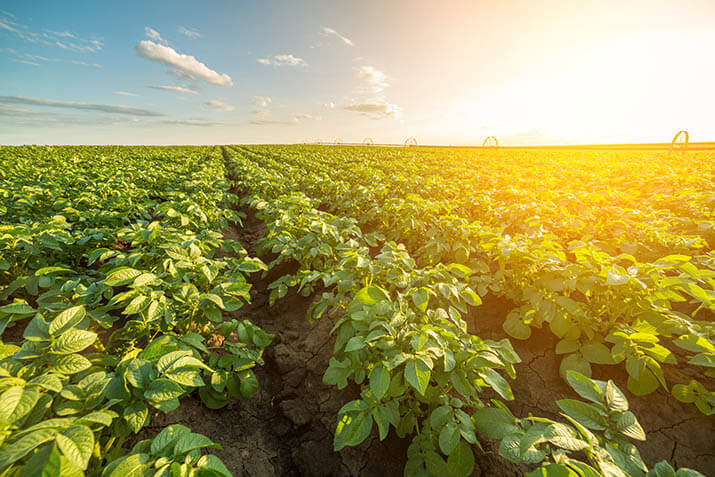 People love potatoes in all the different ways this delightful vegetable can be prepared. We can debate the deliciousness of crisp, hot fries versus a loaded baked potato, but one thing we should agree on is that those potatoes be grown sustainably.
Back in 2009, the Simplot Company helped found an organization with french fry processors, customers and growers to help define, measure and advance potato sustainability by using robust metrics to drive improvements in productivity and profitability.
Today, that organization has grown into the Potato Sustainability Alliance (PSA), which now includes all kinds of potato production. PSA has more than 30 members across the supply chain including processors, retailers, buyers, allied industries and environmental non-governmental organizations. Each year, PSA surveys more than 550 potato growers. The organization's mission is to improve the economic, environmental and social aspects of potato production in the U.S. and Canada.
"While we know that potato farming has improved over time, we didn't have the data to figure out how much we have progressed or where we need to focus to drive more sustainable outcomes," says Jolyn Rasmussen, Senior Manager of Raw Product Development & Sustainability at Simplot. "To get that information, we knew we had to come together as an industry in a non-competitive way. And that's how the Potato Sustainability Alliance came about."
Standardizing sustainability data collection and reporting for the entire potato supply chain
Potato growers have choices in what types of potatoes they grow and for which markets; everything from fresh-packed golds and reds, to baby bakers, to russets for french fries. Some growers raise different types of potatoes in different fields at the same time across a farming operation, for different customers.
"One of our priorities is standardizing how growers report their sustainability information credibly," says Rasmussen. "Having a single survey also makes life easier for the growers who would otherwise have to fill out multiple surveys from different processors and buyers. PSA eases that reporting burden."
PSA's annual sustainability survey of growers covers six primary metrics:
Nutrient use efficiency
Irrigation use efficiency
Greenhouse gas emissions
Pesticide risk
Worker safety
Waste and recycling
The results are shared with processors and aggregators so they can see their progress, benchmark their performance from both regional and system-wide perspectives, and make improvements. Aggregators can also see which sustainability best practices are being adopted by growers regionally and industry-wide.
"We collaborate to define sustainability and collect the data for the industry," says Rasmussen. "Our members don't use it to undercut each other, so there's really no risk for participating. It's about improving our performance as a whole."
Adopting the Cool Farm Tool to better measure greenhouse gas emissions in growing
To improve the calculation of greenhouse gas emissions, PSA members agreed last summer to standardize reporting using the Cool Farm Tool from the Cool Farm Alliance (Simplot is a member of the Cool Farm Alliance, as well).
Originally an on-farm greenhouse gas calculator, the online Cool Farm Tool provides scientifically robust quantification methods that take into account farm and field-scale management choices. Farmers can enter their own farm and practices and get immediate feedback on the impact of different farming management options using "what-if" scenarios.
"The scientific accuracy and credibility of our data is critical to us," Rasmussen says. "The Cool Farm Tool will help in this respect."
Preparing PSA to support even greater sustainability
As board chair of PSA, Rasmussen is excited about the future of the organization and its potential to effect industry-wide change for the good.
"Our membership is large and diverse. Getting agreement on the reporting standards didn't happen overnight," she says. "But we're close to moving beyond that phase. I'm really interested in what we can do with the information we're collecting, the changes we can make as an industry on sustainability.
"We tend to think of sustainability in terms of practices like recycling or reducing inputs, but industry collaborations are so important. We can really multiply our impact by working together."