The New Fusion: Meet the "Odd" Couplings from Around the World
Feb 16, 2021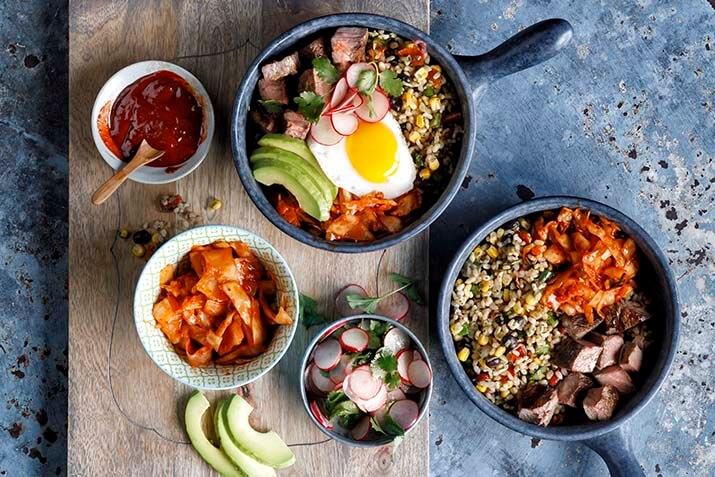 Mexican-Korean food? Chinese-Peruvian dishes? Welcome to the magnificent mashups of New Fusion cuisine, where good ideas and great flavors from around the world take your palate places you never thought it would go. And happily so.
"New Fusion marries what are normally distinct cuisines to produce unexpected, new dishes," says Simplot Corporate Executive Chef Roberto Roman. "As Americans get more familiar with international flavors, these new combinations can inspire some serious cravings."
In 2020, 32% of consumers said that they enjoy dishes that combine two or more global cuisines or flavors into one dish, up from 27% in 2018. Though both Gen Z and Gen Xers are interested in fusion foods, Millennials take up the lion's share, with 53% seeking out innovative and unique flavor combinations.1
Research company Datassential frames it this way: "As Americans become accustomed to regional flavors of immigrant cuisines like Mexican and Chinese, chefs and diners have been looking for flavors from other parts of the world." 2
Curious? Here are some tips from Chef Roberto on how to incorporate more international flavors and come up with your own fusion menu items, plus some fusion recipes of his own.
1. Involve your team
Kitchens are incredibly diverse, with people from all different backgrounds and walks of life. Talk to them about their experiences and their cultures. They're usually already cooking fusion at home so they have great ideas.
"When I was working in restaurants, I would take the recipes that I was learning, bring them home and cook them with my ingredients," says Chef Roberto, who is originally from Mexico.
The menu at Reem's California in the San Francisco Bay area does this a lot. Their original location is located in the Fruitvale neighborhood of Oakland, a predominantly Latinx neighborhood. Though the restaurant is based on Chef Reem's Palestinian culture, she also works with her staff to bring dishes that are truly unique to customers, like their recent Game Day Meal Kit for Shawarma Mexici.
Chef Roberto's Shrimp Ceviche, Pineapple, And Avocado Tostadas with Jicama-Orange Slaw recipe was based in big part on his Mexican heritage, as well as what he learned about Californian cuisine through his experience in restaurants and his research.
2. Do your research
When Chef Roberto begins research for a new menu item, he starts with a simple internet query to learn about the cuisine and ingredients typical of a region or country, like while he was developing the recipe for Kawarma and Spinach Manakeesh with Romesco Sauce, a Persian-Mediterranean dish.
"I used to work at a restaurant where the GM was Lebanese-Canadian, so he educated me on his cuisine," explains Chef Roberto. So he had a baseline knowledge for some of those ingredients and flavors of the region, but he dug further by reading on the internet.
"I usually research the ingredients and how they are used on a day-to-day basis. I learned that Persian food is very heavy on spices,"he adds. He did more research to understand some of the basics of the cuisine, like the use of flatbreads and lamb on kebobs. This also led Chef Roberto to the development of a Persian-Mediterranean Couscous, Red Quinoa, and Lamb Kofta Bowl.
3. Have a tasting buddy
"Have someone in the kitchen with you as you're trying new flavor combinations," says Chef Roberto. "That way, you get immediate feedback and you don't have to try to sell someone on the idea without another opinion."
Having a tasting buddy in the kitchen is also really helpful so that they can act as your scribe. As you do the cooking and combining of flavors, your tasting partner can write down what you're trying. "I'm always doing so many things at once and just putting ingredients in to taste, that I sometimes forget what I was doing when it comes to writing my recipes," he says. A tasting buddy can help with that.
4. Think about plant-based dishes
"We get a lot of trend studies and trade magazines, so I spend a lot of time watching trends in the chef world," says Chef Roberto. "Vegan and plant-based diets are another trend that's growing a lot, so whenever I develop a new dish, I think 'If I took the meat off, would it still work?'"
This was a key point in Chef Roberto's Korean-Mexican dish, Carne Asada Bibimbap with Fiesta Rice, Gochujang Salsa and Fried Egg (pictured above). Korean and Mexican flavors fit really well together, Chef Roberto noticed, because of the use of acid and spice. Plus, both cuisines are very trendy right now. His bibimbap bowl is an excellent menu item because it's not only on-trend, but really versatile for customers to customize, including whether or not to include meat.
5. Look to other restaurants
"I look a lot at new restaurants that are popping up—they tell you what's going on," says Chef Roberto. "Tasting what other chefs are doing is always a great source of inspiration."
Here are a few examples of some different restaurants that are doing some exciting new fusion dishes:
Mexican-Korean
Korean BBQ Grilled Pork Carnitas Burrito: grilled pork carnitas, rice, fajita veggies, sweet and spicy Korean barbecue sauce, crisp slaw, sriracha and cilantro.— California Tortilla, Washington DC
Chinese-Peruvian
Lemongrass Pork Bao Buns from Heritage Eats: lemongrass pork, slaw, Asian pickled veggies, carrots and daikon radish, aji verde.— Heritage Eats, Napa CA
Cal-Mex
Guajillo Grass-Fed Beef Colorado: Braised, natural beef tri-tip in guajillo chile sauce with an organic blue corn sope, escabeche veggies, pinto beans, avocado-pasilla salsa, sour cream and cotija cheese.— Aqui, San Jose CA
Persian-Mediterranean
Chicken Breast Kabob: Two hot skewers of juicy charbroiled marinated dark meat chicken thigh, boneless and full of flavor, served with grilled tomato and your choice of plain or dill rice.— Kabobi, Chicago IL
Be Daring
With consumers' tastes constantly evolving, it can feel daunting to try and pin down what the next trend will be. As Chef Roberto says, "Trends are a cycle." You have to be able to notice the signs and get ahead of what's coming.
One way to do this is to go out and explore what's happening in your city, taking note of what ingredients and flavors are showing up more. You can also research by browsing local online reviews and social media posts. Take note of what types of flavors come up again and again. Most importantly, don't be afraid to incorporate some of those new flavors with your usual fare. Draw from elements that you see more demand for in your market, as well as from traditions and cultures that are close to you and your staff, to create a new fusion of your own.
1 Technomic, Inc., 2020
2 Datassential, 2020