The Allure of Technology Grows at Understaffed Restaurants
Feb 09, 2022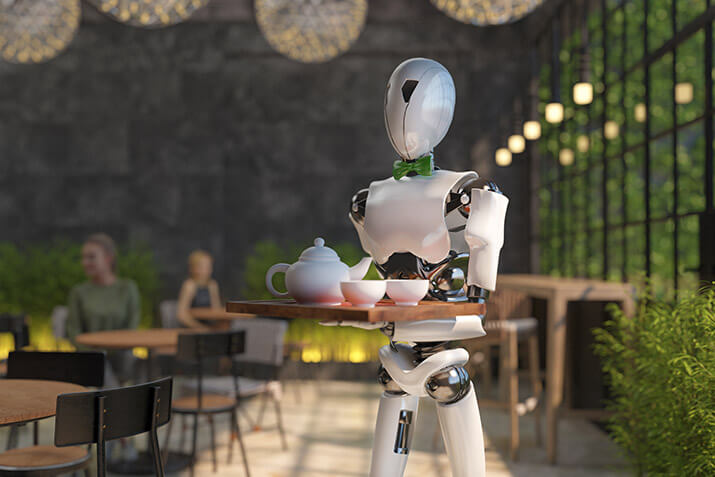 With wages rising to attract an ever-smaller workforce, many operators are struggling to break even. Increasingly, restaurants are turning to technology to replace human labor. Dexterous robots are disrupting the service industry with artificial intelligence that allows them to perform tasks efficiently with little human guidance. These state-of-the-art machines use robotic mapping to carry loads while moving autonomously through spaces without collisions. Once the stuff of sci-fi fantasy, restaurant tech may eventually replace 80% of workers, according to one estimate.1
Robotic kitchens do (much of) the work for you
For many owners, automation can't come soon enough. Still, the most likely automation scenario will involve both robots and humans working together, with so-called "cobots" taking on the most repetitive, monotonous and dangerous tasks.
While restaurants were quick to adopt technology front of house early in the pandemic—like ordering kiosks and contactless payment—more expensive back-of-house automation is only just beginning to find its place. High cost presented a major hurdle for many operators, but that's starting to change.
Here are a few examples of the robots working in kitchens right now:
Fry station automation. The Flippy 2 by Miso Robotics can manage up to three fryers simultaneously for fries, chicken wings and pretty much anything else you can fry, at twice the speed of a human. What will it cost to have Flippy 2 come to work in your kitchen? About $3,000 per month.2
Bionic bowls. Spyce, a popular restaurant founded by MIT grads featured a robotic kitchen of induction woks churning out healthy, inexpensive grain bowls for $7.50. Prior to opening in 2016, their research found that a combination of humans and machines was more efficient than one or the other by itself. So humans prepped the ingredients in a commissary kitchen before loading them into the robotic kitchen. Customers could personalize the half dozen base recipes at ordering kiosks.3 Spyce closed in the fall of 2021 after being acquired by fast-casual chain Sweetgreen who is planning to employ Spyce's tech in their locations.4
Perfect pizzas. xRobotics xPizza Cube is billed as the world's smallest pizza robot and is designed to add the three most popular toppings (sauce, cheese and pepperoni) to a crust prepared by a human. Some combination of these ingredients covers about 70% of pizza orders. Humans can add additional ingredients after the xPizza Cube finishes. It can top from 100-300 pizzas per hour.5
Burger bots. Creator, a burger restaurant in the San Francisco Bay Area, recently rolled out their Creator 2.0 robot that makes a customizable, gourmet burger from scratch in just 3.5 minutes. This includes grinding the meat, cooking it, and applying any number of toppings with scientific precision, including 25 different sauces. Customers order by app and know exactly when their burger will be ready. The machine requires no natural gas or hood, allowing the company to expand into non-traditional locations.6
Robotic servers lighten the load
One of the advantages robotic servers have over their human counterparts is sheer capacity for work. Robotic servers can function hour after hour without a break. They can carry more dishes and deliveries with efficiency. They can also produce items, like cocktails, in a fraction of the time a person can.
Here are a few examples of robots designed for front-of-house operations:
Robo Runners. Need to run food, serve drinks or bus tables? Servi from Bear Robotics handles all of these tasks, freeing your staff to improve the guest experience. These self-driving runners can work up to 12 hours on a four-hour charge.7
Many "hands", one server. The Matradee is an autonomous foodservice robot that functions like a human server, but with eight "hands". Sensors help it avoid obstacles, with reaction times of a fraction of a second. At Chef Marc's Trattoria at the Ahren Hotel in Las Vegas, a Matradee accompanies a human who can use the robot's eight trays to carry multiple orders, and bus multiple tables. An unexpected bonus? The novel experience for customers. When Matradee arrives at the table, the phones come out, and delighted patrons are soon posting the whole experience to social media.8
Roomservice revolutionized. The same company that produces the Matradee, Richtech Robotics, is also looking to disrupt hotel room service with automation. Its "Richie" robot can carry a 22 lb. load at a speed of 2.95 ft/s (normal walking speed). It avoids collisions and obstacles, sports intelligent mapping, charges on its own, and uses elevators autonomously.9
Cocktails via code. Makr Shakr's automated mixologist, Toni, has two robotic arms that craft expertly made cocktails from 150+ liquor bottles that hang overhead. Guests place their orders through the Makr Shakr phone app. Royal Caribbean Cruises was one of the first to bring Toni onboard, making up to 800 cocktails per night.10
The future of AI in the restaurant and service industry is opening doors to cost-cutting, time-saving measures that will streamline operations and reallocate labor to higher-value tasks. But a total robot takeover in the near future? Unlikely. When it comes to making guests feel valued and cared for, humans have the advantage—at least for now. In the meantime, robots could be one answer to the ongoing labor challenges of an industry starved for workers.
1 Report: 80 Percent of Restaurant Jobs Could be Taken Over by Robots
2 MISO Robotics Flippy 2
3 Alumni-founded robotic kitchen cooks up tasty meals
4 Spyce closes original robotic restaurant in Boston
5 https://xrobotics.io/
6 S.F.'s wildly popular robot burgers are back, this time in Daly City
7 http://www.bearrobotics.ai/
8 https://www.richtechrobotics.com/matradee
9 https://www.richtechrobotics.com/richie
10 https://www.makrshakr.com/