The 5 Best Places to Cut Your Labor Costs with Frozen Products
Apr 04, 2018
With a strong economy and higher minimum wage laws, operators are under pressure to find new ways to control their labor costs. For some, this has led to the adoption of new technologies like self-service POS devices, even robots in hotels that deliver room service orders.
As tantalizing as a staff of robots might be in the future, there's a proven, practical way to cut your labor costs that you can use right now: frozen food products.
Where it makes the most sense to substitute frozen for fresh
Fresh produce will always be the mainstay in commercial kitchens. But today's frozen products can complement your fresh items and save you money without sacrificing quality.
Here are the five best opportunities to drive down your labor costs with frozen products:
1. Items with a high percentage of trim or spoilage. The yield on many fresh fruits and vegetables is less than 50% after trim and spoilage. That effectively doubles their market price. Add in the cost of labor to process it and it's even more expensive. Products like Simplot Harvest Fresh Avocados™ can save you money and provide consistent quality regardless of season.
2. Items used as ingredients in recipes. A lot of fresh produce ends up as ingredients in dishes like soups and casseroles where any difference between fresh and frozen is imperceptible—not a good use of your labor dollars. This is one way Simplot Simple Goodness™ peas, corn, carrots, beans, asparagus, broccoli and others shine.
3. Items that are difficult or dangerous to cut. Things like fresh mango are time-consuming and challenging to process with a knife, especially for low-skilled labor. The prep for frozen products is as simple (and safe) as heat and serve, or in the case of Simplot Simple Goodness™ IQF Mango Cubes, thaw and serve.
4. Ancient grain blends. Each individual grain in a blend has its own optimal cooking time, making it more complex and time-consuming to prep. In frozen blends like Simplot Good Grains™ Ancient Grains & Kale, each element is perfectly cooked on its own then blended with the others, so all you have to do is heat and serve to get perfectly consistent quality every time.
5. Roasted items. Roasted vegetables and fruits are some of the most difficult items to cook consistently day in, day out, especially across different locations. It's also time-consuming and therefore costly. With Simplot RoastWorks™ Roasted Vegetables and Fruits, you get consistent sizing, seasoning and roasting, bag after bag. Just heat and serve.
If you think fresh is always cheaper than frozen, think again
In our own comparative studies, fresh users end up paying more by the pound than frozen after you account for labor, trim and spoilage. And the rise of labor costs shows no signs of slowing anytime soon.
Frozen products come pre-cut (sometimes pre-seasoned and/or pre-roasted too) with simple, heat-and-serve prep. This gives you the freedom to do more with a reduced staff or focus your staff on activities with a better bang for your labor dollar.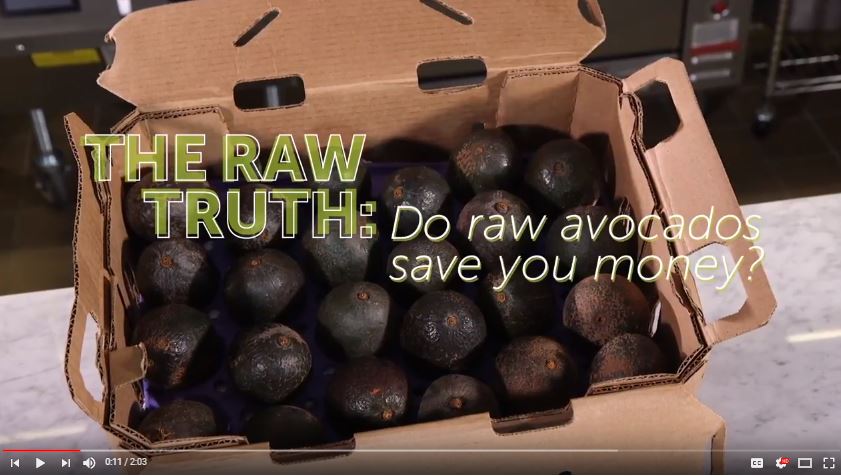 A smart way to reduce kitchen waste too
According to the Food Waste Reduction Alliance, over 40 million tons of wasted food was landfilled in 2010. Unlike fresh produce, our frozen products come to you 100% usable, with no waste. The vast majority of the trim generated during processing is repurposed as animal feed. In another example, we recently entered into an innovative partnership to supply leftover avocado pits as a source of oil to create biogradable food utensils, ideal for carry-out operations. More info here.
It's time to take a fresh look at frozen products
For many chefs, the experience of eating their mothers' frozen vegetables decades ago left a lasting negative impression. This perception is outdated. Today's frozen processing technology is a far cry from years passed, and the quality of frozen products is now quite good.
If quality concerns are still holding you back, here are some things to consider:
1. Simplot frozen vegetables and fruit are processed and flash frozen within hours of harvest. Compare that to fresh produce that may spend weeks in the supply chain before they arrive at your back door.
2. Color and texture have improved dramatically. In most cases, you'll be hard-pressed to tell the difference between the color and texture of fresh vs. frozen. Request a FREE sample and see for yourself.
3. They're 100% all-natural, with no preservatives. Freezing has always been a natural way to preserve the best qualities of food ?without artificial ingredients or preservatives.
4. Frozen is at least as nutritious as fresh. Research has shown frozen products have the same or better nutritional value as fresh products whose nutritional value declines within a couple of days after harvest. (https://www.businessinsider.com/fresh-or-frozen-produce-which-is-healthier-2017-3) (https://www.sciencedirect.com/science/article/pii/S0889157517300418)
Let us show you how to reduce your labor with a FREE evaluation
Simplot offers a broad portfolio of labor-saving frozen potatoes, vegetables, fruit, grains and avocado products. One of the best ways to find out where frozen is right for you is to request FREE samples of our products. Our experienced representatives can also evaluate your menu and help you pinpoint where frozen substitutions make the most dollars and sense.