Strategies to Keep Catering Menus Profitable in 2022
Aug 17, 2022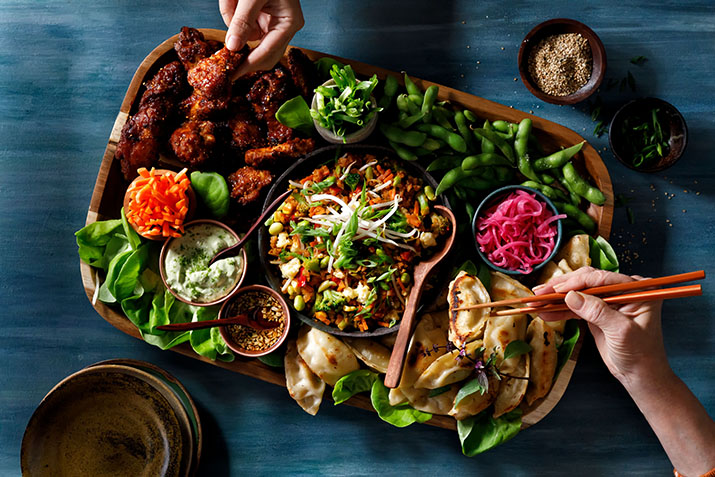 The pandemic and social unrest in 2020 pushed Jodi Fyfe to tighten up her operations at Paramount Group Chicago. The CEO/founder of one of the city's top catering companies, she moved from a sprawling 35,000-square-foot space to a 20,000-square-foot venue, which now includes a café, sidewalk patio, greenhouse, and headquarters for her catering business.
This new strategy allowed her to concentrate on the core of her business: the catering menus. While the original facility included a private events space, this new location ditched that concept for a state-of-the-art kitchen durable enough to handle off-premises catering and restaurant orders. With this shift in business, online orders, curbside, and delivery for catering dramatically increased, she says.
"The amount of drop-off catering has exploded – particularly with the issue of COVID-19," says Fyfe, a veteran caterer who's been in the business for more than 25 years. "It's up 40 percent."
That's on par with a recent Datassential report, which says 36% of operators offer some sort of catering component as an extension of their businesses.1 And for many, the option for online ordering, curbside, and delivery was not available until the pandemic. Additionally, states the report, catering menus skew higher for dinner and all-day menus and feature appetizers, entrées, and beverages more than sides and desserts.
Catering menus catering to corporate clients
Fyfe says her corporate customers are especially attracted to the all-day menus she provides, particularly those wanting to woo employees back to the office.
"There are so many articles out there about employers making sure there's food as well as snacks and beverages to make their employees feel valued when they come into the office," explains Fyfe. Her all-day menus for drop-off range from snack boxes (crudités, artisanal charcuterie, popcorn, seasonal fruit platters) to signature sandwiches, wraps, and salads. There's also a "spa" menu, with healthier offerings like grilled chicken breast over edamame quinoa spinach salad and grilled salmon over a couscous salad.
"These items are made fresh every day and are lighter and heart healthy," says Fyfe. "Many of our customers are more conscientious now about what they're putting into their bodies, so this menu has been quite a success."
Top catering menu trends: family meals, bundles, meal kits, holiday packages
What has exponentially grown on catering menus over the year is the concept of interactive, communal dining. According to Datassential, while the most menued formats on catering menus are platters, trays, and boxes, family meals (+135%), bundles (+104%), and meal kits (+503%) all grew during the last year.1
For example, during the height of the pandemic, Taco Bell put a new spin on "Taco Tuesday" with at-home taco kits feeding up to six people. Each one came with eight flour tortillas, 12 crunchy taco shells, seasoned beef, nacho chips, nacho cheese sauce, and all the toppings. Customers picked up their orders through the drive-thru. The special was such a hit that they're now available at various grocery stores throughout the country.
Over at TGI Fridays, comfort food-focused bundles are a way to bring people together for intimate gatherings. There's a grilled chicken and apple butter BBQ ribs bundle accompanied by bread, a choice of two sides, and salad. Also, there is the extremely popular pasta bundle with Cajun shrimp and chicken pasta, chicken parmesan pasta, breadsticks, and sides. And a fried chicken and shrimp bundle arrives with seasoned fries and a salad.
These types of catering menus have been especially popular at Cincinnati-based Scratch Eatz Catering during the holidays, says chef/owner Alexis Shelton, adding that there's been an uptick in the last few years.
"A lot more people don't want to cook for the holidays," says Shelton, who is also known as "The Traveling Caterer."
"Whether it's four people or 30 guests gathering for Thanksgiving or Christmas, catering is becoming a popular option because they'd rather leave the cooking to us," she continues. "It's more for special occasions than everyday meals."
She adds that clients prefer bundling to à la carte because it's one less thing on their plates during Thanksgiving, Christmas, and even Mother's Day.
"They don't want the formality of you coming into their homes, they just want the product," says Shelton. "That allows me to service even more families, which, financially, is great for me."
Chicken tops catering menu trends as most popular protein
Though there's been a significant increase in requests for plant-based dishes, says Datassential, chicken still dominates catering menus. It's on 69% of catering menus, followed by beef, sausage, bacon, and shrimp.1
For Shelton, this rings true as her most-requested dish is chicken and waffles on her brunch menu. Fish entrées are second.
"[My clients] are going through a phase of not eating a lot of pork or red meat," explains Shelton, whose company debuted five years ago. "The best part is that they allow me to have creativity with the menus."
At Outback Steakhouse, chicken dishes reign as top offerings as well. Grilled chicken on the barbie is one of the most ordered dishes on the catering menu; Alice Springs chicken (grilled chicken topped with sautéed mushrooms and bacon), hand-breaded chicken tenders, and Kookaburra wings are also featured.
Using prepared foods to overcome labor shortages and reduce waste
Simplot offers a helpful variety of potato, avocado, vegetable, roasted vegetable, fruit and grain products that, while frozen or chilled, offer caterers the farm-fresh colors and flavors they need to please discerning clients. Their heat-and-serve prep (or thaw and serve, in the case of our ready-to-eat products) dramatically reduces labor and waste.
Here are a few that are especially well-suited to catering:
Simplot RoastWorks®
• Baby Bakers™ Roasted Potatoes
• Ready-to-Eat Flame-Roasted Fuji Apples
• Roasted Rosemary Redskin Potatoes
• Flame-Roasted Corn & Black Bean Fiesta Blend
• Flame-Roasted Cob Corn
• Roasted Vegetables & Pasta Blend
Simplot Good Grains™
• Ancient Grains & Kale Blend
• Couscous, Red Quinoa & Vegetable Blend
• Cilantro Lime Rice & Fire-Roasted Corn Fiesta
Simplot Harvest Fresh™ Avocados
• Western Guacamole, 2 oz Cups
How supply chain issues affect catering menus
Both Fyfe and Shelton maintain that supply chain issues, particularly rising food and gas costs, have caused them to increase prices on their catering menus. Fyfe adds that their inventory for items like containers is overstocked because they don't know when they'll have a chance to get them again.
"The cost of everything is so much more expensive, and it takes forever to get it," she says. "Some items are on a two-month backorder, so now our inventory is through the roof."
For Shelton, increasing prices on her catering menus means that she must walk her clients through the process of why they're paying more.
"Really for me, it's getting my clients to understand the quality of what they're getting and not focusing on the price of it," she explains. "So, once you're able to shift people's attention there, they're more willing to pay for it."
1 Datassential MenuTrends™, 2022