Serving Up A Talent Pipeline
Nov 08, 2018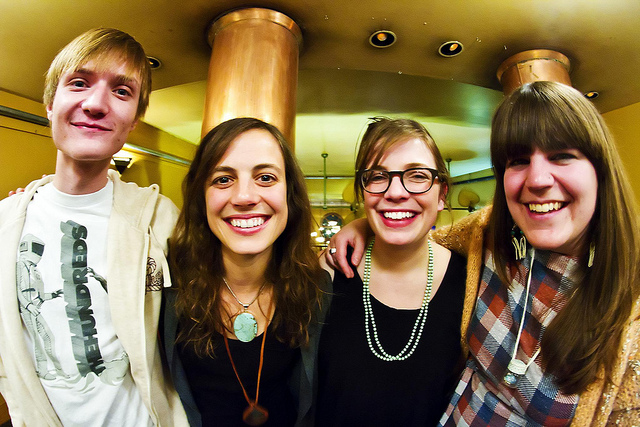 Photo credit: Flickr
Recruiting and Retaining Workers You Love
By Bill Baker, Senior University Relations and Media Talent Partner, J.R. Simplot Company
How long does it take you to fill an open position, from the time you know you have an opening until the new employee shows up for work? Two weeks? A month?
With a continuous need for workers, you need a plan that gives you the resources to fill openings quickly and retain the great workers you have already.
Question: When should you be recruiting? Answer: All the time.
Don't just recruit when you have an opening – take resumes and set up interviews even when there is no opening. There are always good people looking for a job, perhaps even better workers than you have right now.
If you meet someone out in the community who offers exceptional customer service, don't be shy about giving out your business card and inviting an application. When you're always reaching out for your next hire, you develop a reputation for being open to hearing from the right candidates.
Make sure you reach back into that pool of candidates when you have that next opening and you'll also enhance your reputation for being a responsive and caring employer.
Look outside the school gates
While students may make up the majority of your employees, they are also certainly the most transient of worker populations. Local residents are more likely to be around longer and may bring in other good local talent. With 52% of college students attending a school within 25 miles of their hometown,1 you're not just reaching the community, you're reaching a large proportion of future student workers!
Looking locally doesn't have to be expensive either:
Get a listing through local job boards and at community centers, including churches
Take a booth at a local job fair
High schoolers, many of whom will be attending your school soon
Be consistent in this outreach, so you can become a trusted local resource for employment and a part of the fabric of the community.
Current students, of course
In another sign of our changing times, a report from Georgetown University's Center for Education and the Workforce is titled, "Learning While Earning: The New Normal" and states that most students are working. An astonishing 40% of undergraduates and 76% of graduate students work at least 30 hours a week.2 And for on-campus residents, there's no time lost to commuting!
You can enhance your reputation as a quality employer on campus by working with:
School administration to post job-related flyers, get a referral link to your job listings on the school's website
The college newspaper as a regular advertiser, or better yet, sponsor a local restaurant food critic column in that paper
Faculty groups to establish you as an employer of choice for students, as faculty often counsel students on a variety of issues

Hospitality, food service, or hotel management program faculty in particular
Referral programs help both you and your employees
Current employees know what it takes to get the job done, and they know people who would fit right in. Create a program that rewards your current employees for attracting new applicants:
Gift card, paid time off, cash payment
Contingent on new employee hired and working a specified time (60 or 90 days is typical)
Keeping the best working for you
When it comes to students, they recognize that they likely can't earn enough by working to pay their way through school,3 so aside from monetary gain, they want, and need, their employment to enhance their future employment prospects and personal growth.
Show your employees they can have a future with you, or see working for you as way to get a better job after college:
Sponsor a scholarship program: No matter how small, winning a scholarship also adds a personal achievement to a resume, and builds loyalty.
Provide opportunities for students to develop management skills: Learning to be a manager develops a sense of ownership, investment in the company
Consider a tuition reimbursement plan: As the meme goes, "What if we invest in our employees and they leave us?

But what if we

don't

invest in our employees and they stay?"
Reward longevity! Provide small bonuses for various levels of length of employment. Six, 12, 18 months or longer, and have higher levels of gift cards.
Be an employer of choice
Create a work environment that makes people feel included, important, valued. How do you do that?
While you must always hire people with the right skills, the right attitude, you should also hire with an eye on diversity, making sure you are inclusive in your hiring decisions. Maybe you don't have any tattoos or piercings, but it's a lock your customer base does!
Make work more fun! Your employees will be happy, but it makes customers happy too.
Who hasn't been in a store or restaurant with all the employees sporting game day or holiday clothing?

Contests for new recipes, featuring the employee and his or her recipe on the menu
Give employees a token (stars, fake gold coins, etc.) to hand to other employees when they observe another employee going out of their way to help a customer, do a better job, etc.

An employee contest for creating social media memes or videos (apps such as Tik Tok for example) on working for you, cooking and serving the food, you can use in your social media feed
Going the extra mile in recruitment and retention can make your organization more successful, more productive, more profitable, and give you and your employees a sense of pride in being part of the local community, and creating a workplace filled with people who are happy in their jobs.
About the author: Bill Baker, Senior University Relations and Media Talent Partner for the J. R. Simplot Company, has been working in university recruiting for seven years, first with Micron, and now with Simplot. He is a graduate of Boise State University and lives in Meridian, Idaho, with his wife, Morgan.
1 Niche Ink 2014 Report, "Going Away to College : Data Dive on 350,000 HS Grads" https://ink.niche.com/going-away-college-data-dive-350000-hs-grads/
2, 3 Georgetown University's Center for Education and the Workforce, "Learning While Earning: The New Normal, 2015. https://1gyhoq479ufd3yna29x7ubjn-wpengine.netdna-ssl.com/wp-content/uploads/Working-Learners-Report.pdf