Roots Find New Growth in Heritage Recipes at Restaurants
Aug 13, 2021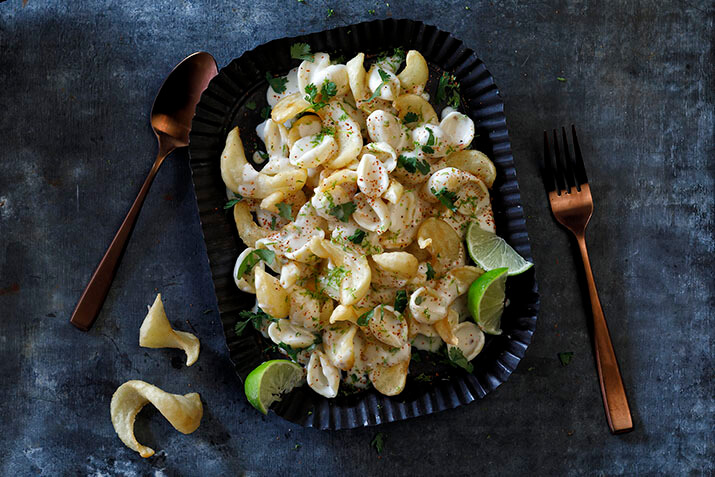 Do your customers need a hug?
Top Chef star and cookbook author, Shirley Chung, thinks so.
"After 2020, we all need hugs," Chung explains. "Heritage cooking will help us find comfort in connecting with our roots and give us big warm hugs from our tummy in 2021."1
These belly hugs come from the rise in popularity of Heritage cooking, recipes that reflect our cultural and geographic roots. Often these cooking traditions were passed down through generations, reflecting a time when cooking was connected to the land. It was "farm to table" when people were closer to the farm.
"We are appreciating our ancestors' cooking and some of the hardships previous generations encountered as we experience this modern pandemic," explains Jan Miller, executive food editor for Better Homes & Gardens. "It has made us better understand their lifestyle and sensibilities. Heritage cooking is big."2
Traditions with a twist
Heritage recipes are also an accessible way to learn about and explore different cultures. As chefs from many different backgrounds emerge on the food scene, they bring the food of their heritage with them, often with a twist.
Simplot Corporate Executive Chef, Michael Zeller, explains why this is exciting, "Trends sometimes sit in the background for years, but this trend is always evolving. Chefs love and enjoy taking their old favorite recipe and adding a new twist, new flavor to create that next big taste that everyone is looking for."
Chung says, "I love to take traditional dishes and incorporate wholesome ingredients with fresh seasonal ingredients that still remind me of the comforting dishes that I grew up on."
This riff on Heritage recipes opens up new possibilities in more traditional comfort food dishes, and even what "comfort food" is becoming.
Younger diners tend to seek out more globally-influenced comfort food and in high numbers. 71% of Gen Z consumers report a love of ramen!3
More than half of diners surveyed (57%) report an interest in seeing more creative comfort food in 2021.4
Fresh takes on comfort food
Bar Louie Gastrobar serves up Deep South Mac: pasta topped with creamy four-cheese sauce and shredded cheese blend, topped with pimento cheese, southern fried chicken, candied bacon, Parmesan cheese, spiced Rice Krispies™ and scallions.
Scallion pancakes with hazelnut pesto: After cooking Italian food professionally for years, Chef Chung discovered pesto was the perfect topping for the traditional green onion pancakes. "Now, I pair my hot scallion pancakes with pesto and Italian cured meats, creating a perfect salty and savory dish," Chung says. "It even became a staple dish at my family's Thanksgiving feast at my home."
What could the evolution of Heritage food look like on your menu?
Zesty Mac & Cheese SIDEWINDERS™ Fries: Pasta with a twist! Serve creamy house-made mac and cheese over Simplot Conquest® brand batter Junior Cut Clear Coated SIDEWINDERS™ Fries. Add zing with Tajin seasoning, lime zest and fresh cilantro. (pictured above)
Avocado and Banana Ice Cream: This 100% plant-based treat, sweetened naturally with bananas, is made easy with Simplot Harvest Fresh™ Avocados Avocado Pulp, Frozen.
Thai Grain-Smattered Chicken: A colorful take on traditional chicken satay. Tender chicken skewers are dipped in tempura and Simplot Good Grains™ Thai Style Red Quinoa and Vegetable Blend, then fried until crispy and golden. Serve drizzled with a spicy-sweet dipping sauce.
Chef Zeller shares his inspiration: "Reviving these old heritage recipes by adding trendy flavors and textures will take these dishes to the next level."
1 https://www.sheknows.com/food-and-recipes/articles/2392967/heritage-cooking-trend/
2 https://www.agriculture.com/news/business/15-food-trends-farmers-can-expect-in-2021-and-beyond
3 https://wearechefs.com/datassentials-culinary-trends-to-watch-in-2021/
4 Datassential, 2021