Restaurants Finding New Audiences on TikTok
Aug 13, 2021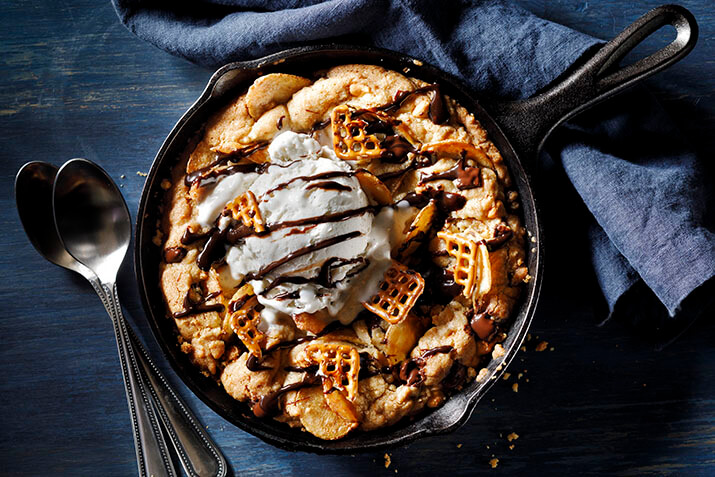 If you're not using TikTok to showcase your business, you might be missing out on its 100 million active users. The app was downloaded 850 million times in 2020, with 90% of all users accessing the app on a daily basis.1 It's second only to Facebook in terms of minutes used per month, per user.2 As these stats show, TikTok isn't just another tech platform you have to check out; it's fast becoming a must-have for restaurant social media efforts.
"Food represents one of the fast-growing and most popular categories on TikTok," explains Dianna Fricke, Simplot's Director of Culinary and Corporate Executive Chef. "Now is the time to get familiar with TikTok and use it to your advantage."
Why should restaurants add TikTok to their social media program?
TikTok's mission is to inspire creativity and create joy. How? Through easy-to-create and -share videos for viewers, most of whom are looking for funny, entertaining content.2
TikTok helps its users with online tutorials in their Creator Portal. Through the Portal, you can learn everything from basics—like how to get started—to more advanced topics like lighting, editing and strategy. You can also learn more about food influencers for collaborations and partnerships through the site's Creator Marketplace.
Let your food do the talking on TikTok
Chefs and restaurants have a built-in advantage on this platform: food content is visually engaging by its very nature. This lends itself to a quick impression that's interesting. TikTok coaches creators on the value of good first impressions that capture viewers' attention: "Think about your opening shot. You should try telling your story right away with visually interesting footage that could grab someone's attention."3
The TikTok app's algorithm can also work in restaurateurs' favor. Viewers find videos through the "For You" page. The content on this page is based on videos the user has watched or engaged with. When the algorithm sorts out the viewer's interest, the app feeds more of that content to the user.4
Who to watch on TikTok
To learn more about how to use this powerful platform, look to restaurants and brands who are doing it right:
Chipotle: They masterminded the viral #guacdance challenge, which received more than 450 million views in one day, resulting in the serving of more than 800,000 sides of guacamole.5
Dunkin': The company partnered with the hugely popular Charli D'Amelio, (who has 107 million+ followers) for a drink promotion. Dunkin' created a new drink named for the influencer, inspired by her go-to order, which appeared in her videos. As a result, sales of cold brews increased 20% on the first day and then 45% on the next.5
Get started. The clock is ticking.
Start with menu items that turn basic favorites into dishes with over-the-top ingredients and presentation.
"All restaurant patrons love fried potatoes," says Chef Fricke. "Twisting this category away from its humble beginnings as just a side dish or breakfast potato provides more menu offerings and creates a hard-working SKU. Try the ever-craveable and loved fries and hash browns in a food built like a burrito, or as the base of a bowl or a pizza topping."
Need some inspiration? Try these eye-catching mash-ups:
Chocolate Chip Potato Chip Skillet Cookie: Your customers will be all in for this salty-sweet, chocolatey-chewy, scrumptiously-shareable dessert made with Simplot Skincredibles® Potato Chips. (pictured above)
Breakfast Hash Brown Smashed Burger: This visual showstopper of a burger combines the Simplot Traditional Old European Potato Pancake with bacon and glazed donuts for a breakfast/brunch/lunch that is more than TikTok-worthy.
Hazelnut S'mores Fries: A spectacular dessert that also assembles well at home thanks to the Simplot Conquest® Delivery+® Tin Roof Fries.
What makes these recipes TikTok-able?
"These are twists on completely indulgent dishes that blend the unexpected—crispy, salted fried potatoes with chocolate, caramel, ice cream, marshmallows and even doughnuts. It's sweet and savory, crispy and sweet, blended to perfection," explains Chef Fricke. "Uniqueness of this trend creates additional interest in the restaurants that serve these items through social media."
The bottom line for operators? Chef Fricke says, "Put learning how to use TikTok on your to-do list. Then, feel free to let your hair down. The more outrageous, the better."
1
https://www.omnicoreagency.com/tiktok-statistics/
2
https://www.statista.com/statistics/1166174/usa-tiktok-influencer-engagement-rate-us-worldwide/
3
https://www.tiktok.com/creators/creator-portal/en-us/foundations-for-success/content-strategy-basics/
4
https://www.nytimes.com/2021/05/24/dining/tiktok-food.html
5
https://www.gloriafood.com/tiktok-for-restaurants#why