How to Use Google to Help Patrons Find You
Apr 14, 2021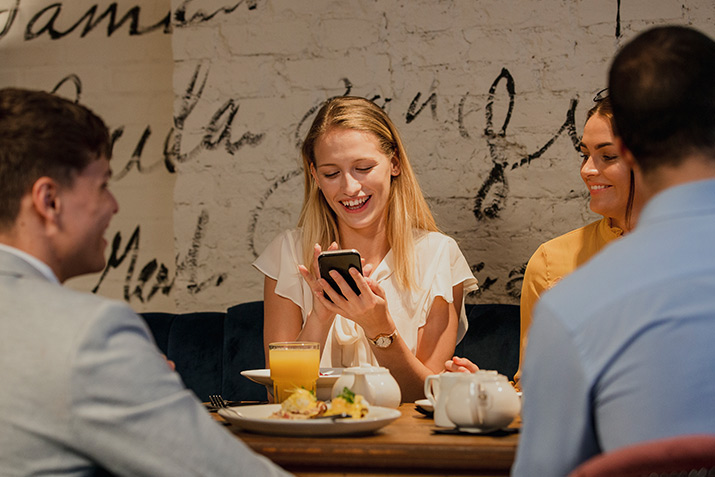 Creating a website for your restaurant doesn't necessarily mean you'll see more traffic online or in person. First, people have to find you online, and for that, you need Google.
When it comes to search, Google is king. But how do you make sure that your business pops on Google search, Google Maps, or Google Places? The answer is search engine optimization (SEO), which comprises several strategies to increase your visibility in search results.
In this article, we'll touch on three primary SEO strategies: creating and maintaining a Google My Business listing, using the Google URL crawler on your website, and advertising with Google. Use these simple tips to make sure your establishment is easy to find online.
1. Create a "Google My Business" listing.
The importance of creating and maintaining a Google My Business listing for SEO can't be overstated. The good news? It's free. And just getting a listing puts you head and shoulders above countless other restaurants that haven't done it yet.
Google holds your hand through this easy step-by-step process. Once you sign up, you'll be able to track data about your business, post photos and promotions, reply to customers, and you'll be listed on Google Search and Google Maps.
First, check to see if your restaurant already has a Google My Business account. Try logging in here, for starters. Don't see anything? Search for your restaurant on Google. If you don't see a listing like the one below (to the right side on a desktop computer), you probably don't have a Google My Business account.
No Google My Business account? Just create one. Visit the Google My Business website and sign-in to Google (or "create an account"). Enter your restaurant's address. Select if you want your restaurant to show up on Maps. Select a business category and enter your website address (URL) and phone number. Then select finish. Google will then prompt you to verify your business. Be sure to do so.
Verify your Google My Business account. Look in the top left corner for "Mail" near where your restaurant is pinned on the map? Enter your name and select "Send Postcard." In a few days (or weeks), you'll receive a verification postcard from Google. Follow the directions on the postcard and enter the numeric code it contains when prompted. You will then be fully verified with Google.
If you already have a listing, make sure it's complete. Log-in to Google My Business and select your restaurant. From the left-hand menu, select "Info" and then click the "Edit" pencil next to each section. (If you haven't yet verified your Google My Business account, you won't be able to edit this information.)
Add your restaurant details, hours of operation and contact info. These details include your address, hours (as well as holiday hours), accessibility, phone number, short name, etc. Add "additional categories" to your listing if it could be classified by other kinds of facilities or services you offer. For example, if you have an event facility at the same location, you can add that category (or similar) so that people searching online can find you through those keywords as well.
Add photos and videos of your food and dining areas. Choose Photos from the left-side menu and the kind of media you would like to upload (video or photo). You can upload one of three types of still images: a cover photo, additional photos, or your logo. All photos must be a minimum of 720 x 720 pixels, in .png or .jpg format, and less than 5 megabits in file size. Videos will need to be less than 100 megabits in file size, 720p resolution or greater, and 30 seconds or less in length.
Don't forget to add your menu! Using the Info menu on the left, scroll to the menu section and choose "Add or Edit Items" then hit "Add Menu." From here, you can add one or more menus for different dayparts, etc.
Post to your Google My Business page. Posting here works very much like Facebook and it can help you can more search visibility through Google. Up to eight of your posts will show up in a search (more recent ones first) though this depends on Google's algorithm. To make a post, click on "Posts" on the left menu and select what you'd like to post. These can include special offers, images, events, and more. Keep in mind that these posts auto-delete after seven days, so be sure to post at least once a week.
Some guidelines for posts:
• Make sure they are compliant with Google rules.
• Keep it short, with a clear call to action. Two short sentences are perfect.
• Don't post calls to purchase or specific prices unless it is an event.
• Add visuals to posts to make them more effective. You can add up to 10 videos
(try linking from YouTube) and images per post, including animated GIFs.
Review your Google My Business insights & analytics
Log-in to Google My Business and choose "Insights" from the left menu. From here, you can see a trove of helpful information:
• Which keywords and phrases customers are using to find you
• How customers are searching for your restaurant (Google Search vs. Google Maps)
• What actions customers took (call, visit website or request directions)
• Where customers were (by zip code) when they clicked for directions
• Which photos customers viewed through your listing
• How many calls you received via your listing with a breakdown by day and time
Always respond to your reviews. Another important aspect of your listing is the customer reviews section. Google incorporates direct reviews and reviews from other popular websites like TripAdvisor, a popular feature among users. Responding to your reviews, especially negative reviews, shows you care. Never engage in a tit-for-tat with the reviewer online. Offer to take to the conversation offline and see if you can make it right.
Keep it up to date Plan on reviewing your Google My Business page at least once a quarter to ensure your information is current. Google offers a Google My Business phone app (iPhone and Android) to make it easy.
2. Get in the Google index.
Did you know you can submit your website to Google to help it pop in search results? If your website is ready for viewing, you can submit it to Google Search Console URL Crawler Google adds new sites to their index and updates existing ones every time they crawl the web. Unfortunately, there is no guarantee that Google will add all submitted URLs to the index, but it doesn't hurt to put it out there to increase your Search Engine Optimization (SEO) presence.
3. Advertise with Google.
AdWords and AdWords Express are two great options Google offers for running advertisements on their search engine. They each have their benefits; AdWords gives you a lot of control over your ad's look and feel while AdWords Express streamlines the entire process.
With AdWords, you pick a goal for what you want people to do. Visit your storefront is a great option for restaurants, although you can also set goals to have customers call or take action on your website. It'll let you choose your area and tell you how many people you'll potentially reach with the ad. You can add different headlines and logos, set a daily budget for how much you want to spend, and a monthly maximum.
With AdWords Express, most of the steps are taken care of for you. You just tell it what you want to do and let it do its thing. It's a great option if you aren't as tech-savvy or have only a small amount of time on your hands, but you still want to run ads to boost your visibility.
One of the best things about Google is that they're always ready and willing to help. They have the best written resources for all steps of any process, they host user help forums, and they provide ways to contact a real-life person if you still can't find what you need. They are always adding to their services, so keep an eye out for their updates. You never know what new, exciting way to reach your customers is right around the corner.
Hopefully, these tips will help get more visitors to your website, but remember, the ultimate goal is to get them into the restaurant and get them hooked on your food!