How to Make Outdoor Dining Perform Beyond the Pandemic
Mar 09, 2021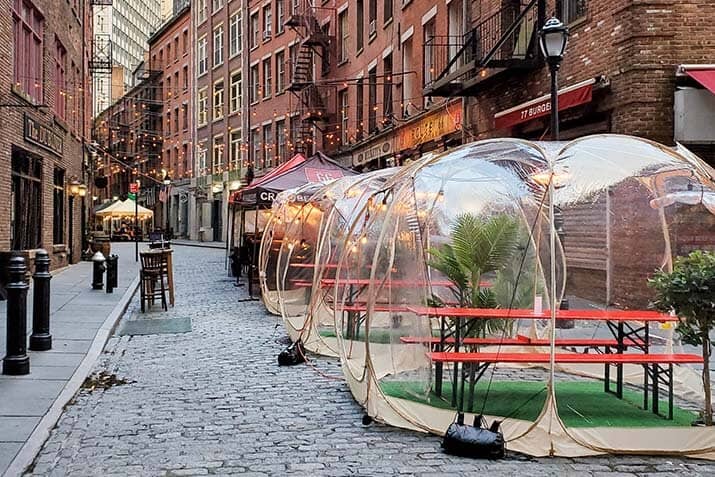 When cities began to lift the initial restrictions on restaurants last summer and fall, outdoor dining became a lifeline for struggling operators. As winter weather settled in, owners got creative with solutions to make eating out in the cold a warm, inviting experience. Now with spring in sight, will the popularity of outdoor dining melt with the higher temperatures?
Not according to industry researchers.
"Outdoor dining was trending before the pandemic in many cities where indoor space is at a premium; the pandemic kicked this trend into high gear," explains Datassential. "Though the dividers may fall and the tables may get closer together, expect outdoor dining to stick around after the pandemic as consumers seek to find fresh air and operators look to expand their capacity without all the overhead."
Consumer opinion surveys support their view:
• 63% of consumers feel it's safe to go to a restaurant with outdoor seating1
• ⅔ are interested in "igloo" seating1
• ⅔ interested in enclosed patios1
• Over half are interest in tables in tents1
• Over half are interested in dining cubicles set apart with plexiglass dividers2
So how can you create an outdoor space or leverage your restaurant's current investment in outdoor dining?
6 tips for creating more upside outside
• Incorporate your brand. Make sure the space reflects your brand and vibe. You should put just as much thought into the design of your outdoor seating area as you do your dining room. Start with smaller decor items to experiment with ways to express your brand—like garden boxes or other semi-permanent fixtures to create booths or dividers. Get feedback from guests on what they like or don't like about the space. Talk to your staff about the flow of the space as well.
• Build it out. Once you've gathered some data about how your customers and staff feel about the space, you can now make some larger, more permanent structures.
• Start small. Think of the absolute necessities—tables, chairs, heaters or umbrellas. What do you already have versus what you will need to purchase? Prioritize. Will your existing tables and chairs work for the time being? If outdoor dining is only a temporary fix for your restaurant, look for decor, tables, and chairs that you can use inside when indoor dining reopens.
• Set expectations upfront. Don't expect that customers will know the etiquette for dining outdoors, like when to wear a mask or not. Have the server inform them when they do their first table touch, or have a special card you give them with the menu.
• Check the rules. There's less permitting required right now, but your city regulators could have a change of heart. Take the time to understand what the rules are under normal circumstances, so you're not taken by surprise. It would be a shame if you built an elaborate and expensive outdoor dining area only to have to tear it down a few months later.
• Make it an experience. Since outdoor dining will be an integral part of many business models moving forward, why not make it more exciting? Find ways to make the outdoor component part of the experience, like having the chef cook on an outdoor grill.
Get some outdoor dining inspiration
• The Yurt Village, 13 U.S. locations. Developed by Resy, the reservation platform, each yurt village offers cozy, chic yurts set up in the parking lots of their host restaurants.
• Homeroom, Oakland, CA. Short on space, they built a parklet in the parking spots in front of their restaurants. It was named the "Best Parklet in the East Bay" by The Bold Italic.
• Kokomo, New York City, NY. It's quite a feat to create a tropical paradise in the winter and spring in New York City. Kokomo's cozy and vibrant patio earned it a place on one of Eater's best patio lists.
• Lenoir, Austin, TX. To give outdoor diners an outstanding experience, Lenoir creatively repurposed some of their indoor decor to bring their distinctive ambiance to an outdoor setting Their beautiful wine garden adorned with lamps and heaters was featured as one of Austin's best patios.
With the pandemic-induced transition out of indoor spaces, consumers have grown accustomed to sharing a table outside. If you already have an outdoor space at your establishment, consider how you may want to repurpose it for a post-pandemic future. And if you're thinking about investing in creating or expanding your outdoor dining space, consider the tried and tested tips that we've shared here.
1 Datassential Trendspotting, 2020
2 Datassential, 2020