How Restaurants Are Weathering Inflation and Labor Challenges
Jul 29, 2022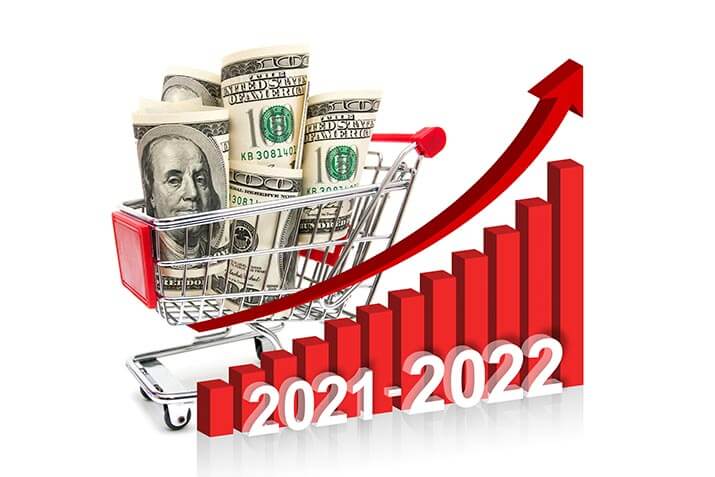 Halfway through 2022, restaurants continue to grapple with the twin challenges of high inflation and scarce labor. So what are they doing to survive? Where are the opportunities? And what's the path forward?
In June, Simplot hosted a webinar—"Industry Pressure & Growth" with Datassential's Colleen McClellan—that offers a window into how operators are responding to these pain points. She also shared essential strategies for how restaurants can drive traffic even as consumers tighten their belts.
Click here to view a recording of the webinar "Industry Pressure & Growth".
The following is a brief recap of the highlights of her presentation.
Thanks to inflation, consumers are cutting back, starting with dining out
For your customers, the signs of inflation are everywhere, including where they get their food. According to Datassential's research, here are where rising food prices have been most noticeable to consumers:
84% Supermarkets
72% Supermarket Prepared Foods
56% Fast Food Restaurants
55% Convenience Stores
55% Sit-Down Restaurants
47% Fast Casual Restaurants
42% Fine Dining Restaurants
41% Third-Party Delivery Apps
37% Hotels
33% Neighborhood Bars/Pubs
27% Sports Bars
23% Work or School Cafeteria
It's not a figment of their imagination, either. A comparison of restaurant menu prices from the last quarter of 2021 versus 12 months earlier shows the most widespread price increases across appetizers and desserts. Adult beverages registered the lowest inflation.

Among individual menu items, chicken wings saw the highest price increase for patrons, while bottled alcohol saw the lowest. Alcohol's modest price increases across the board may reflect operators' willingness to absorb cost increases on these high-margin items to maintain customer "attachment" to them.
Menu Price Increases for Individual Menu Items
Wings 10.3%
Beef Entrée 7.0%
Mexican Entrée 6.7%
Pork Entrée 6.6%
Veggie Entrée 6.4%
Cold Sandwich 6.4%
Hot Sandwich, Protein Side, Fries (Side), Fish Entrée, Egg Dish, Chicken Entrée, Shellfish Entrée 6.3%
Combo Plate, Rice Entrée, Entrée Salad 6.2%
Pizza 5.9%
Pasta 5.7%
Appetizer Salad, Cake 5.4%
Soft Drink, Burger 5.3%
Iced Tea 4.9%
Beer 3.5%
Cocktail 2.9%
Wine 2.0%
Bottled Alcohol 1.8%
Beyond food, record gasoline prices have captured the most attention among the public and the media. In 2021, gas varied between $2.50 and $3.50 a gallon. In 2022, the average price in the U.S. for a gallon of gas broke $5.00 for the first time.
Datassential estimates that high gas prices, had they stayed above $5 per gallon, would have cost the average household an extra $1,783 per year.
Understandably, consumers have been looking to cut back on discretionary spending, and dining out is at the top of their list.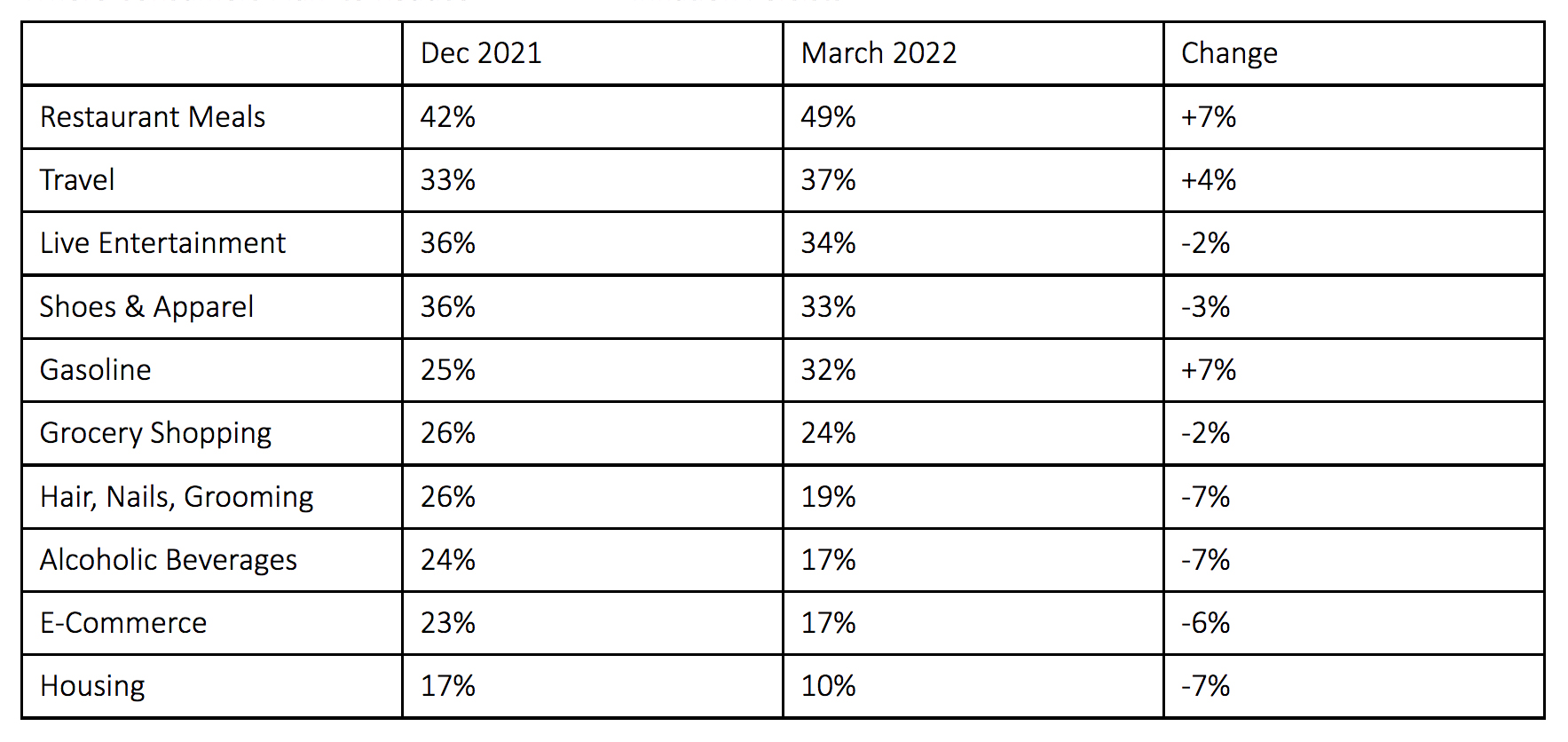 How restaurant operators are responding to the inflation-induced slump
Restaurants first experienced slowing traffic in April and began taking action to reverse the trend. Here's a snapshot of what operators have tried and what they're considering moving forward.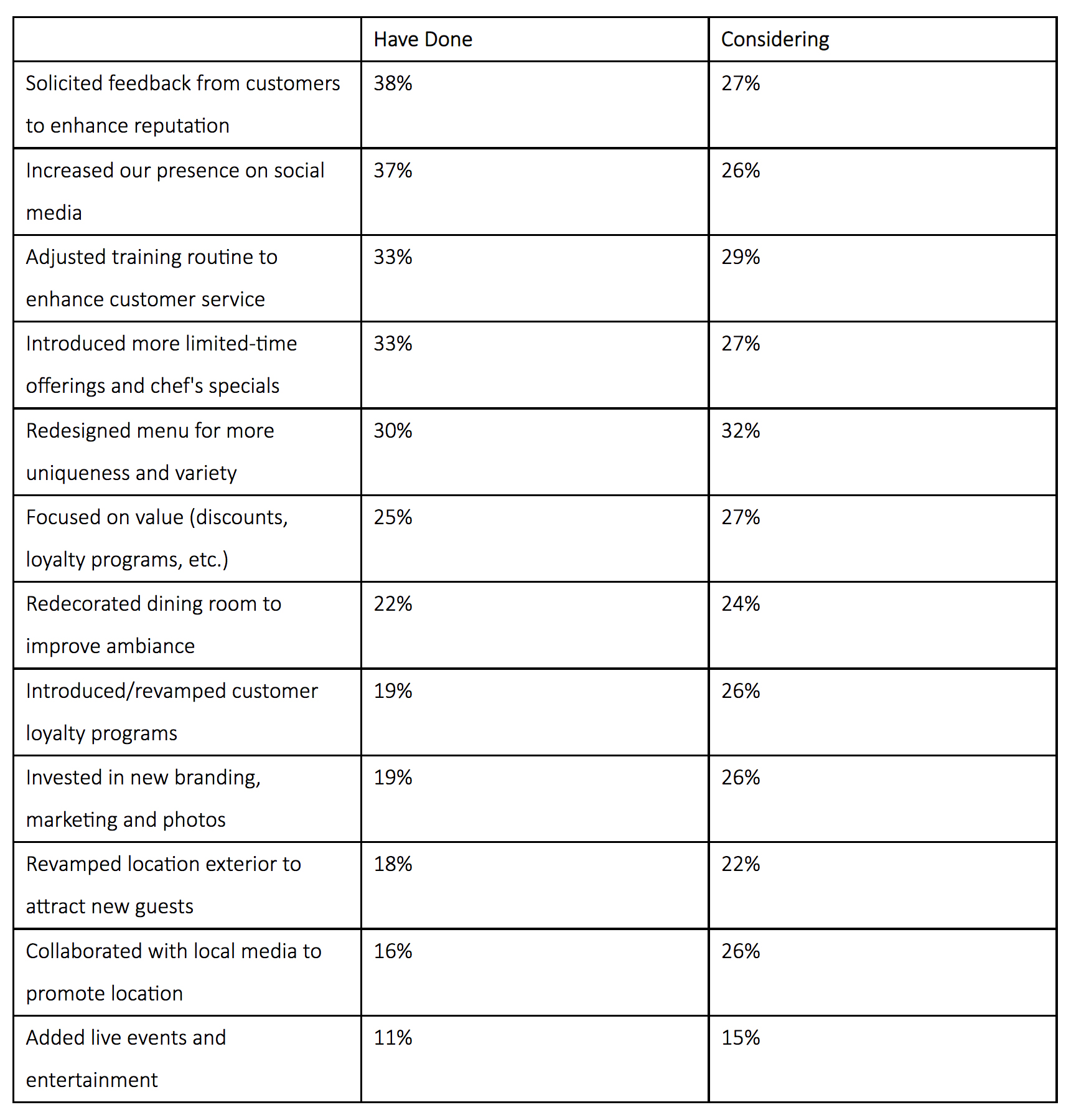 Nearly 75% of restaurants are understaffed. Here's what they're doing.
Filling positions in restaurants was hard even before the pandemic. According to operators, it's gotten even more difficult. In a survey of operators, 72% agreed with the statement, "I worry that the restaurant industry can't undo the damage done to the reputation of restaurant jobs." Another 59% of operators disagreed with the statement, "The foodservice industry is an employer of choice. People would choose to work here when presented with other job options."
Consequently, restaurants are working hard to retain the employees they already have. Four out of five have introduced measures to alleviate or prevent staff burnout. These include:
Adjusting schedules to prevent staff from working double shifts and "clopening" shifts
Limiting hours of operation
Allowing staff to take time off for mental health reasons
Adding or increasing fun perks (staff outings, comped food or beverage after shifts, etc.)
Reducing seating to prevent overloading servers
Providing staff with access to counseling services or stress management training
Today, 82% of operators pay their employees more than minimum wage and two in three provide access to health insurance.
63% provide access to health insurance
59% gave employee perks
56% hire employees who are typically underserved
41% encourage employees to share their personal values
28% have conducted unconscious bias training
28% set specific diversity hiring goals
15% publish a scorecard of how they're doing on key metrics
12% support unionization of employees
9% tied executive compensation to goals
Do these measures also serve to attract customers? For the most part, yes. Half of consumers say they'd be more likely to visit a restaurant that compensates workers with higher wages and benefits.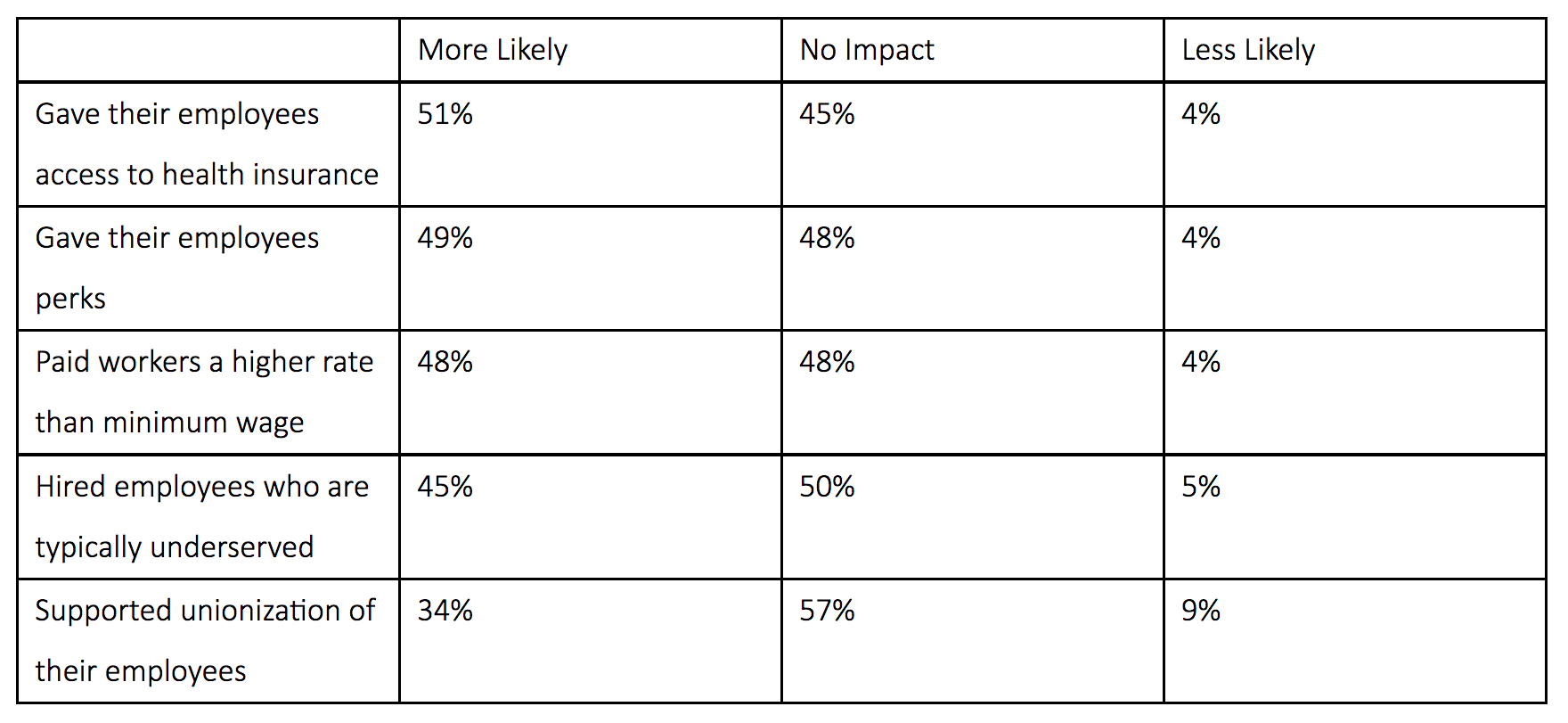 According to McClellan, restaurants are not yet getting credit for their work to increase pay and benefits and may be missing out on additional traffic as a result. Here are some steps you can take to get the full value of your efforts:
Promote your pay, benefits and inclusivity as part of your social media campaign to let everyone know your restaurant is good to its employees.


Include information on your pay and benefits in "Help Wanted" signage at your restaurant and post it in prominent locations inside and outside. In addition to attracting new employees, it also raises awareness of your policies among patrons.
Menu innovation is the way forward in the face of inflation
Let's face it: menu innovation was a casualty of the pandemic as restaurants struggled to stay afloat in the face of restrictions and supply chain woes. And when innovation stops, menus stagnate or shrink.
The average number of items fell by 10.2%
In 2021, 59.7% of menus shrank versus 32.5% that grew
The number of items fell the most in appetizers, adult beverages and dessert
Chain menu item launches have recovered somewhat but are still only at 86.4% of pre-COVID levels
According to McClellan, restaurant patrons still want to treat themselves to a meal out but aren't seeing menu items compelling enough to overcome their reluctance to spend. She believes menu innovation in the form of limited-time offers (LTOs) is the best bet to get consumers eating out again.
Limited-time offers drive up urgency by exploiting diners' innate FOMO (fear of missing out). When the value of an LTO is clear to consumers—in the way of novelty, quality or low price—LTOs have proven to be a reliable tool for attracting customers and generating buzz for restaurants:
55% of consumers have purchased a restaurant LTO in the last two weeks
7 in 10 patrons have eaten an LTO in the past month
85% of people who enjoy an LTO will return, and 75% will tell someone about it
61% of operators regard LTOs as a profit center for their businesses
Operators report an increase of up to 25% in revenue and traffic during months with a
successful LTO
Focus on the creativity and quality of the LTO—and resist discounting
Many operators learned an important lesson during the value/combo meal heydays of the Great Recession: teaching customers to expect meal-sized portions for $2 only serves to kill profitability.
Instead, McClellan strongly advises restaurants to make their LTOs as craveable as possible and price them to maintain margins. In Datassential's survey, customers showed they're willing to pay reasonable prices if they perceive the value:
74% of customers reported paying about the same amount for the LTO as other items
on the menu


17% percent paid premium pricing
Read about 7 important strategies for creating and managing restaurant LTOs.
Target menu items that are difficult to make at home
If you're trying to drive traffic to your restaurant, it makes sense to build your LTOs around items that are hard to replicate at home, either because of tricky flavor profiles or specialized kitchen equipment. So get creative, and don't be afraid to go over the top on craveability to generate excitement and word-of-mouth buzz.
Foodservice is a creative industry. If you give patrons a good reason to come back to your restaurant for new items that are simply too good to pass up, they will.
Click here to view a recording of the webinar "Industry Pressure & Growth".