How Restaurants are Being More Sustainable — And You Can Too
Apr 21, 2022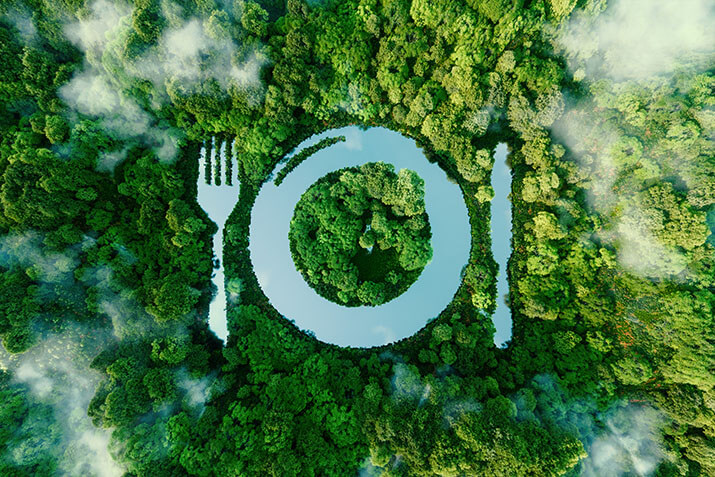 At the end of 2021, the National Restaurant Association released their "What's Hot in 2022?" report. Their conclusion? "Health, happiness, plus a side of sustainability."1 Likewise, in a trend survey by The American Culinary Federation, Technomic, and the National Restaurant Association, four of the top 10 were related to sustainability.
So it's clear that customers want restaurants to incorporate sustainability into their business models—whether that's organic and locally-sourced products, food waste reduction, eco-friendly containers or something more.
How are you responding to the desire for greater sustainability? Here are some examples of restaurants around the world incorporating more eco-friendly practices—and ways you can, too.
1. Sustainable ingredient sourcing
A sushi restaurant in the U.S.— where many products are imported from Japan—may not come to mind first in a discussion of sustainability. But New York's Rosella restaurant is working to change that.
Rosella partners with suppliers close to home to source products like their rice vinegar and soy sauce. When it comes to fish, they stick to sustainably caught or farmed fish from the U.S. and make sure to use every part of the fish. They repurpose anything that cannot be used for sashimi and nigiri into other dishes like their chirashi bowls. Even bones and heads are used to make stocks and soups.
"Besides the obvious positive effects on the oceans and climate, we're able to support local fisheries and farms, putting money back into our economy and investing in our neighborhood," the team said in a recent interview with Forbes. "We also love that we're able to fully utilize the fish and other ingredients to create really unique dishes with bold flavors."2
The team at Rosella is creating a unique experience for diners that is unique to their location and, in the process, becoming the first sustainable sushi restaurant in New York. It's good for the environment and good for their brand.
2. Eco-friendly buildings
When Justin Cocci moved from New York City to Denver, Colorado, he was struck by the way the metro area of Denver was integrated into the mountains. Thus his interest in building a sustainable restaurant business was born.
Cocci is the founder of Edible Beats, a restaurant group in Denver with six different concepts. Sustainability is essential to the ethos of Edible Beats, and evidenced in their use of reclaimed buildings to house their concepts.3
Root Down, their first restaurant, uses 75% upcycled, recycled, or repurposed materials and products. In addition, they power all their restaurants with 100% wind-generated electricity purchased through their power company.
3. Sustainable takeout containers
According to the National Restaurant Association, the top consumer trend for 2022 is sustainable, reusable, and recyclable packaging.1 However, while there are plenty of plant-based, compostable and other eco-friendly packaging options available, their real-world utility is coming under scrutiny. For example, some "compostable" packaging is only effective if disposed of in a commercial composting bin, which most consumers don't have access to.
More recently, several restaurants and food delivery startups are finding success with reusable and returnable packaging though the concept is still in its infancy. One such restaurant is Tiffin Indian Cuisine, based in Philadelphia.
"We have received many comments and emails from Tiffin customers about the containers we use for carry-out and delivery orders and know this is a place where we can have a big impact," they write in a statement on their website.
Their program offers customers the choice to use reusable takeout containers instead of single-use ones. Each container has a QR code, so the customer and Tiffin can keep track of where the container is and whether it's been returned.
"We like to think of it like a library book," says Tiffin owner Manish Nerula. "You borrow it, you return it to us, and everything works out great."
Besides being good for the environment, Nerula hopes it will be good for business. The containers, all branded with Tiffin stickers, remind customers to visit the restaurant or order it for delivery again, encouraging repeat business.4
In addition to individual restaurants implementing their own reusable and returnable takeout container programs, several delivery and takeout startups have jumped on the bandwagon as well:
4. Reducing food waste
According to the National Restaurant Association, another top customer concern is food waste.1
"We waste an appalling amount of food in restaurants—4% to 10% of all we purchase, up to 33 billion pounds a year—before it even reaches the table," says Michael Thrash, Simplot Corporate Executive Chef.5 "It's bad for our businesses and inexcusable when so many people are going hungry."
Fortunately, several chefs and restaurants are working on solutions to waste.
Haoma in Bangkok, Thailand, is described as a sustainable fine dining restaurant where the environmental efforts of the restaurant are woven into the dining experience. The tasting menu experience starts with a tour of their urban farm. This farm is where the majority of the ingredients are grown. It includes an aquaponics system that raises fish on scraps from their kitchen. Their upcycling program, however, may be the most exciting step they've taken to date. They partner with organizations and hotels around the city to create unique menu items like potato jus (from potato peels) and tepache (from leftover pineapples).6
Two continents away in Copenhagen, Denmark, Amass was founded on the mindset of "Responsible Deliciousness." They weave sustainability into everything they do, eliminating single-use plastics in the kitchen and significantly reducing their carbon footprint.
But most impressive is how they're closing in on zero waste by using almost every part of every ingredient they buy. Whatever they can't put into recipes is either composted for their garden or made into biofuel.7 Amass has become so well known for its work in food waste that other organizations and companies have sought their advice. They recently announced a partnership with local bakery Jalm&B and Danish ice cream producer Hansens to upcycle unsold sourdough into delicious ice cream bars.8
If reducing food waste is a goal you share, check out the National Restaurant Association's "86 Food Waste," a resource created in a collaboration of the National Restaurant Association and the World Wildlife Fund, that includes a food waste calculator for restaurant owners, chefs and managers. You might also consider using a compost haul-away organization for restaurants, such as Scraps in Denver, Colorado.
Sustainability is more than a trend
A recent National Restaurant Association study found that sustainability is top-of-mind for consumers, and the interest is only going up with younger generations.9
30% of adults said they'd likely choose a restaurant offering food grown in an environmentally-friendly way or raised organically over one that doesn't.9


48% of millennials and 40% of Gen Zs favor restaurants that serve locally-sourced wines and beers.9


70% of millennials and 72% of Gen Z adults said they'd be willing to pay extra for to-go orders to cover the cost of eco-friendly packaging.9
So what can you do? Here are some resources to help you create a more sustainable operation:
Environmental concerns have been important to customers for more than a decade, indicating that sustainability has become another expectation of restaurants. Operators worldwide are making innovative and unique changes that are turning heads, helping the environment and supporting their bottom lines. With a little effort and some research, you can, too.
1 The National Restaurant Association "What's Hot in 2022?"
2 "Inside Rosella, A Sustainable Sushi Restaurant In New York City's East Village" by Abigail Abesamis Demarest in Forbes
3 https://medium.com/@fromblueprinttosolved/extended-interview-with-edible-beats-founder-justin-cucci-8e244172d105
4 https://www.tiffin.com/
5 Restaurants Take On Food Waste
6 https://www.innovatorsmag.com/inside-the-restaurant-of-the-future
7 https://amassrestaurant.com/mindset/
8 "How This Acclaimed Restaurant Turns Old Bread Into Delicious Ice Cream Bars"
9 The National Restaurant Association "State of the Industry: Sustainability's back on menu"