How Much Does It Cost to Start a Food Truck?
Jun 14, 2022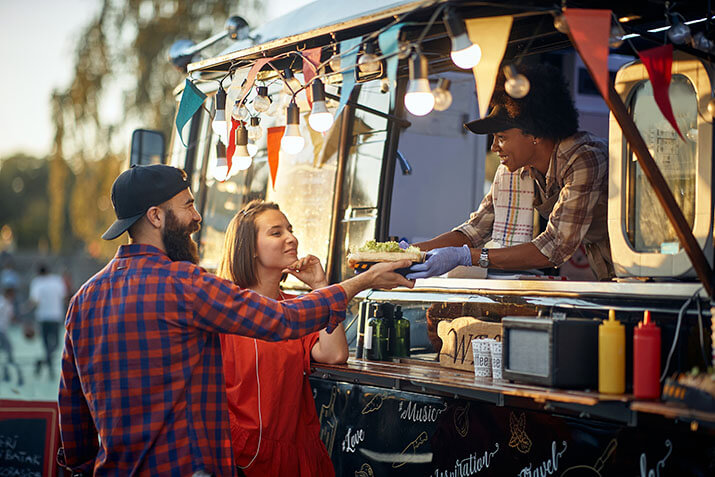 Food trucks. They're the buccaneers of foodservice. Independent, unconventional and passionate, they can inspire followings of legendary devotion. For some owners, the relatively low-cost platform of a food truck is merely a stepping-stone on their way to a full-blown, brick-and-mortar restaurant. That's the conventional wisdom anyway.
On average, however, food trucks only gross between $250,000 and $500,000 a year, with take-home for the operator running between $24,000 and $153,000 a year. It's not huge money. So why would a restaurant that has already established itself add a food truck to its operation? And how much does it cost?
Why restaurants launch food trucks
Most industry experts trace the rise of the modern food truck craze to 2008 when the economy tanked and social media ticked up. Would-be restaurateurs instead seized on the lower-cost option of a mobile kitchen with lower overhead and greater flexibility.
For restaurants, however, the motivations to launch a food truck are a bit different.
Less costly expansion. With the cost of opening a brick-and-mortar restaurant running from $500,000 to north of $1 million, food trucks offer established operators a less expensive way to expand their footprint and appeal to new customers. And because a food truck is mobile, restaurants can get a sense of which neighborhoods like their food the most, pointing the way for possible new brick-and-mortar locations. Instead of your customers finding you, you find your customers.


A catering platform. Believe it or not, more restaurants offer catering today than delivery and carryout. A food truck gives restaurants the ability to efficiently cater lucrative events like corporate gatherings, private parties, festivals, sporting events and concerts—places where kitchen space can be limited or unavailable.


Brand visibility 24/7/365. A food truck acts like a rolling billboard for your restaurant, bringing brand awareness wherever it travels. A truck parked in a high-traffic area may be seen by thousands of people in just a single day.


A rolling laboratory and focus group. Food trucks provide chefs with a way to test things like social media campaigns, hours of operation and, of course, new dishes or even new restaurant concepts that may not easily dovetail with the theme of your existing restaurant. You can get immediate, direct feedback from customers (positive and negative) with lower likelihood that those sentiments will be attached to your restaurant.


A delivery kitchen. Trying to figure out how to serve your off-premise customers faster and more efficiently? Food trucks can serve as a "forward operating base" that fills orders for third-party delivery services. By locating your truck in high-demand areas, you can significantly lower the travel time to customers. Reef Technologies, North America's largest operator of parking lots, has taken this idea and run with it, fielding ghost kitchens in high-density urban areas to speed up delivery for chains like Wendy's® and Qdoba.
How much does it cost to start a food truck?
The cost of a food truck will vary depending on your location, but count on $50,000 at minimum for a basic, used setup and up to $200,000+ for a new truck with a new kitchen.
Then there are the monthly operating expenses. According to Toast, these costs will run between $13,000 and $65,000 a month.
Commercial Kitchen (space to store and prep food, if your restaurant is off limits) - $1,500/month
Parking - $500-$1,000/month
Insurance - $500-$8,000/month
Utilities - $1,000-$1,200/month
Marketing - $500-$5,000 (3-6% of sales)
Food Costs $5,000-$25,000 (30-35% of sales)
Labor $2,500-$25,000 (24-40% of sales)
Loan Repayment
Permitting and regulation requirements
The foodservice industry has always been required to operate within health and safety guidelines, and food trucks are no different. Regulations, permits, and licenses vary from city to city and can run from a few hundred dollars a month to more than $1,000. Check with your local jurisdiction to see what their requirements are. General licenses and permits required include:
Business License
Employer Identification Number
Food Service License
Employee Health Permit
Mobile Food Facility Permit
Zoning and Parking Permit
Food Truck Nation has compiled extensive research on regulation requirements. They have developed an index ranking on what it takes to obtain the necessary permits and licensing to launch a food truck. Their highest-ranking cities for ease of permitting and licensing are Denver, Indianapolis, and Philadelphia. They report that these cities' steps are clearest and easiest, while Washington, D.C., Seattle, and Boston are at the lowest end of the index. Boston and San Francisco, for example, require 32 procedures to start a new truck. Denver, by comparison, requires only 10 procedures to obtain permits and licenses.
Create a smart menu for your food truck
Streamlining your menu with food that can be prepared quickly will help you minimize costs and maximize profits. Choose ingredients that can do double duty in multiple recipes to make the best use of limited storage and reduce food waste. For instance, a menu that offers loaded fries and gourmet grilled cheese and mac 'n cheese (three of the most profitable food truck menu offerings) can utilize the same ingredients in three different, and popular, dishes.
With their simple heat-and-serve prep, frozen foods can be a lifesaver on a food truck. Here are a few Simplot products that are ready to roll:
Simplot Delivery+® Fries: These versatile fries hold and stay crisp up to 40+ minutes giving you tremendous operational flexibility. Ideal for delivery, takeout and catering, they reduce or eliminate soggy fry complaints altogether, not to mention waste. Available in clear coat and seasoned/battered options.


Simplot RoastWorks® Roasted Vegetables and Fruit: Roasted vegetables are a proven way to upscale your menu items like sandwiches, burgers, pizza and more. RoastWorks® products take all the work out of it—just heat and serve—saving you valuable time and labor.


Simplot Good Grains™: Bowls are a popular format for many food trucks and Simplot Good Grains™ Premium Grain & Vegetable Blends make a delicious base that remains consistent, day in, day out. Again, just heat and serve.


Is a food truck right for your restaurant?
Food trucks have been around since before there were trucks. These "meals on wheels" started as out as chuckwagons in the 1800's, selling food to hungry loggers and cowboys. In today's, "get it anywhere, anytime" world, food trucks offer restaurants a valuable way to extend their brands into new geographies and valuable, new lines of business like catering. Stay nimble, find your street corner, and watch your profits roll in.