Global Flavors Taking Center Stage in K-12
Sep 15, 2022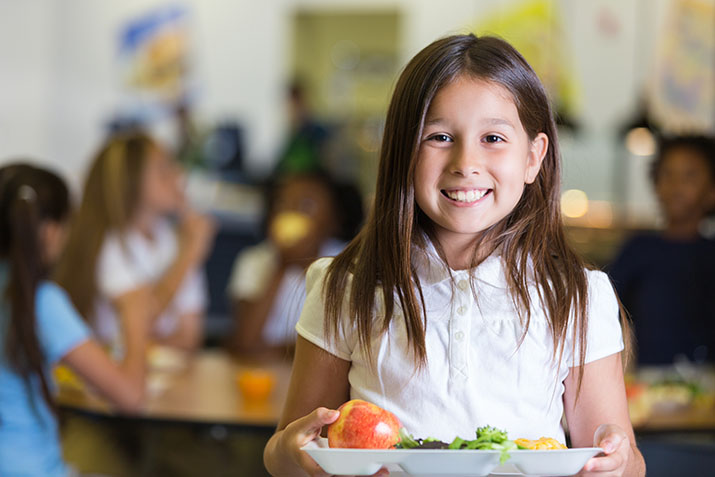 It started with their parents.
Millennials, well known for their love of global cuisines, have passed on their food-savvy, adventurous palates to their kids. And given the growing diversity of K-12 students (only 46% were white in public schools in 20201), many kids are coming to the cafeteria with a taste for the traditional dishes they enjoy at home.
"We listen to our customers. We ask the students what they want, and a lot of times, it's Hispanic in nature," says Fred Espinoza, Director, Food and Nutrition Services for the San Diego Unified School District. His district serves 150,000 meals a day across 220 schools within a community that is nearly half Hispanic.
"So what do we do? We roast whole pork butts overnight and turn them into things like carne asada burritos. We turn it into burrito bowls. We turn it into nachos with local cheese sauce and whole grain chips. We use chili lime spice to season our vegetables on our salad bars," he says. "The kids love it."
Watching what's trending on restaurants' kids' menus
Espinoza also takes inspiration from local restaurants. "We do things like spicy carrots that the kids get in some of the famous local taco shops," he explains.
Like many foodservice directors, Espinoza pays close attention to what kids order when they eat out. Nationwide, kids' menus in restaurants tend to be heavy on the old standby's.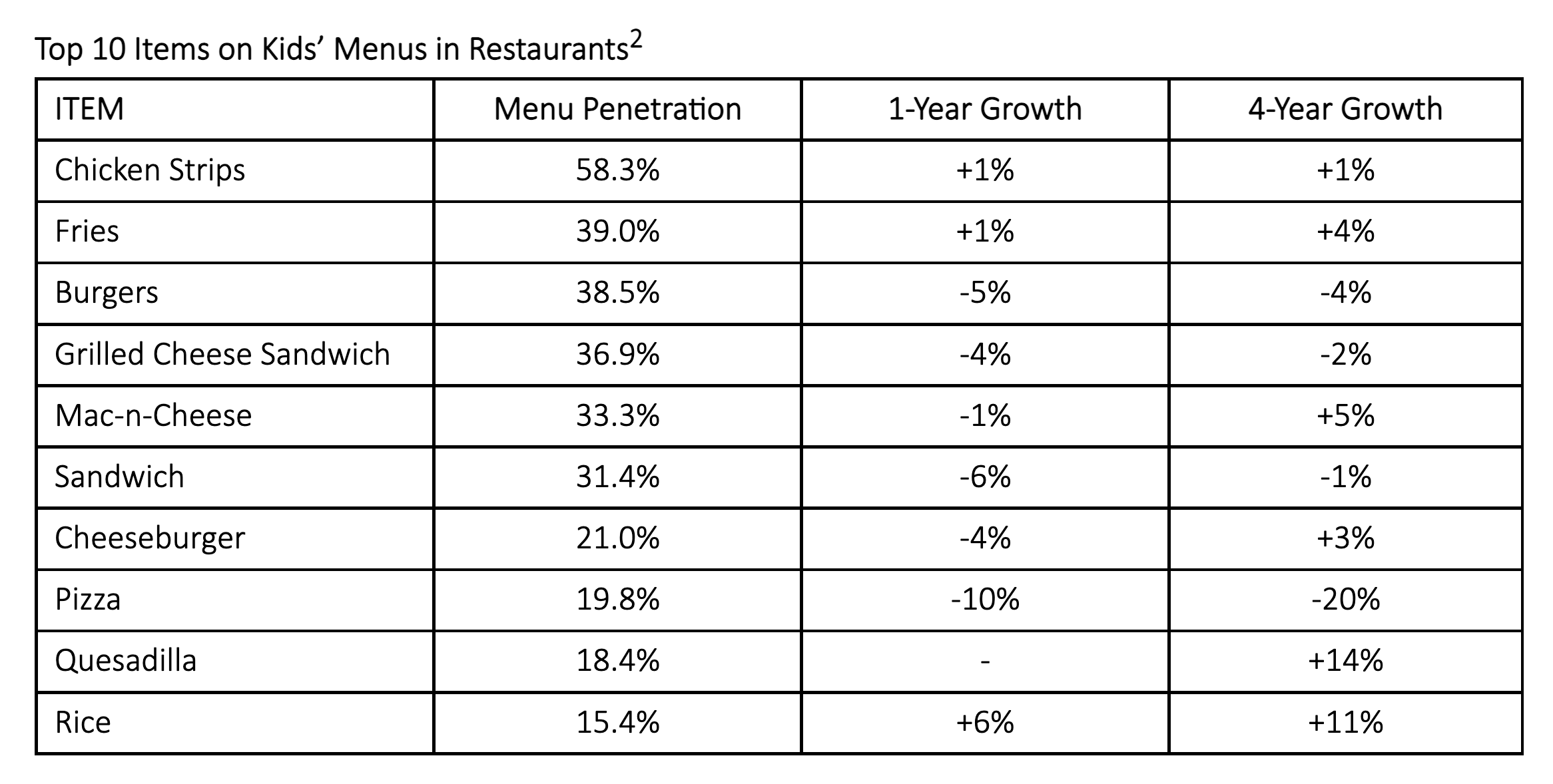 But many of the fastest-growing items on kids' menus are globally inspired.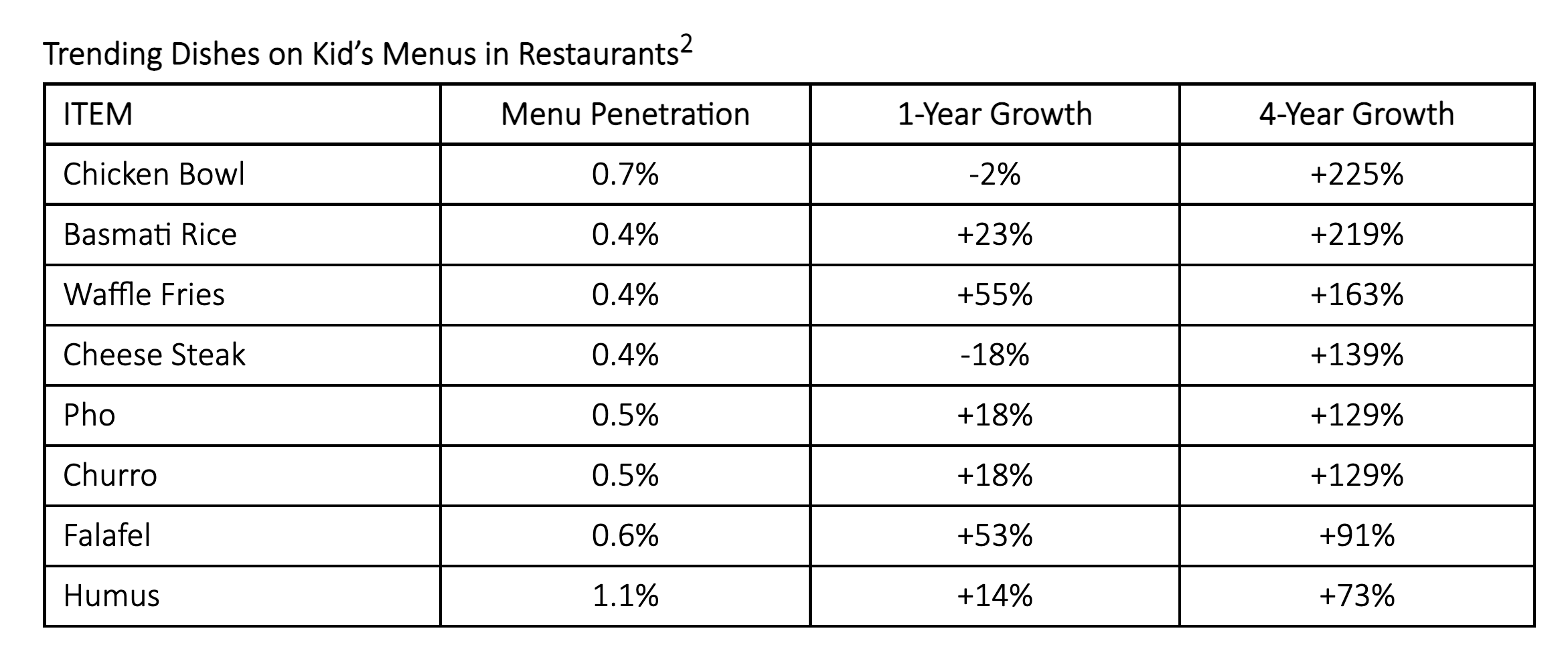 Given that kids' menus in restaurants tend to cater to the tastes of younger children, it's a safe bet that the desire for global flavors gets stronger with age and additional experience.
K-12 students enjoy more than just Mexican food
That's the case in San Diego. Between the build-your-own nachos, scratch-made salsas and fish tacos, Hispanic items are well represented on Espinoza's menus. But the requests for global flavors goes well beyond much-loved Mexican favorites.
"We get pressed from a lot of different angles, not only Hispanic but Asian, Mediterranean, halal, kosher, vegan, vegetarian. We have stakeholders who are interested in ebony—almost every ethnic food out there—because our base is so large and we have almost all ethnicities," says Espinoza. "It's important to have culturally relevant food."
Jodie DeFrancesco, Assistant Director of Nutrition Services for Pasadena Independent School District in Pasadena, Texas, agrees.
"I think it's incredibly important because the generation we have in our school system right now is very globally focused," she says. "They're technology focused. They have the world at their fingertips, so you know their palates and preferences are global. Just look at the restaurants that are around us. We are culturally diverse, but every student is a global eater."
How to serve global flavors in K-12 when labor is scarce
DeFrancesco's district lies south of Houston and serves 50,000 students across 66 campuses. Like Espinoza, her menu is well stocked with global flavor options that she knows her students will like.
"Whenever we're doing any sort of menu planning, that is definitely front of mind," she continues. "We do a lot of student testing. We get as much feedback from our student population as we can."
While her preference is for scratch cooking, competition for labor from the many nearby commercial restaurants has led to increased turnover. So "scratch plus" cooking—using some premade and frozen ingredients in addition to fresh ingredients—is the order of the day.
"'Scratch plus' cooking is our bridge to scratch cooking someday," DeFrancesco says.
With labor hard to attract and retain, high-quality frozen products can help K-12 operations nail the global flavors they want with far less prep and food waste. Here's a short list of Simplot products that can help K-12 operators offer global flavors more efficiently:
Vegetables:
Simplot Simple Goodness™ Premium Vegetables Riced Cauliflower
Simplot Simple Goodness™ Classic Vegetables Broccoli Florets, IQF
Simplot Simple Goodness™ Classic Vegetables RTE Peas
Simplot Simple Goodness™ Classic Vegetables RTE Cut Corn, Simply Sweet®
Roasted Vegetables:
Simplot RoastWorks® Flame-Roasted Corn & Jalapeno Blend
Simplot RoastWorks® Roasted Sweet Potatoes
Simplot RoastWorks® RTE Flame-Roasted Unseasoned Peppers & Onions Blend
Avocado:
Simplot Harvest Fresh™ Avocados Western Guacamole, Frozen
Simplot Harvest Fresh™ Avocados Avocado Pulp, Frozen
Grains:
Simplot Good Grains™ Brown Rice, IQF
Simplot Good Grains™ Cilantro Lime Rice & Fire-Roasted Corn Fiesta
Hispanic Heritage Month is a great time to introduce global flavors in K-12
Hispanic Heritage Month starts September 15th and partly overlaps with National School Lunch week, October 10-14, 2022. This is a great opportunity to offer your students some of their favorite dishes from across Latin America. Here are some delicious K-12 recipes from the Simplot Culinary Team to consider:
Carnitas Bowl
Peacamole Toast
Roasted Sweet Potato and Vegetable Taco Mac
This fall, we hope you'll join us in celebrating the rich heritage of Hispanic students and our school foodservice workers' hard work and dedication during National School Lunch Week.
1 https://nces.ed.gov/programs/coe/indicator/cge/racial-ethnic-enrollment
2 Datassential Kids' Menu, 2021