Foodservice in 2030: Predictions for the Industry
Aug 02, 2023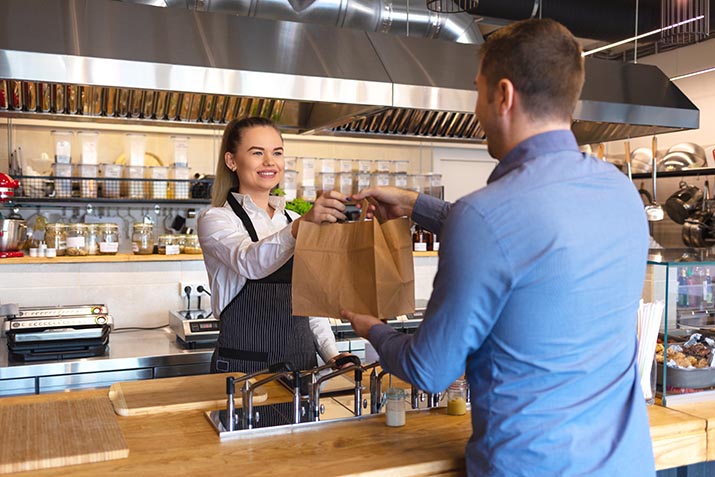 Foodservice industry leaders gathered for the Technomic Activate Conference in June 2023 to examine trends and look ahead as we approach the next decade. Their observations offer an intriguing glimpse into the future.
Foodservice growth will be steady but uneven
The foodservice industry is projected to experience a steady annual real growth of +2.2% through 2030, excluding inflation, while the nominal growth, which includes inflation, is expected to be at +5.7% annually over the same period.1
In 2022, the foodservice industry accounted for 48 cents of every dollar spent by consumers. Looking ahead to 2030, this figure is expected to rise to 53 cents, signifying the industry's pivotal role in shaping consumer spending habits.1
Here's a deeper dive into specific segments' projected sales growth:1
Fast casual, senior living, and travel and leisure: These segments are poised for an impressive 8% growth rate.


Quick-service restaurants, fast-casual restaurants, convenience stores, supermarket full service, and fine dining: These segments will experience a solid 6% growth rate. Quick-service restaurants, with their focus on efficiency and convenience (two other dominant drivers of growth), will continue to be a popular choice.


Casual Dining: This segment is projected to grow by 5%.


Institutional foodservice, college and universities, business and industry, long-term care, hospitals, and midscale: These segments are anticipated to grow by 4%.


K-12: The K-12 segment will see more modest growth at 3%.
Technomic predicts 50,000 more restaurant locations by 2030, however, the total number of restaurants still will remain below pre-pandemic 2019 levels (particularly among the full-service restaurants).1 Demand for off-premise dining will continue to gain share, driven by consumers' desire for convenience.
Foodservice: The effects of changing demographics and consumer behavior
Operators who shift practices to adapt to the specific needs and preferences of the 2030 consumer have the opportunity to thrive. Who are these consumers, and how can you turn them into customers?
By 2030, the population of those 65 and over will account for 21% of the total population, up from the current 17%. This will drive demand for senior-friendly menu options that are easily digestible, nutrient-rich, and lower in sodium.
At the other end of the demographic spectrum, 22% of the total population will be 25 and under by 2030.1 These Gen Alpha consumers are empowered and expectant. Having access to iPads and phones from early childhood means they know what they want, and they want it fast. They will seek their preferred brands and expect customization. This will impact the K-12 and C&U segments (Hint: students want to be heard when it comes to their food choices, so include them in your menu development.)
Gen Z will be 30-40 years old in 2030 and represents the biggest opportunity. Currently, 78% of 30-year-olds report eating out at least once a week, the highest percentage across ages.1 There are multiple drivers behind this:1
Gen Z will be past their college years and in the workforce, earning more and increasing their disposable income.


The 10 years between the ages of 30 and 40 are prime time for raising families while working. Juggling work with kids and busy schedules leaves less time for meal preparation at home. Outsourcing the cooking is a convenient and reliable time-saver.


Gen Z is most likely to remember their parents ordering takeout for dinner. Opening boxes and packages of food prepared for you by others is familiar territory to them.
With these factors in mind, it's no surprise that Gen Z has high expectations when it comes to foodservice experiences. They are digital natives who are connected and empowered. They crave connectivity and use social media and aggregators like Yelp! to inform their dining decisions. They value accuracy, speed, and quality in the takeout packaging.
Raising Canes, Chick-fil-A, Jimmy Johns, Newk's Eatery, and Culvers score well among Gen Z. The top three brands feature simple menus allowing fast and accurate ordering and dining experience. Newk's and Culvers offer more unique menu options that consumers can't find anywhere else.
Gen Z is also the first minority-majority demographic, with about 51% of Gen Z identifying as Hispanic, Latino, African American, Asian, or Multiracial. This multicultural influence will impact food-related experiences and expectations ranging from concept trends to items on the menu.
How can you make your operation 2030-ready?
Learn how to leverage prepared products: Labor has been a consistent challenge for the food industry for the last 40 years, and this is likely to continue. Low wages are a factor, despite recent pay and benefits increases. Labor-saving solutions—like Simplot frozen potatoes, vegetables, avocado, fruit and grains—will continue to be relevant because of the ease of use by staff and products created for error-free, back-of-house execution.


Work with technology: implement order tracking, upgrade the online/mobile ordering experience, implement automated kiosks and geofencing for identifying loyal customers and targeting custom recommendations.


Elevate your game: Gen Z diners are better informed and have higher expectations when it comes to food. Things that are "nice to have" for previous generations will be expected in foodservice.
As we look ahead to 2030, the foodservice industry is poised for transformative changes driven by shifting demographics, evolving consumer preferences, technological advancement, and labor-saving solutions.
1 Technomic Activate Conference, June 2023