Food Halls: 2023 Trends and Strategies to Drive Traffic
Aug 16, 2023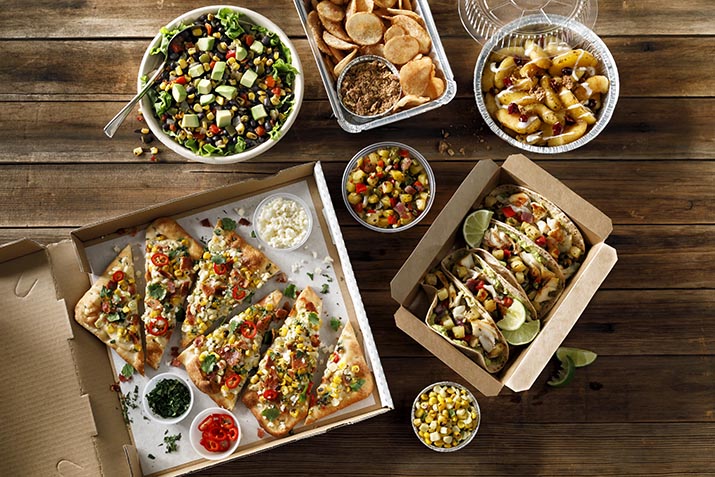 When the founders of North Market developed the sprawling structure in 1876, they could not have imagined that it would still be standing almost 150 years later.
Now situated in a newer building in downtown Columbus, Ohio, the unique food hall attracts more than one million consumers a year and is a top draw for local merchants ranging from produce and spice shops to emerging chefs whipping up global casual eats.1
It's a trend duplicated many times over throughout the United States, according to a report by leading real estate brokerage firm Cushman & Wakefield.
There are approximately 360 food halls—up from 220 in pre-pandemic 2019.
Another 127 food halls are under development and many expected to open through 2024.2
What's behind the push for more food halls
Consumers are looking for more variety in their dining out options, so food halls—the hip successors to your mall's food court—are becoming more niche to cater to those who have specific dietary preferences or who want to support certain types of restaurants. That includes the likes of globally focused, women-owned, immigrant-owned and BIPOC-owned concepts.
One such attraction is La Cocina Municipal Marketplace, the first women-led food hall in the country, which opened in San Francisco's Tenderloin Neighborhood in 2022. The massive establishment that's also mission driven is filled with local artwork and seven stands focusing on international fare. Those range from chef Tiffany Carter's Boug Cali gumbo, shrimp po'boys and jerk tacos to Mexican comfort fare at Los Cilantros from chef Dilsa Lugo. There are also Indonesian, Senegalese, Salvadorian and Algerian cuisines represented.
"What I love most about La Cocina Municipal Marketplace is that we get the opportunity to start something [different] in San Francisco," says Carter, who's been in the culinary industry for 15 years. "I probably wouldn't be able to open a business in San Francisco [without this opportunity]. This really helps me to keep my overhead low and to be able to sustain and actually have a business."
Another new spot is Coark Collective Food Hall, which opened in January 2023 in Centennial, Colorado. Here, a nine-vendor food hall offers more than 260 authentic street food-style dishes from independently owned Korean restaurants. Popular fare includes spicy tuna rice balls from Poke Island; strawberry milk tea from Momo Bing; glazed Spam bibimbap from Bibim House; and kimchi stew from The Upbob.
Technomic, which conducts original foodservice industry research, states that one of the biggest drivers is that consumers simply want to try out new restaurants (32%), and the food-hall model is an effective method of showcasing several concepts under one roof.3 It's a win-win for consumers and restaurant operators serving unique offerings.
More food halls should focus on breakfast and lunch dayparts
With more people working from home either full-time or part-time since 2021, it's an opportunity for food halls to drive additional business with unconventional breakfast and lunch options. According to Technomic, 35% of consumers typically visit food halls for breakfast/brunch (up +9 points vs. 2021).4
For example, Chicago's 22,000-square-foot Aster Hall, located on the fifth floor of the luxury 900 Shops, is designed to encourage consumers to hang out for hours. Familiar fare that's been modernized, ranging from artisan breakfast pastries to handmade pastas and Chicago-style char-dogs, is also an attraction. The setting also includes several cushy areas for lounging, plus a full-service bar.
Also as part of Aster Hall, there's Topgolf Swing Suite, located just one floor above, for guests looking to blow off some steam as another option during lunchtime. It serves as an additional way to enhance the experience at the establishment.
Technomic recommends that more food halls should consider additional options during the breakfast daypart, such as:
Expanding the menu
Offering more combos and deals
Adding delivery and pickup service during breakfast hours
Guests of Aster Hall, La Cocina Municipal Marketplace and North Market have the option of picking up their meals during breakfast; however, delivery service is not offered.
Top deterrents to food hall traffic
While overall trends are looking great for the food hall sector, there are still several limitations for operators to consider before jumping in headfirst.
69% of consumers say there are no food halls near where they work or live, which is down nine points, compared to 2021.5
This statistic is even higher among consumers who reside in rural areas (86%).6
Operators must also consider that 13% of consumers are visiting food halls less often because there aren't enough coupons or special offers.7
Technomic recommends that operators better educate consumers about logistics by updating signage as it may be hard to find a specific restaurant within the hall. One way is to reach them where they are, such as creating engaging content on Instagram, Facebook and TikTok. Another way of drawing consumers is by offering specials and discounts like BOGOs.
Also important to note is that 59% of consumers dine at the food hall's seating area, so it's crucial for operators to maintain clean, inviting and engaging spaces for guests.8
And finally, because monthly visits consist of mostly Gen Z (45%) and Millennials (63%), the focus should be concentrated on healthier, budget-friendly and more diverse options.9
"Diversity is great for everyone," exclaims Boug Cali owner Tiffany Carter.
More good news for food halls
If the present trends hold, food halls have a bright future. According to Technomic, 45% of consumers say they visit food halls more often now compared to two years ago, and 36% of consumers plan to return to food halls more often in 2024.10
And no wonder. With so many choices so close at hand, food halls offer a unique, low-risk opportunity for both diners and operators to try something out of the ordinary.
1 https://northmarket.org/about/
2 CoStar, "As They Mature, Food Halls Go to College and Move Out to Suburbs," 2023
3-10 Technomic, Emerging Channels, Consumer Trend Report, 2023