Extreme Goes Mainstream with Over-the-Top Burgers and Sandwiches
Aug 13, 2021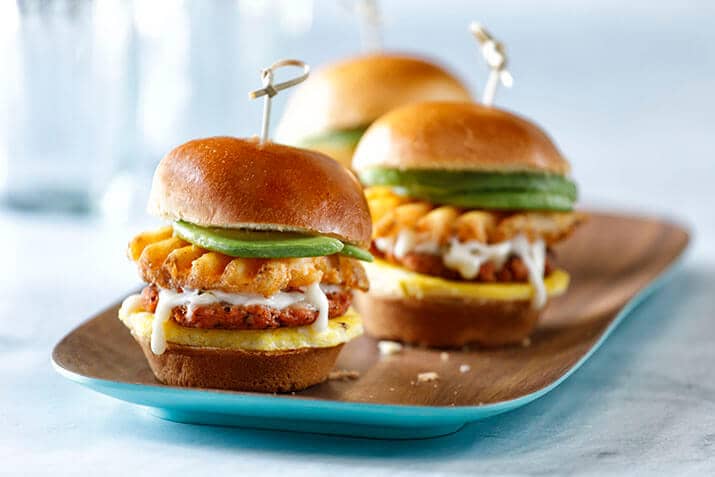 "After 2020, people have had enough of the same old, same old. They're eating out again and eager for something new," says Roberto Roman, Corporate Executive Chef at Simplot.
"Extreme burgers and sandwiches fit the bill. So get inventive with your recipes and presentations. It's all about creating outrageous crave-ability," he explains. "Crave-ability is what transforms these tried-and-true menu staples into something extraordinary."
Chicken sandwich wars spur innovation that works
Sandwich crave-ability went viral in 2019 with the chicken sandwich wars, featuring the knockdown drag-out competition between Popeyes and Chick-Fil-A. Popeyes' launch of this one item was largely responsible for the 38% jump in Popeyes' same-store sales reported in Q4 2019.1
In the 18 months that followed, 20 chains launched their own chicken sandwiches into the marketplace.1 Businesses rushed to the space with creative versions of sandwiches and burgers to capitalize on "the handheld's" popularity. Chicken sandwiches soon came hand-breaded, dusted with unexpected spices, and topped with globally-inspired ingredients like kimchi mayo and slaw.
But sandwiches (and burgers) are no spring chickens. They are historically popular menu items. How can your business capitalize on this trend?
Think outside the bun
Michael Parlapiano, strategy director for The Culinary Edge, shared his take with Flavor & The Menu, saying, "If they're (Chefs) playing with global influences, the sandwich offers an approachable foray into those flavors. With the giant return of comfort food that we're seeing, sandwiches fit the bill for almost any type of operation...sandwiches are an easy way for chefs to morph their offerings into something that works in delivery and takeout."
But, he advised, "...operators need to up their sandwich game" to remain competitive.2
Surprise and delight with creative burgers and sandwiches
Operators nationwide are jumping on the extreme burger and sandwich trend. Some ideas to inspire:
The Zombie Burger and Drink Lab serves a decadent Walking Ched burger, a beef patty topped with cheddar, bacon, raw and caramelized onions, macaroni and cheese, and mayo, served on a bun made of breaded, deep-fried macaroni and cheese.
Harissa Explains It All is a plant-based sandwich from Layers Sandwich Company. This tasty compilation features roasted sweet potatoes, beet-pickled Walla Walla onion, crisp young spinach, Moroccan harissa and house-made aïoli on a toasted potato bun.
The Lazy Dog Restaurant chain mashes the burger and sandwich concept together for a PB & J Burger topped with candied bacon, Havarti, peanut butter, grape jelly, lettuce, tomato, onion and pickle.
Don't forget the extras like fries
Diners love options with their burgers and sandwiches. Let them customize their order with special toppings and the sides they love.
Gotta have the fries. 64% of consumers agreed that high-quality french fries were important for an away-from-home burger and 42% say they would pay more for a burger with high-quality fries.3
Leverage the power of avocado. 56% of millennial consumers find avocado extremely or very appealing on a burger.4
Extremely easy to add to your menu
Give your traditional burgers and sandwiches an extreme makeover with these ideas from the Simplot Culinary Team:
All-Day Breakfast Sliders: A great sandwich any time of day! Load up Hawaiian slider rolls with avocado, Simplot SeasonedCRISP® Savory Battered Lattice Cut Fries, fried egg, plant-based sausage and pepper jack cheese. (pictured above)
Street Corn Chicken Burger: Feature this flavor-packed chicken burger as a lunch or dinner special. Top with Simplot RoastWorks® Flame-Roasted Corn & Jalapeño Blend, queso fresco, Tajin aioli, and Simplot Harvest Fresh™ Avocados Western Guacamole. Serve on a toasted sourdough bun, and add a pile of Junior Cut SIDEWINDERS™ Fries to knock it out of the park.
BLT Red Pepper Pimento Cheese Sandwich: Elevate your BLT with Texas toast layered with creamy, house-made pimento cheese spread, Simplot RoastWorks® Flame-Roasted Red Peppers, crispy bacon, lettuce and sliced tomatoes. Goes GREAT with Simplot Conquest® Delivery+® Tin Roof Fries.
Americans eat an estimated 300 million sandwiches per day and 85% percent of consumers say they love or like burgers.5,6 Investing some time into creating a truly remarkable sandwich or burger is bound to pay dividends in sales and buzz online.
1 https://www.restaurantbusinessonline.com/food/brief-history-chicken-sandwich-wars
2 https://www.getflavor.com/january-february-2021-the-sandwich-revolution/
3 Datassential, 2021
4 Datassential, Burger Keynote, 2021
5 https://247wallst.com/special-report/2019/04/02/20-of-americas-most-popular-sandwiches/
6 Datassential FLAVOR, 2019