Building a Salad Using Regionally Trending Ingredients
Feb 22, 2022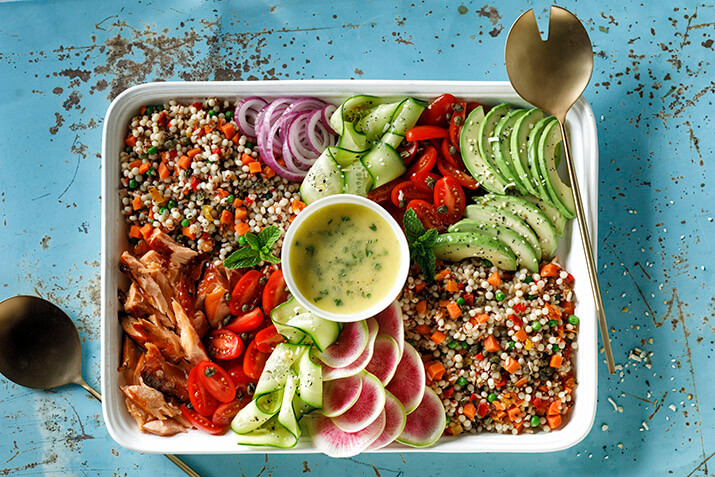 Today's health-conscious customers continue to seek out fresh menu options, and salads rank high on the list. But which salads and ingredients are customers looking for?
According to researchers, this might depend on where you live.
From the Roman's first iteration of vegetables and herbs drizzled in olive oil and vinegar, everything from leafy greens, mayo-heavy pastas and jello-laden molds has been called a "salad." In the same way the Waldorf Salad will forever be linked to New York City, certain salads and ingredients come to be identified with particular regions and cultures.
As you plan your menu, it's essential to understand which ingredients are trending in your area and leverage that regionality as a selling point.
"We tend to think of trends as things that get hot everywhere at once. But what's trending often depends on where you live," says Simplot Corporate Executive Chef Roberto Roman. "Regional trends have their own rhymes and rhythms. It's what makes traveling around the country so exciting."
Whether tailoring dishes to your current customer base or giving someone a reason to travel to your location for a "taste of place," the key to creating popular salads is knowing your area and audience.
In this article, we present some data on trending ingredients in different regions of the U.S. to help you build salads that keep customers coming back.
Start with a base and build on it
Your overarching goal is to create delicious, satisfying salads rich in nutrients, and it all starts with a base. You could start with greens, pasta, or roasted vegetables. Each gives you an excellent opportunity to highlight regionally popular ingredients.
Once you've established your base, it's time to get creative. Here are the top four trending salad ingredients in different corners of the United States.1 Note that, while some of these overlap, the rate of adoption varies.
The South
• Roasted Sweet Potato (+199%)
• Gem Lettuce (+142%)
• Brown Rice (+116%)
• Watermelon Radish (+88%)
The Northeast
• Pickled Red Onion (+130%)
• Brown Rice (+94%)
• Grilled Corn (+86%)
• Heirloom Tomato (+81%)
The West
• Roasted Sweet Potato (+278%)
• Pickled Red Onion (+75%)
• Watermelon Radish (+75%)
• Red Leaf Lettuce (54%)
The Midwest
• Pickled Red Onion (+148%)
• Watermelon Radish (+118%)
• Sauteed Onion (+118%)
• Brown Rice (+76%)
Dress for success
Dressings often exhibit regional character as well. Some of today's most popular salad types across the nation, however, incorporate international flavors, with the fastest-growing ingredients being:2
Roasted corn salsa
Sriracha
Black bean salsa
Greek vinaigrette
Chipotle ranch dressing
Thai peanut sauce
Pick your proteins
Next, make sure to punch up the protein content to create a more satisfying meal. Toppings like tempeh, tofu, beans, eggs, grilled chicken, steak, salmon, and crumbled cheese ensure your customers stay full. Use a handful of whole grains like brown rice and quinoa (even whole-grain croutons) to build in "good carbs," and sprinkle in a handful of nuts, toasted chickpeas, or seeds for crunch and texture variation.
Examples across the nation
The Wayward, in Philadelphia, does this well with its Salad Verte, which features black kale, baby gem lettuce, fried shallots, and Banyuls vinaigrette. The Restaurant at 1900, in Kansas has created an heirloom tomato and garden basil salad featuring Fresno peppers and local eggplant caviar. Finally, in California, Manresa composes a fresh, regional salad of shaved carrots, radishes, Japanese cucumbers, and apples.2
Recipes from our kitchen
Check out these recipes from the Simplot Culinary Team, featuring our Good Grains™ premium grains and vegetable blends, as well as our RoastWorks® roasted vegetables and fruit.
New York Salad »
With a base of quinoa and couscous, this salad layers in many different flavors and textures by including ingredients like smoked salmon, avocado, and a mint-lemon dressing.
Florida Caribbean Salad Ceviche »
This salad is built around the main ingredient – scallops – with added freshness from cubed mango, avocado, and the acidity of citrus.
Roasted Vegetables, Pasta and Crawfish Salad »
Embellish this classic French-style pasta salad with the special ingredient sure to delight diners: crawfish.
Pescao en Escabeche Salad »
A combination of techniques—roasting vegetables and pan-frying fish—makes this salad unique in its flavors and textures.
Hawaiian Asian Salad »
This combination of stir-fried grains, roasted pineapple and poke creates a hearty yet fresh meal in one bowl.
Shake it up
Analyze the trending ingredients and flavors in your area and you have all the tools you need to create a profitable and enticing selection of salads. Take inspiration from the recipes above, but add your own regional take by switching out a protein or making your own locally-inspired dressing. By combining Simplot products with fresh, regional ingredients, you can serve unique salads all year long, with less prep and waste.
1 Datassential, 2021
2 Technomic, 2022